EMPOWERMENT 101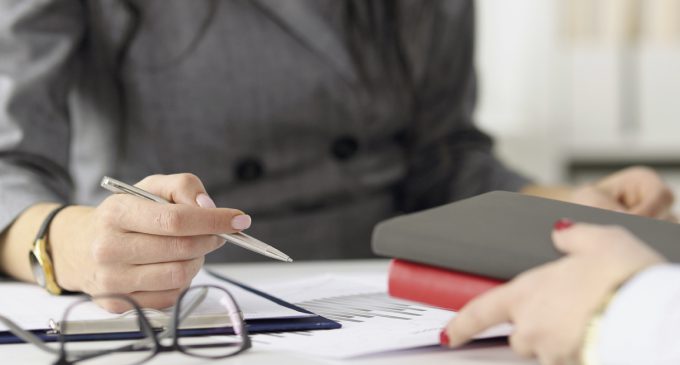 BROKEN GLASS
EMPOWERMENT 101
New network connects women with local agents who understand their challenges
By Elisabeth Boone, CPCU
What happens when a successful independent agent is inspired to launch a platform that is dedicated to empowering women who need to make insurance buying decisions?
Plenty!
Earlier this year, Kimberly Beach, founder and owner of Village Insurance in Cincinnati, announced the launch of InsureWomen, a digital platform design-ed to educate women and connect them to agents who understand the unique challenges they face. For example, Beach explains, single women may need disability income coverage to support themselves financially in the event they're unable to work for an extended period of time for health reasons. Or they may want to purchase long-term care insurance to help them pay the increasingly high cost of care in a facility in their later years.
Especially for recently widowed or divorced women, insurance can be a mysterious world crammed with incomprehensible jargon that they're encountering for the first time as newly single women. They know they don't want to be patronized or talked down to, but they may not be sure how to find an agent who will treat them as intelligent equals.
It's significant that Beach chose to launch her business on March 8, International Women's Day, as the world celebrated women's rights and empowerment. The holiday has its roots in the labor movements in North America and Europe during the early 20th century. It was adopted by the global feminist movement in the 1960s and became a mainstream global holiday after its adoption by the United Nations in 1977.
The philosophy of InsureWomen is that insurance should be bought rather than sold, meaning that the purchase decision is based on informed choice and is not a response to high-pressure selling. That tends to be a turnoff for most women, Beach observes, as women generally prefer a more consultative approach.
Not even 100 days old, InsureWomen already has engendered interest from numerous insurers, including Cincinnati Insurance, Erie Insurance, Western & Southern, and Westfield Insurance, to name a few. The startup also is working to develop partnerships with female agents who embrace the InsureWomen concept and are committed to dealing respectfully with women.
"I've been getting tremendous feedback from companies and agents, not to mention women who want to be part of what we're offering," Beach asserts. Her ambitious goal is to spearhead a national rollout during the third quarter of this year.
As the list of interested insurers suggests, women soon will have access to a broad range of insurance products, including personal and commercial lines, business insurance, life and health insurance, and individual long-term care.
Robust platform
In the meantime, Beach is energetically working the phones to broaden her network of insurers and agents, and to reach out to women who need support through the insurance buying process.
"I was shocked to find out that in up to 85% of marriages, it's the man who is making the insurance decisions," she says. "In my community, the women are intelligent and college educated, but their husbands are still purchasing the insurance. I decided to turn my attention to single women because when it comes to making those decisions, the buck stops with them.
"I spoke with young single women as well as women who were divorced or widowed, and I was gratified to discover that they were super grateful for the support I planned to offer," Beach continues. "My son told me I should start a business to help women with insurance decisions. I researched the field and found out that no such entity existed. I looked on GoDaddy and saw that the name InsureWomen was available, so I bought it. I found someone to design a logo, and I was ready to go."
In search of advice about starting a business, Beach found SCORE, the well-known network of retired executives who provide free expert mentoring and education to startup and existing businesses. "I got a SCORE mentor right away, and the first thing he told me to do was create a mission. I decided that my mission would be to empower women so that they're confident and educated and are treated with the respect and attention they deserve."
At that point, Beach says, she decided that she wanted to create a movement to get more women involved in making insurance decisions and feeling good about it.
"Then I connected with two women who work at Procter & Gamble and do consulting on the side, and they helped me bring InsureWomen to market," she says. "At this point we're in phase two of the project and are building out our platform of educational resources. One component will be videos of agents providing information and offering advice. Another component will be social media content, and a third will be interviews with agents and company people."
Women can use these resources to ascertain what kinds of insurance would best suit their needs. Then they can request information about buying policies. At that point, Beach will be able to connect them with a local agent who is participating in the InsureWomen network.
Expanding network
Initially, Beach says, she planned to launch InsureWomen in Cincinnati and operate locally. "Then other women started reaching out to me; and my son, who calls on agents, started sending me the names of agents from all over the country. They were excited about what I was doing and wanted to be part of it. That's what made me start thinking about InsureWomen in a bigger way."
Beach is eager to engage with agents and wants to solidify her connections with those who have expressed interest in her new venture. "Agents who participate in our network will have their own webpage, content, and leads through InsureWomen," she explains. "My goal is to take InsureWomen national and have a countrywide network of agents who share my passion for serving women."
The industry is still extremely male dominated, Beach believes. "We're not only empowering women in the buying decision; we're empowering women agents to have a platform that men don't have," she asserts.
"We're building a community of female agents around the country who care about women and take care of them," Beach continues. "Some of the women I talk to feel like they're being dismissed by male agents, and more than a few have even been directed to the newest CSR on the service desk.
"As my business has grown, I have discovered a passion for helping women evaluate insurance options," Beach declares. "A large majority of these women believe that previous agents have not shown them the respect, attention, or service they deserve. Many of these women are single, divorced, or widowed, and they may feel a certain vulnerability in making financial purchasing decisions."
InsureWomen, she says, is changing that situation by creating a movement that brings empathy, honesty, and transparency to women as they move through the insurance buying process. n
The author
Elisabeth Boone, CPCU, is a freelance journalist based in St. Louis, Missouri.
Do you know a female independent agency leader we should feature? If so, please email details about her as well as contact information to Elisabeth Boone, CPCU, at elis.boone@icloud.com. We'll take it from there.