ENERGY + ENTHUSIASM POWER GROWTH AND PROFITS
Award-winning broker blends professional success with community involvement
By Elisabeth Boone, CPCU
---
Have you ever known anyone who seemed to create her own energy field?
Meet Brenda Allison, HIP, AFIS, who owns Coast General Insurance Brokers in Ventura, California, and who despite her hectic schedule manages to find time to be involved in her community in meaningful ways.
"I had a dynamic career in marketing and public relations in Miami and, in 2003, our family was relocated by State Farm Insurance to Ventura, which is an emerging market and a diverse community," Allison explains. "We knew no one in California. For about two years I worked to help launch an agency.
"That's when I discovered the weight of decisions individuals face about their personal and business risks," she says, "and regrettably those decisions often are made with limited understanding of coverages and risks and consequences. This was particularly troubling to me because when a business wasn't adequately protected, it affected not only the business owner's family but also their employees and their community.
"As a result, I developed an affinity for business owners and, in 2004, I became a business insurance specialist with State Farm. In late 2005, I formed my own agency, Allison Commercial Insurance Agency, and, in 2007, I acquired Coast General Insurance Brokers and merged it with the Allison firm," she continues.
"I started off with a laptop in our spare bedroom, and I wrote my first policy, for which I made fifty dollars and was paid 90 days later. Within six months I had a small team. In 2007, we had a fuel crisis before the 2008 housing crisis. While we were in growth mode, it was like running a marathon in place for two years. It was extremely difficult, but we were building a platform for future growth," Allison says.
"We have 10 brokers in our office, and we have brokers throughout southern California. We have an office in Oxnard, California. Our client base is business owners, and we provide all of their insurance coverages and risk management services," she says.
Coast General is a Trusted Choice® agency and writes all kinds of business owners; its niche markets are attorneys, contractors, truckers, food service providers, and agriculture.
The firm offers a full range of coverages: workers compensation, general liability and property liability, business auto, employment practices liability, cyber liability, trucking, employee benefits, and life insurance including key person coverage.
"Often, if we're writing the workers comp, the client may want us to handle all of its employee benefits," Allison explains. "Each year at open enrollment, our brokers have a huge advantage having that level of access to employees. That allows us to deliver a tremendous value to our client.
"That client may employ high-net-worth individuals at the executive level, and those individuals may have concerns about safeguarding their assets: their primary residence, vacation homes, employees, classic cars, and valuable collections. Those individuals may want us to handle their insurance and risk management."
What factors motivated Allison to pursue a career in insurance?
"I went into the business kicking and screaming," she recalls with a chuckle. "In Miami, I was on track to become a high-level marketing and public relations specialist, and then we were relocated to California. What launched my career was interfacing with business owners and understanding that they needed a more comprehensive grasp of their specific risks. They wanted to feel comfortable having a candid conversation with someone with whom they could build a relationship of mutual trust."
Changing attitudes
What were attitudes like toward women in insurance when Allison began her career?
She offers a story to illustrate her experience. "When I bought Coast General, I hired Dave Schenck, a respected broker and active member of the community," she says. "Shortly after he came on board, we met with a team who owned a high rise in southern California and wanted us to describe our services and provide a quote.
"We went into the boardroom and sat down, knowing we were fully prepared," Allison recalls. "Across the table from me, a man asked me a question and looked at Dave for the answer. It went like that through the entire meeting. When the meeting was over, the men all shook Dave's hand and said, 'Good job, Dave.' Dave pointed to me and replied, 'Actually, she's my boss.' I walked away thinking, 'We have a long way to go here.'
"We got the account, and at the renewal meeting, things were markedly different," she recalls.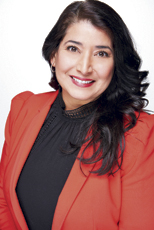 "[I]t's becoming more common for a woman not just to be
in the boardroom but also to be the CEO or CFO. We have a
long way to go, but we're definitely making progress."
—Brenda Allison, HIP, AFIS
Owner
Coast General Insurance Brokers
"Especially in this male-dominated industry, 15 or 20 years ago as a few women were beginning to take the leadership reins, men were not used to having a woman in the boardroom. Now it's becoming more common for a woman not just to be in the boardroom but also to be the CEO or CFO. We have a long way to go, but we're definitely making progress," she asserts.
What unique qualities does Allison think women bring to leadership roles in the insurance business?
"Women are less likely to be linear thinkers," she responds. "They try to develop a more comprehensive and holistic picture of the risks that businesses face. It's not just about making the sale, but what are the long-term consequences of the sale. Women are multilateral thinkers, and they look beyond what's in front of them to form a broader picture of a business's risks.
"Linear thinking is certainly appropriate in a number of situations, but when it comes to risk management for a company with multiple depart-ments, we need to take a broader approach," Allison says.
From the standpoint of her background as an independent agency leader, how would Allison characterize the opportunities for women in leadership positions?
"There are more opportunities than ever as women's leadership continues to expand in every facet of the business. The long history of white males being brokers while women remain in CSR roles is fading as women make decisions and assume leadership roles," Allison replies.
We asked Allison what advice she would give to a young woman who may be considering a career in insurance, especially on the agency and broker-age side.
"Jump in," she responds. "Keep your mind open and be alert to opportunities for growth. When you're in a roomful of men and feel they may diminish your value, it may just be that this is a new experience for them. Dave was 71 years old when he first had a female boss, and he told people I was his best boss ever."
Awards and community outreach
In 2020, Allison was selected to receive the Women's Economic Ventures' Trailblazer Award. The annual award celebrates inspirational businesswomen in Ventura and Santa Barbara counties who have succeeded in challenging gender norms in society through passion, commitment, vision, and grit. Trailblazers are active members of their communities and philanthropists whose accomplishments serve as an uplifting example to other female entrepreneurs.
Allison also is a long-standing member of the Rotary Club of Ventura and received the club's 2021 Rotarian of the Year Award. She is significantly involved in local educational and nonprofit organizations. She serves as an executive board member and human resources committee chair for Casa Pacifica, which provides services to children and families, is the founder and past chairperson of Latinos in Business at the Camarillo Chamber of Commerce, and founded the Cuban Culture Club of Ventura County.
"Latinos in Business was originally the Ventura County Hispanic Chamber of Commerce. I started it because I felt that Hispanic business owners, who are numerous in this community, were underrepresented in the Chamber of Commerce. I wanted to give Hispanic business owners a voice, and I wanted the meetings to be in Spanish. It was a phenomenal success," Allison says proudly.
"The other local chamber, whose membership was 76% Latino business owners at the time and was the economic arm of the entire county, had no Hispanic people on its board, and after I started my chamber they recruited one Hispanic male to their board.
"On October 14, 2012, I decided to do something fun to celebrate my birthday," Allison says. "That's when I launched the Cuban Culture Club. My pediatrician, who's also Cuban, joined me in this venture. We decided it would be a potluck supper club. We started at my house, and seven Cubans attended. We played Cuban music and shared the food we'd brought and had a wonderful time. We meet quarterly, and the most we've had is 33 Cubans in one room.
"Sometimes we have to dig Cubans out of the woodwork," Allison says with a chuckle. "It's not always easy because some Cubans, like me, marry non-Latinos, so we can't identify them by their married names. Once we figure that out, we're good to go."

The Author
Elisabeth Boone, CPCU, is a freelance journalist based in St. Louis, Missouri