RELATIONSHIPS: THE SECRET TO SUCCESS
Athletics manager and coach brings "people" experience to the insurance world
By Christopher W. Cook
---
In the insurance industry, certain dedicated young professionals standout among their peers and are members of an elite squad of individuals. These are their stories. "Dun dun."
In the game of baseball, while the nine players on the field must function as a unit, I feel that the most important relationship on the field is that of the pitcher and catcher, as the two of them will have the most "back and forth" ball movement throughout the game. I'm reminded of dynamic duos from baseball films like Charlie Sheen's Ricky "Wild Thing" Vaughn and Tom Berenger's Jake Taylor in Major League or the mix-matched Amanda Wurlitzer and Mike Engelberg in The Bad News Bears. And behind every great player is a great coach; well, the two coaches in the movies above had their moments.
Today, there are many different types of coaches; but no matter their area of specialty, their focus is to provide others with instruction or guidance. While this month's Young Pro-Files subject is still relatively new to the insurance industry, his past—and present—experiences with coaching have provided a unique background in his new career path.
"My journey to the insurance industry has been far from a straight line," says Matt Klein, commercial risk advisor with Campbell Insurance in Lynchburg, Virginia. "I attended three small colleges in three different states—chasing a basketball dream—before graduating with a B.S. in Sport Management from Liberty University. When I was not in class, I learned the 'art of sales' by working in the restaurant industry and in used sporting goods.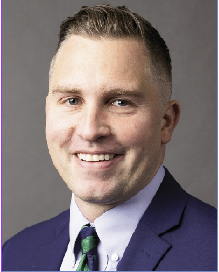 "I pride myself on cultivating and always strengthening relationships based on trust, authenticity, and compassion. It's much easier having hard conversations knowing that they care about you, and you have their best interests at heart."
—Matt Klein
Commercial Risk Advisor
Campbell Insurance
"After I finished school, roughly 11 years after receiving my high school diploma, I accepted a role in career services at a technical college. I was promoted to director of career services in less than a year."
Around the same time, Klein's love of basketball also found him taking the position of assistant men's basket-ball coach at Lynchburg's Randolph College. While he quickly established himself in the community, it led him to a career in Minor League Baseball with the local Lynchburg Hillcats organization starting in 2016. That year, he also changed coaching jobs, becoming the assistant girls' basket-ball coach with New Covenant Schools; he would switch to the men's team in 2018, before becoming that team's head coach in 2019—a position he still holds today.
From the minor leagues to insurance
"Prior to my start with Campbell Insurance in January of 2021, I was the assistant general manager for the Hillcats (an Advanced A affiliate of the Cleveland Indians) for five years," Klein says. "With the loss of the entire Minor League Baseball season in 2020 due to COVID-19, ownership had to make a tough decision that left most of us without a job. Thanks to my role with the Hillcats, I established a good number of strong relationships in the Lynchburg region. After sending out roughly 150 emails to contacts in the community, the vice president of Campbell Insurance called me within the hour. The rest is history."
Starting a new career path, Klein used what he knew from coaching to successfully make the transition.
"As a competitor, I love to win but I hate losing even more," Klein says, "but the secret to success in coaching and business, in my opinion, is relationships. I pride myself on cultivating and always strengthening relationships based on trust, authenticity, and com-passion. It's much easier having hard conversations knowing that they care about you, and you have their best interests at heart."
It appeared to be a good match, as the insurance business is one based on relationships. As for learning insurance fundamentals, he had a team of his own coaches. "The Campbell Insurance commercial team members have all been mentors to me in my short career," he says. "I lean on all of their expertise more than they would like, but it's one of the many reasons Campbell Insurance is so unique. The support and patience our team has for each other, not just for the newbie, is special.
"This starts with the leadership of David Shields, CEO and president, and Don Giles, vice president, leadership. Professional development is not a recommendation; it's an expectation. We pride ourselves on being advisors to our clients, and that does not happen overnight."
For his own professional development, Klein is currently working on his Certified Insurance Counselor (CIC) designation. "Agency Management was the first course I have taken, and it did not disappoint," he says. "I am a 'culture' guy through and through, and this class was as good as it gets."
While he's still new to the business himself, Klein advises to other "newbies" in the industry that "if you wait to become an expert in the field before you pick up the phone to call on a prospect you will become unemployed, broke, or both before you know it," he says. "Certainly, with time you will become more confident in the product knowledge, but that cannot hold you back from trying to set up meetings."
Involvement
Aside from insurance and basketball, Klein finds other ways to stay involved in his community. "The Lynchburg Regional Business Alliance (LRBA)—the Chamber of Commerce and Economic Development—and Rotary Club of Lynchburg are two nonprofit organizations I am heavily involved with," he says. "As an ambassador—and past-chair—for the LRBA, I serve in a public relations role, essentially welcoming new members, assisting with member retention, and volunteering at Alliance events.
"As a Rotarian—and president-nominee—I sit on the Board of Directors, co-chair the 'Bingo for Books' program that ensures every second grader in Lynchburg receives a book for the summer and am tasked with scheduling our bi-weekly presenters," he adds. "Both organizations are committed to bringing good will and awareness to the community that we reside."
While community involvement isn't done for the recognition, as for awards, "while I have yet to receive anything for my efforts in the insurance field, in 2017, I was mentioned in the Lynchburg Business Magazine as a 'Mover and Shaker' and one of 25 recipients of the 'Millennials on the Move' award by the same magazine two years later," Klein says. "I took home runner-up in the 2017 Big Brothers Big Sisters of Central Virginia's 'Dancing with the Lynchburg Stars,' which was an experience of a lifetime, but I still haven't gotten over taking second place.
"Last year I was recognized by my peers at the LRBA as their 2021 Ambassador of the Year. I remember my Campbell Insurance team surprising me at the event with a corporate table."
Outside his plethora of work and volunteer duties, you can find Klein spending time "cleaning dishes, mowing the lawn, and helping my wife keep two kids alive," he says. "We have a 5-year-old son who practices karate on his younger sister and the furniture all day and a 2-year-old daughter who runs the household and one day, could very well run the country. We also have a 9-year-old Blue Pitbull who is old and brittle, a cat that we can't give away, and a horse that is my wife's pride and joy. Safe to say, we have a busy household and family will always take priority.
"Growing up without a father made me realize how important it is to be a present husband and father. My mother was both mom and dad, and I am who I am today because of her love and sacrifice. Every day I walk in the door at home, and I do my best to put stress to the side, because my family deserves it. It's what mom did!" he concludes.
Back in Klein's baseball managing days, alertness was importance, especially regarding foul balls. While "heads up!" would be the common thing to yell at the "old ballgame" when a foul is hit, this writer might suggest preparedness by "keep watching the skies."