DO YOU MEET OR EXCEED YOUR CLIENTS' EXPECTATIONS?
If you think you do, can you name the specifics?
[Y]ou must get clarity about what's most important to the
client and also be in alignment with
the desired results.
By Brent Kelly
---
"We exceed your expectations" is a promotional tagline that countless companies and individuals have spouted for years. While it may sound nice, it's cliché to the point of being meaningless.
Perhaps you've heard the story about the producer whose business card included the phrase "Exceeding Your Expectations!" When asked to name his best client, he answered without hesitation. But when asked specifically about what the client expected from him and his agency, and how he measured that, he was stymied. Although he mumbled something generic about good service and competitive pricing, he couldn't elaborate on his client's expectations. So how could he claim he exceeded them? He couldn't! And he's not alone.
I have asked this question to live audiences and on my social media pages to get feedback: How do you know if you meet or exceed your clients' expectations? Most answers involve a high retention rate and numerous referrals, which I can't argue. While both are good measures of meeting or exceeding expectations, neither explains how to improve behaviors—as an agency or individual—that drive those results.
The reality is, it's not that difficult to do. As I'll explain, there's a simple and highly effective three-step process that will help you impress clients and enhance your revenue.
Define
I love the phrase "If you say it, it might be true, but if they say it, it is true." In other words, if I say I exceed the expectations of my clients, I might be right. But what I say matters a lot less than what they say!
What we call the renewal guarantee or continuation question revolves around expectations. Ultimately, you must get the client to answer the question, "What do you expect from us?" Another way to pose this question might be, "What must we accomplish over the next three, six, nine, or 12 months to ensure that we continue doing business together?" or "What do you expect from our agency, specifically, to guarantee that we'll continue this relationship?"
First, you must get clarity about what's most important to the client, and also be in alignment with the desired results. Further, it is vital that you agree on what defines success. It's not assuming or guessing or hoping that you know what the client wants, but rather it's knowing what you both expect. Having an agreed-upon mutual goal ensures that you can achieve those things that the client is looking for.
Once you understand specifically what the client expects, it's crucial to communicate that to the service team, which has a significant stake in the new account, as well. Often, a producer will have a conversation with a client and walk away knowing exactly what the client wants without communicating that to the internal team.
Unfortunately, they're the ones who must deliver or coordinate the services, which is difficult to do when they have no idea what was agreed to. That's why defining expectations and communicating them provides powerful clarity to all involved.
The challenge that we have as coaches is that, even if you don't define expectations, you're still going to be "good enough" 85% to 90% of the time. On the other hand, if you do define them, you'll not only retain the account, but you'll also obtain referrals.
2. Document
Have you ever tried to manage the air? If so, you know it's difficult. It's equally challenging to manage expectations that aren't put in writing. I firmly believe that if it's not in writing it probably didn't happen. Therefore, once you've completed Step 1 and defined your client's expectations, the next step is to put it in writing.
Please note that documenting expectations is not a matter of trust or lack thereof. Everyone is busy, including clients who have too much else to do besides accurately remembering past discussions. I can't tell you what I had for breakfast! How am I going to accurately remember what a client and I talked about several months ago? Without documenting what you, your team and your client have agreed to do, you have no "proof" that there ever was an agreement!
This document does not have to be a formal, notarized contract. It can be an email or a letter. But it must include these three magic words: "As we agreed …" . This recaps our defined, agreed-upon expectations and gives both parties a point of reference at future meetings.
For instance, "It was a pleasure meeting with you last week. As we agreed, (these things) are the most important in maintaining a long-term relationship with you." You might have agreed to follow a specific service timeline or provide monthly updates on market conditions. Whatever that list of expectations includes, be sure it is documented from the outset.
After that, any subsequent conversations you have with the client should start with, "Has anything changed?" This applies whether you're talking on the phone or via a Zoom call, or meeting in person. It's critical to always ask this question for a couple of reasons: (1) You need to know if there have been any recent or significant changes in their life/business/needs; and (2) It's an opportunity to remind the client of your agreement.
By reiterating expectations, you ensure that you're both still on the same page. If you're not, wouldn't you rather find out now than right before renewal when they say their expectations have not been met?
3. Deliver
Now it's time to do what you said you were going to do. Frankly, that's why many people don't define and document expectations—they don't want to deliver upon them! They know that if expectations are vague and undocumented, they (and their team) won't be on the hook for doing the things they verbally agreed to do.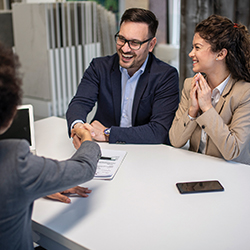 It's difficult to overcome the mindset of ,"Why be accountable for delivering expectations when I'll probably keep 85% to 90% of my clients without the hassle?" What many fail to realize is that when they deliver, they're building the foundation of a long-term relationship.
The cornerstone of that foundation is trust. To quote best-selling author and sales consultant Jeffrey Gitomer, "No trust, no nothing." In other words, if you can't be trusted to do what you say you'll do, you really have nothing. After all, a promise is valuable only if it is kept.
Making a promise is easy. But if you make it, you must keep it. That means showing clients how we have delivered on what was agreed to. One of the best ways to do this is through a stewardship report, which we like to call a promise report, since it reflects our intentions.
I find it's best to provide a promise report at approximately the six-month anniversary of the current policy year. This report recaps what was agreed to and what you delivered. Think of it as a highlight reel to remind clients of everything that you and your team have done for them recently, or since the previous promise report. It's a great way to showcase all you've accomplished in key areas of the relationship.
Besides showing what has been done, a promise report also indicates what to expect going forward. This can include marketplace updates or maybe a claims review. It doesn't have to be a complicated document; in fact, it doesn't have to be a document at all. It can be something as simple as scheduling a discussion between your client and your loss control team every quarter. The purpose is to review what you've done and to underscore how you're staying on top of things.
When you meet expectations and substantiate your worth to your clients well in advance of their renewal date, they're unlikely to entertain bids from other agents. Consequently, the renewal becomes a non-event because clients know you have delivered on your promises.
The delivery process also validates the idea that you are a reliable, proactive advisor to your client. As a trustworthy risk management expert, you have fully earned the right not only to continue the account, but also to ask for qualified referrals and introductions. This is an optimal time to do that, and yet most producers never ask. Typically, it's because they're afraid they aren't worthy and haven't earned the right to ask. This is a common and costly mistake.
You might be surprised what a huge difference just a few percentage points can make over the long run. Take an agency's 500 top clients renewing at 90% over five years. At the end of that period, the agency would retain 295 of those 500 clients. That's nine out of 10 clients, which may not seem like a big deal, but over five years, it really adds up! But at a 95% retention rate over five years, that number jumps to 387—a difference of 92 clients. Since these are typically an agency's best clients, the difference in revenue can be substantial.
Referrals are equally significant to your bottom line, especially when they're compounded. After five years, how many referrals would your agency receive if you asked every client for just one?
Are you meeting or exceeding your clients' expectations? If not, how much is it costing you and your agency? When you define, document, and deliver, you'll gain the respect, appreciation, and trust of your clients while reaping the rewards of success. But without a process in place that proves you're providing what your clients want, you're apt to fall short of expectations—theirs and yours.
The author
Brent Kelly, president of Sitkins Group, Inc., is a motivating influencer, coach and speaker who has a passion for helping insurance agencies maximize their performance. He spent 15 years in the insurance industry as a successful commercial lines producer and was named one of the top 12 young agents in the country in 2012. To help your agency gain clarity, build confidence, and improve culture, please contact him at brent@sitkins.com or visit sitkins.com.