Agency of the Month
FIND A NEED AND FILL IT
Startup leaders find difficulty getting insurance so they create their own agency in New York
By Dennis H. Pillsbury
Mark Peter Davis worked at a venture capital firm when he decided to leave and start up his own technology company. He was successful at attracting $3 million in capital, and the investors insisted that the new start-up have D&O insurance coverage, at the very least. When Benji Markoff went to work for Mark's new company, one of his first tasks was finding the aforementioned insurance coverage. He sat down with a broker and it was pretty clear that the broker had little or no understanding about what the company was doing and, as a result, really had no good idea what coverages were needed. Benji also found that, even though this was well into the 21st century, he was still spending an inordinate amount of time going to Kinko's to fax information to the broker.

And that's when the idea hit him: Here was an industry—insurance—that was still using old and relatively slow technology to serve the rapidly growing venture capital community and the technology startups they were funding—a community that was used to doing multimillion-dollar transactions electronically.
Benji says it was "nearly impossible to find a broker who knew what it meant to raise a seed round (of capital)as a technology company. My experience was months of back and forth, with no shortage of time-consuming and confusing paperwork, before we finally got our policy. There had to be a better way."
So, in October of 2012, Benji and Carl Niedbala started Founder Shield, an insurance agency that had one goal, according to Benji—"to create a seamless and intuitive insurance purchasing experience for business owners." The agency shared office space with Interplay Ventures, the new venture fund Mark Davis started. Benji served as CEO and Carl as COO and, for the first year, they were the only employees.
Nothing to lose
"When we started," Benji notes, "we had no revenue, no funding, and no customers. So, we had nothing to lose."
"Most important," Carl adds, "we had a great idea that would fill a real need for startups and other businesses that relied on technology.
"Our start was rudimentary," he continues. "We decided on three core values—transparency, efficiency and reliability. And using those as our guide, we began to build our webpage content with simple, easy-to-understand information about what coverages were needed by startups and other businesses, as well as why those coverages are necessary. We included real-life examples that showed how important each coverage can be when claim situations arise.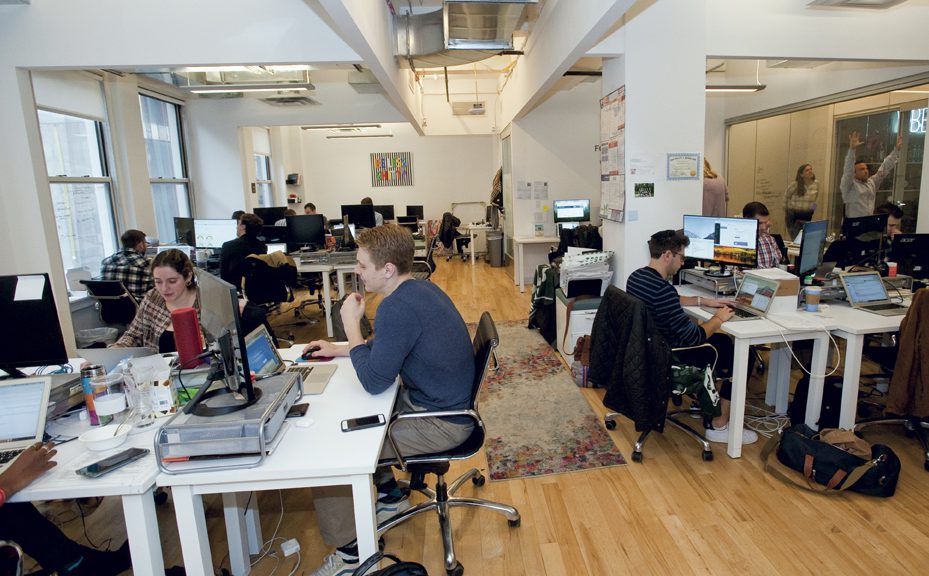 "Our goal was to make the insurance process transparent, rather than the arcane procedure Benji had faced, with constant requests for additional paperwork, by first off, using our content to explain the need and then reinventing the application process," Carl explains.
At the same time as content was being created, Benji was out pounding the pavement, using a kind of "whisper campaign" to get people interested in Founder Shield. He and Carl would visit WeWork locations and ask the businesses there where they got insurance and then slip in the Founder Shield name as one possible source. WeWork operates a network of workspaces in nearly 100 cities around the globe.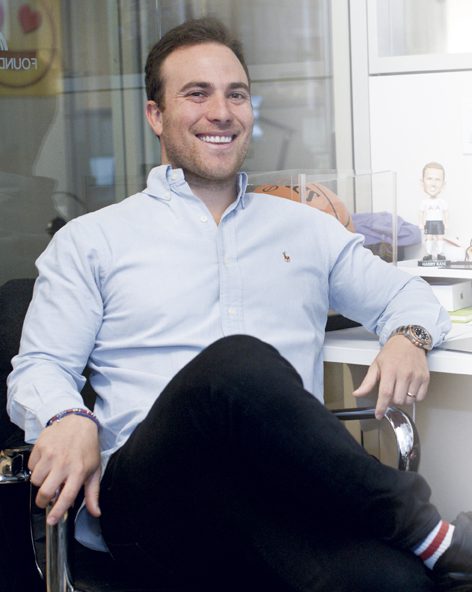 If you build it, they will come
In order to create a more efficient application process, Benji and Carl were faced with a startling reality—if they wanted to make it possible to do the whole process online, then they had to build it themselves. Fortunately, they shared space with a number of tech startups and were able to bounce ideas off of like-minded individuals. By April 2013, they had their first real website up and running, followed by "an online application built on seamlessdocs, a tech product developed by our friends down the hall," Benji says.
"We've come a long way since then," Carl points out. "Today, we have multiple developers on staff who are continually tweaking the multitude of applications we have online to make certain that they grab the information we need to quickly place coverage.
"We can provide any coverage that a company might need, just like any full-service independent agency," Carl continues. "What makes us unique is that, when we started, we were probably writing more D&O than most new brokerages. We're also writing a plethora of specialized coverages because of our market niche, including stock throughput coverage; hired non-owned auto; patent insurance, and so on. As these businesses get established, they also need a number of standard business coverages as well.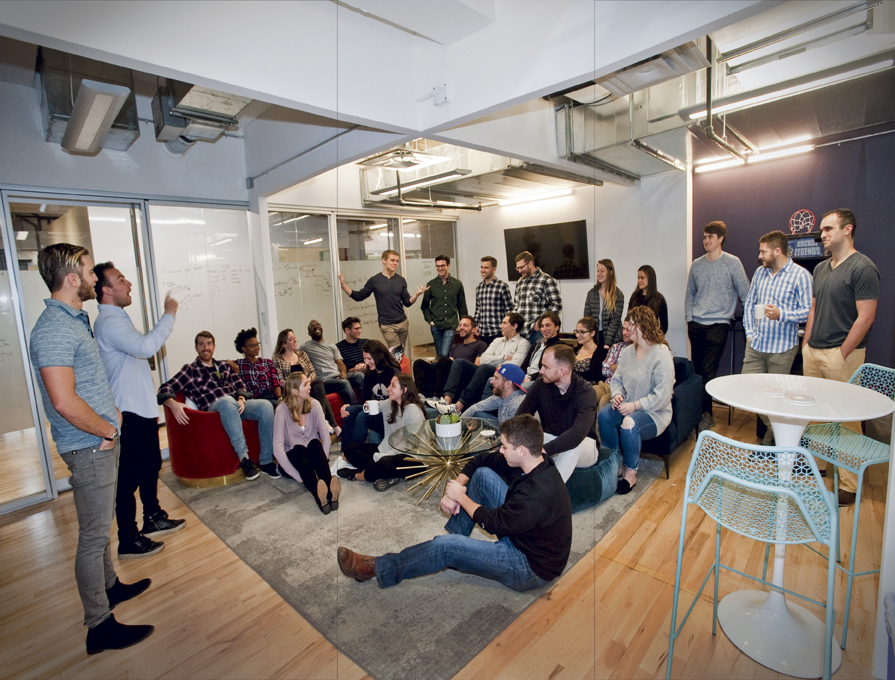 "To help new and growing businesses decide what they might need, we developed three packages that are dependent on where the business is in the growth cycle:
"Bootstrapper includes coverages that would be needed for a company with up to $1 million in funding, uses basic logistics software, keeps inventory at home or in a small office, and uses a platform like Squarespace to manage the store.
"Venturer includes coverages for a company with $1 million to $20 million in sales that's been through a Seed or Series A funding round and is rapidly expanding with B2B contracts.
"Premier includes highly customized coverages for a company with more than $20 million in sales that has completed a Series B funding through IPO and has its own intellectual property or pending or confirmed patents.
"Each of these varies by industry segment," Carl notes.
"When we started out, we depended on the wholesale market," he explains. "Today, however, a number of markets have taken a chance on us. The Hartford was our first direct appointment and we're proud that we are a Lloyd's coverholder and write D&O and EPL through that market and soon will be writing key person coverage."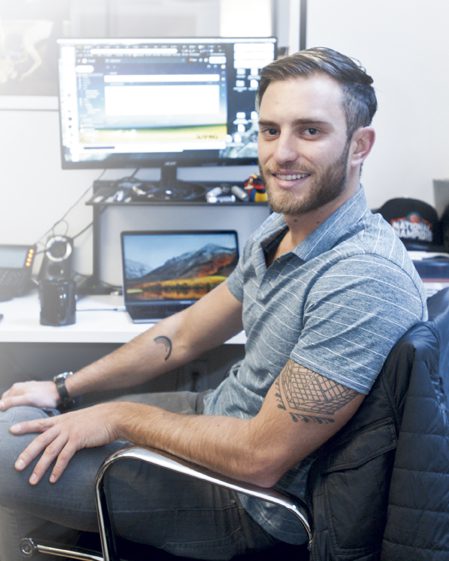 Great service
The third core value was reliability and, initially, "It depended on us," Carl says. "We viewed this as great customer service whereby our team of professionals would work with clients to make certain that mistakes were kept to a minimum. At first, the team was Benji and me. And we were doing all the other jobs as well. It worked out okay, because we have enjoyed tremendous growth in both premium volume and employees. We've doubled both revenue and head count every year. This year, we will exceed $50 million in premium by year end."
In the final analysis it is the human touch supercharged by technology that makes it work. Every client has an account executive and an account representative who introduces the client to the claims team. "We also have a digital onboarding process where we welcome the new client into the Founder Shield family and introduce them to numerous points of contact should they ever have a question or concern," Carl says.
"And this works," he continues, "because we have a culture that we nurture constantly. Our people are smart, hungry, and eager to learn. There is constant improvement. We work hard and play hard. I actually get bummed when I'm not in the office.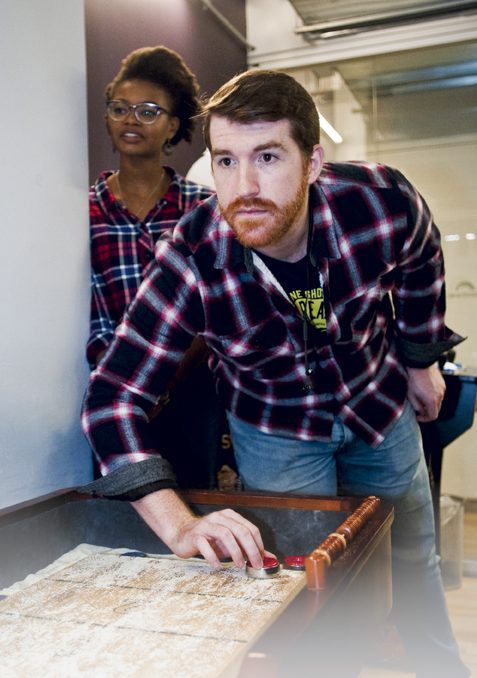 "There's a lot of talk about work/life balance, but we've created something different," Carl adds. "We have work and life together. It's seamless. People bring their dogs here because their pets are an important part of their work and life. It's an open office format. We have a lounge and shuffle- board table. People actually hang out here after work. It's all part of building a family.
"To accomplish this," Carl says, "we want our people to be empathetic, to understand each other and respect other's viewpoints. We also want them to take a comprehensive approach to their job so that they are willing to do whatever task is necessary to get the job done. And along with that goes self-reliance. Of course, there are the leadership responsibilities to recognize people for their efforts. We require quarterly reviews and reward our people for their efforts. It is all part of our recognition that service starts from within—a happy, successful team will welcome customers into our family, creating an environment where we all are striving for success together."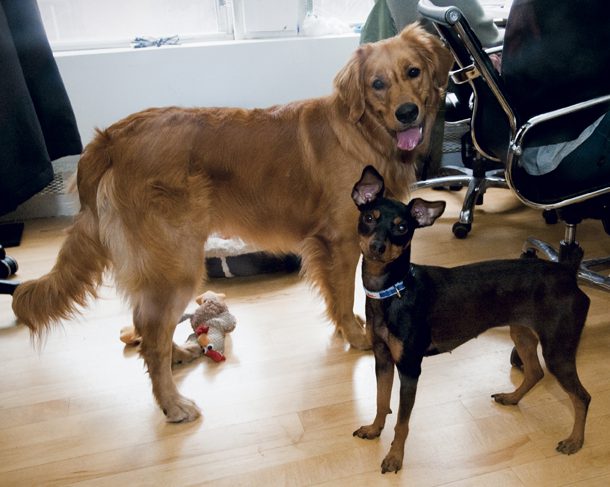 It's yours
The goal of Founder Shield was to create a better way of doing business and improve the insurance-purchasing environment for startups. Because of that, Founder Shield has "offered its secret sauce to other brokers," Carl says. "A rapidly growing number of brokers live on Broker Buddha, which is a roll-out of our technology. We think it's important to share innovations with others so the industry as a whole can do a better job of managing risk for businesses and individuals."
Meanwhile, Founder Shield is moving into other niches, building technical solutions for the insurance needs of real estate (mostly habitational) and agriculture. At the same time, Founder Shield has created Igloo Health to develop tech solutions for the purchase of health coverages for businesses.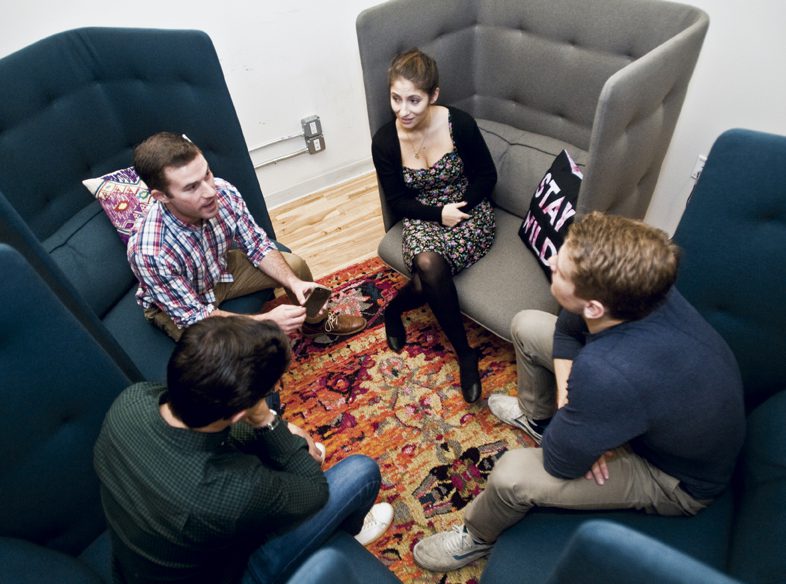 Rough Notes is proud to recognize a forward-thinking agency that is willing to share its innovations with the independent agency system. Founder Shield well deserves acknowledgment as our Agency of the Month.
The author
Dennis Pillsbury is a Virginia-based freelance insurance writer.