Looking Back, Looking Ahead
GILBERT'S RISK SOLUTIONS
165-year-old agency continues to innovate by responding to the voice of its customers
By Elisabeth Boone, CPCU
Then …
The Gilbert's story begins in the mid-1850s in the city of Sharon, Pennsylvania. Nestled in the Shenango Valley, Sharon was flourishing because of the booming coal, iron, and steel-making industries that were native to western Pennsylvania.
Although it was developing as an industrial power, at the time the population of this small city was only between 600 and 700 residents. The main thoroughfare through the city, State Street, was traveled by horse and wagon and dotted with just a few business establishments when W. L. Murdock opened the doors of his one-man agency to the dusty but bustling downtown streets.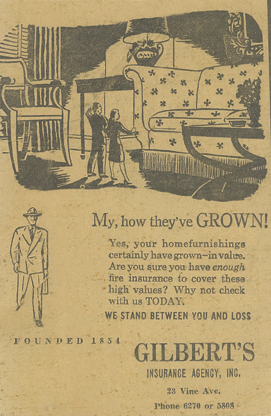 As industrial technology continued to develop, so did the industries it supported, resulting in a rising demand for diverse insurance products and services. The agency continued to thrive, and in 1912 it paid its first automobile insurance claim–several years before Henry Ford invented the auto assembly line.
The agency continued to evolve, and several different owners maintained continuous insurance product and service delivery through 1923, when John F. Gilbert, the son of Sharon Mayor Frank Gilbert, merged his business with the Murdock agency. In 1934 John's brother, Samuel P. Gilbert, joined the firm and the agency's name was changed to Gilbert's Insurance Agency. The newly named agency moved across the street to handsome modern offices located at 21 Vine Avenue. At this time the agency had a staff of seven.
Over the next several years, Gilbert's grew to become the largest and best-known insurance agency in northwestern Pennsylvania. By the early 1950s, the staff included four licensed fire and casualty agents. Gilbert's was highly respected for its technical depth; it required all agents to complete an accredited insurance course every year. It also was respected for operating with integrity and doing the right thing for the client, whether or not it benefited the agency.
In 1952, on the west side of Sharon, Thomas G. Kachulis opened an independent agency, Kachulis Insurance. The firm wrote primarily personal lines, then began to focus on commercial lines after Tom obtained his CPCU designation. Tom comments about his memories of this time: "Gilbert's was the best agency in town, and certainly the biggest. They were highly respected and had a solid reputation for operating with honesty and integrity. I remember that if I was calling on an account and that account was with Gilbert's, there was no need to proceed further. I would simply tell the prospect that its account was in good hands and then go try to help someone else."
"By listening to the needs of our clients, I have allowed their voices to guide my decision-making process in terms of finding unique and powerful ways to improve the quality of all the lives we touch."

—Lew Kachulis
President
Tom was working hard to get to know business owners in Sharon and throughout the Shenango Valley. Like Gilbert's, Tom was quickly establishing his own reputation in the city, becoming well known for operating with the same honesty and integrity and for being a strong advocate for the insured. "I made sure that all of my clients understood that I would get them every nickel they were entitled to, and if for some reason I couldn't, I would help them personally," Tom recalls.
Tom will never forget the day in 1969 when he received a phone call from Herman Hanson, then president of Gilbert's. "Herman asked to meet with me. I wasn't sure what he wanted, but I respected him, so we met. Herm was initially interested in buying me out, but we ended up agreeing to a merger for an initial period of one year, to make sure it was a good fit," Tom remembers.
It proved to be a fruitful partnership that ultimately resulted in Tom becoming president of the agency in 1980. Just a year earlier, Tom's son Lew had started his insurance career after graduating from the University of Michigan. He worked for Westfield Insurance Companies while completing his MBA at Case Western University in 1988. In 1990, Lew decided to move back to Sharon and join his father at Gilbert's, where he began a 10-year buyout of his father's interest.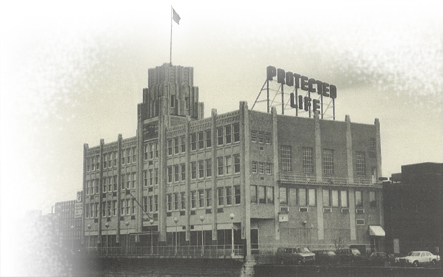 This 10-year period was the most productive time in the agency's history, as Gilbert's experienced growth of more than 300%. Tom attributes this impressive growth in large part to Lew coming on board with his experience on the carrier side, his work ethic, his tenacity, and his creativity. "During my career, I've never seen another salesperson who can even come close to Lew. He just worked harder and smarter than anyone, and it's why the agency is still operating to this day," says Tom.
From the start, Lew has focused on the customer, working to deeply understand his or her present needs as well as plans for growth. He has strived to position Gilbert's as a trusted advisor and a true partner, not merely a broker. Lew understands that clients can obtain coverage anywhere, but the key is to build a relationship and to proactively service his clients instead of reacting to situations as they arise. Lew is guided in this endeavor by what he calls "listening to the voice of the customer."
In 1996, Lew became the seventh president of Gilbert's Risk Solutions. He came to realize that workplace injuries were common and costly in the Shenango Valley, which has been nicknamed the "mini rust belt" because of the region's heavy industrial/manufacturing base. Lew was determined to differentiate Gilbert's by focusing strongly on loss control, helping employers evaluate their risks and finding solutions to reduce or eliminate risk and thus lower their insurance costs.
Gilbert's innovative risk management approach led to the creation in 2000 of SOS Safety Solutions, a safety management company, and Synergy Claims Management Company, which adjudicates workers compensation claims for larger self-insured and fully insured employers.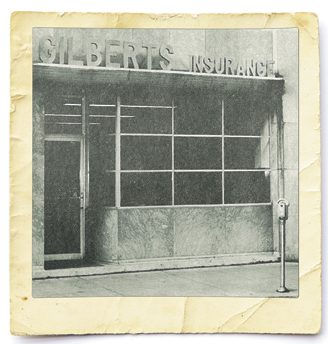 Here's how Lew sums up the moves: "By listening to the needs of our clients, I have allowed their voices to guide my decision-making process in terms of finding unique and powerful ways to improve the quality of all of the lives we touch. Being a family-oriented person myself, I wondered if through our carefully designed programs and processes we could actually return workers home safely each day to their families. After we launched SOS and Synergy Claims and began carefully tracking and monitoring our results, it appeared we could make a significant impact."
Gilbert's continued to achieve impressive growth, and in 2004 Lew was named one of the "25 Most Innovative Agents in America." Also during 2004, Gilbert's moved into what had been the Protected Home Circle building at 30 East State Street, an epic four-story art deco building that towers over downtown Sharon.
In 2009, Gilbert's became Gilbert's Risk Solutions, presenting a host of new service offerings rooted in the foundations of traditional risk management, working with clients in a consultative manner to identify, mitigate, and manage their risks.
As Lew continued to develop new offerings while carefully managing the continued growth of Gilbert's, it occurred to him that options were limited for employers with higher-than-average loss experience in comparison to their industries. He established a monoline workers compensation insurer, Synergy Comp, which today operates in four states, with plans for national expansion.
Synergy Comp grew 24% in 2018 and for the second consecutive year was ranked as one of the "Best Places to Work in Pennsylvania." For the fourth consecutive year the company was included in Inc. magazine's list of the 5,000 Fastest Growing Private Companies. In 2019, Synergy Comp was assigned a Financial Strength Rating of A- (Excellent) by A.M. Best.
Now …
One hundred sixty-five years have passed since this story began in Sharon, Pennsylvania. What started as W.L. Murdock's one-man shop has continued to thrive through two world wars, 32 presidents, and a man landing on the moon … expanding from a small office on a dusty side street to an historic structure in the heart of downtown.
In 2018 Lew launched his newest venture, Kismet PEO.
"Late in 2018 we began offering strategic human resources services to our client partners, and the stars really began to align," Lew says. "We realized that with our foundations in insurance, risk management, claims administration, and workers compensation, the next natural step was to position ourselves as a single-source provider of powerful products and services to help businesses lower their costs while reducing risk and liability."
Under the shared-employment model of a PEO, Kismet shares employer responsibilities with clients and relieves them of fiduciary responsibilities as well as time-consuming and transactional employee-related tasks and employment-related liability. The client maintains full control and day-to-day management of its core business, its objectives and business agenda, and employee selection and compensation levels.
In addition to standard PEO outsourcing offerings, Kismet also provides full or assisted services in the areas of recruiting and retention and continuous improvement. The goal of Kismet is to help small business clients increase profitability, maximize productivity, reduce time spent in transactional HR, reduce liability, and ultimately lower labor costs. Occupying the fourth floor in the stately downtown building that houses Gilbert's Risk Solutions, Kismet began to offer services to clients this month.
"From the beginning, we have believed that to truly care for our customers we must keep our emphasis on providing the highest quality service possible," says Lew. The company features "Service Beyond Insurance" as its tag line "to make sure our clients understand our commitment to them," he notes.