HOMEOWNERS AND BUILDERS RISK: WHAT CAN
FALL THROUGH THE RENOVATION CRACKS
Recommending the best policy with the right coverages
By Mary Stiglic
---
Home sales may have slowed, but remodeling is accelerating. The U.S. market reached an unprecedented height of $567 billion in 2022, according to the Joint Center for Housing Studies at Harvard University. Kitchen and bath remodels, room additions and disaster repairs were among the top categories of residential improvement expenditures driving this impressive growth.
Lifestyle needs—such as accessibility remodeling (home modifications and renovations to support people with health needs) and accessory dwelling units (independent residence situated on the same property as a single-family home)—also increased the pace.
However, homeowners planning to remodel often do not know their permanent property insurance may not cover the risks of their renovation projects. So, it's an agent's duty to recommend the best policy with the right coverages. Because builders risk insurance is specifically designed to insure materials, fixtures and equipment to be installed during the course of construction, it's most often the best coverage solution for homeowners undergoing remodeling.
It's important to remember a completed home and a house undergoing renovation could be exposed to unique risks requiring different types of insurance coverage:
Homeowners insurance provides permanent coverage for completed, occupied residential properties and isn't intended to cover construction activities.
Builders risk insurance provides temporary coverage for property, like houses, being constructed or renovated.
Distinct exposures of structures under construction
The nature of a renovation project brings different risks. For example, building materials in transit to or delivered to the jobsite often sit outside of a home or in an unsecured area, making them vulnerable to theft. Other coverages needed during renovation include:
Fire
Water damage
Vandalism and arson
Collapse
Materials in transit
Materials stored at temporary locations
Debris removal
Pollution cleanup and removal
Ordinance or law
A look at homeowners insurance
The typical provision of homeowners insurance, according to IRMI, is through a "package insurance policy providing property and liability coverages tailored to the needs of most homeowners [and] condominium owners." It's purchased by the homeowner.
A homeowners policy provides permanent coverage lasting for a defined period of time, and it's often renewed year to year. Basic homeowners insurance using a named-perils form specifies what is covered. The named perils usually are fire, lightning and windstorm, while others might include hail, explosion, riot, civil commotion, aircraft, vehicle smoke, vandalism, theft and falling objects. A broad form may cover additional perils such as freezing, artificially generated electrical current and volcanic eruption.
For decades, homeowners insurers have competed on coverage, rates, service and innovation. That's resulted in a plethora of options, with homeowners coverage written on a range of forms. IRMI's insurance glossary lists several different HO forms that typically provide coverage on a named-perils basis or an all-risks basis.
Agents play a vital role in performing due diligence to ensure their customers have the appropriate homeowners coverage.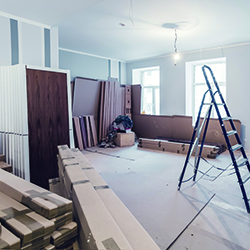 What builders risk coverage provides
In contrast, builders risk insurance is temporary coverage. Once the construction project is completed, coverage is no longer needed. Its policies can be purchased in the name of the personal or commercial lines client, whether it's the property owner, contractor or another entity with a financial interest in the property.
While homeowners policies encompass property and liability coverages, builders risk policies typically provide property coverage only, specifically for the materials, fixtures and/or equipment to be installed during the construction or renovation of a building or structure—should those items suffer physical loss or damage from a covered cause of loss.
Contents of the property are not included. However, a standard builders risk form may provide coverage for many other perils that could be automatically included or available by endorsement.
"Course of construction" as an HO endorsement
Some carriers offer homeowners policy endorsements for "course of construction" coverage. Agents should be aware that, while these endorsements might provide some coverage, they are not as comprehensive in coverage or limits as a builders risk policy. For example, homeowners insurance during construction will typically exclude theft.
Exclusions vary
When it comes to builders risk, there's no established standard as to the coverages excluded, because forms can vary by carrier. An agent must be familiar with the policies they are selling, including the perils that clients won't have protection from, so they can best guide them. With that said, some carriers offer endorsements so insureds can "buy back" excluded coverages, which could include coverage for risks like flood and earthquake.
A word about claims
Theft is the most common builders risk claim, because building materials often sit unsecured on a jobsite. Another common claim is vandalism, which may occur at the same time as theft if perpetrators steal valuable materials (such as copper water piping, appliances or construction equipment) and damage property in the process.
A homeowners policy may deny claims if the residence was vacant at the time of loss. For example, if owners temporarily move out during a renovation, it's likely that no coverage will be provided for the remodeling or even the existing structure.
Whose insurable interest is covered?
In every construction scenario, agents should check the insurable interest on the policy. Some homeowners insurance carriers specify that the only covered insurable interest is the insured's interest. If the policyholder is the homeowner, any materials purchased by the contractor involved in the project may not be insurable.
For example: If a homeowner is having their house remodeled and buys construction materials, those items might be insurable under a course-of-construction endorsement on a homeowners policy. But if the homeowner's renovation contractor were to buy other materials (such as appliances) and then bill the homeowner, coverage is in a gray area and in question.
By contrast, builders risk carriers are known to cover this property no matter who purchases it, as long as it's being stored at a temporary location, in transit, or delivered to the jobsite and intended to be installed in the structure.
When to start coverage
Agents often ask about when builders risk coverage should start for a renovation. The answer almost always is "as soon as a homeowner or contractor has building materials at the jobsite." Agents should remind clients that if a lender is financing the remodel, the homeowner should inquire with the lender about insurance requirements.
Builders risk is typically not a coverage that's top of mind for homeowners. It's up to independent agents to proactively communicate about the risks of renovations and their coverage options.
With billions of dollars of ongoing renovation projects, it's likely that all agents' books of business include builders risk sales prospects. In fact, sending a quick email to customers asking, "Renovating? Let me know so we can make sure you're properly covered," could save loads of headaches down the road.
The author
Mary Stiglic is the marketing manager at US Assure, which exclusively distributes, underwrites and services Zurich's builders risk insurance program across the United States.