INDEPENDENCE DAY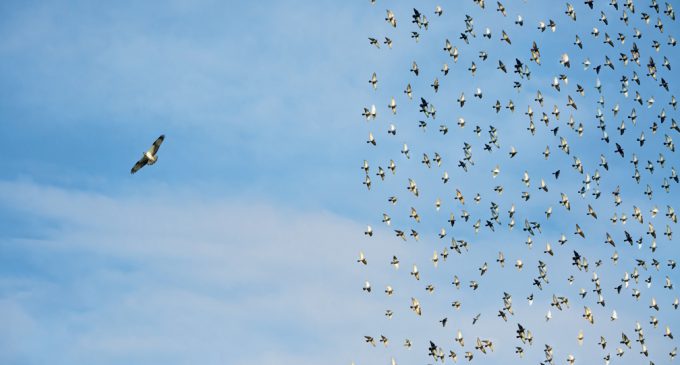 INDEPENDENCE DAY
Guiding Nationwide agents on their path to independence
By Elisabeth Boone, CPCU
If you started your agency from scratch, or your lead carrier pulled out of your state, you understand the challenge of acquiring contracts with carriers that can meet your clients' needs and be reliable, committed partners. You may not have been forced to jump through flaming hoops, but you definitely needed to bring your "A" game to the negotiating table. And the stress didn't end once you'd secured the contract because you needed to satisfy volume requirements and make sure your submissions were appropriate for your carriers' appetites and underwriting guidelines.
You've been there, and you know the drill; it comes with the territory of being an independent agent.
Imagine for a moment that you've been in business for 20 years or more and during all that time you've placed business with primarily one company. One day you're going about your business as usual when this company informs you that as of a certain date you'll no longer be an exclusive agent. You didn't choose it, and you may not have seen it coming, but you're about to leave your safe harbor and dive into the uncharted waters of independence.
In the spring of 2018 that imaginary scenario became a reality for some 2,000 Nationwide exclusive agents when the insurer announced that as of July 2020 it would move to a fully independent agency distribution model. Since then several agents have completed the transition to independence, and the remaining agents are at some stage of the process. Nationwide will continue to market personal lines products through its direct-to-consumer and agency channels.
The transition is more evolutionary than revolutionary given that Nationwide already has relationships with more than 10,000 independent agents throughout the country. Executives point out that, once independent, the company's exclusive agents will gain access to a range of markets, particularly in commercial lines, and will be more favorably positioned to meet the needs of clients and prospects.
To gain perspective on the transition, we spoke with Amy Shore, CPCU, CLU, Nationwide's president of P-C sales and distribution. We also spent time with Mike Griffin, a long-time Nationwide exclusive agent who heads up First Choice Agents Alliance, an entity he helped establish to support Nationwide agents as they move toward independent status.
Exclusive, but not exclusive
We asked Shore to explain the process through which Nationwide's top management arrived at the decision to become an all-independent agency company.
"Our exclusive agency model for a long period of time has been one of the least-exclusive 'exclusive' models in the business," Shore says. "We have been offering our exclusive agents an array of options and opportunities, like the ability to write business with other carriers through a brokerage network we provide. They also have the opportunity to grow their agencies as large as they choose, without us taking half of their business and starting a second agency. Several years ago we offered our agents the option to obtain direct contracts with other carriers so they could write commercial business."
As Nationwide began to move toward an all-independent agent model, Shore observes, "We were on a philosophical journey for some period of time. We started talking about how we were going to make this transition when we decided to bring our three companies together under one operating model. We were the Nationwide brand, writing business through exclusive agents and marketing direct to consumers. We were the Allied brand, marketing through independent agents primarily in the west; and we were the Harleysville brand, going to market through independent agents primarily in the east.
"Just as agents who make a number of acquisitions eventually have to start combining operations, we reached the point where we decided to move to a single policy administration system and a single brand," Shore explains. The new policy administration system, she comments, is a state-of-the-art platform for all of Nationwide's agents.
"Our next step was to focus on creating a single distribution model, and that led us to the decision to make the independent agency model our primary go-to market model. Once we had made the decision, we addressed the question of how we would bring agents on this journey with us and help them become independent," Shore continues. "We put together the how and when we thought that should happen. We formed a council of some of our most trusted, long-term exclusive agency partners and explained to them what we wanted to accomplish and how we thought we wanted to do it. About 120 days later we and the agents had the same destination in mind, but we had entirely rerouted our plans, based on the excellent input we received from agents on the options we would offer and the timing of the transition."
Agents weigh in
What kinds of feedback were the agents providing?
"First of all, they were telling us 'thank you, because we need this degree of flexibility in our future so we can survive and thrive long term, and for our businesses to survive and thrive after we're no longer part of them,'" Shore responds. "They also expressed the need for us to give them as much time as possible to adapt to the biggest changes they were going to experience. We announced in April 2018 that this change would be complete by July 2020. We believed this would give our agents the time they would need to explore agency management systems, select the one that would be best for them, and start that transition.
"Our agent council members really helped us understand some of the practical implications of the transition for agents and why a longer time span was needed to complete it. Their input caused us to revamp our plan to make it more responsive to their concerns. We wanted to be sure that agents who were in different places in their careers could make the right choices for them. If I'm an agent in my mid- to late '60s I might choose to exit the insurance business. If I'm a third- or fourth-generation Nationwide agent in my mid-30s, I have a much longer runway and I need different options that will allow me to grow my business."
Agents also were offered the opportunity to separate from their relationship with Nationwide, Shore says. "We use the term 'separate' because the agents are not employees of the company; they're independent contractors," she explains. "In that process of separation, agents could help us choose where their book of business would go. We own the renewal rights to that business, and typically in the process of separation we would decide where that book of business would go. Through a program that ended in the fourth quarter of 2018, we allowed the agents to participate in selecting where their books would go. Over 900 agents separated through that program."
In addition, Nationwide allowed some 30 agents to purchase their business from the company through a program that also ended last year. As a result, Shore says, "We already have a group of agents who have transitioned to full independence with full ownership of the renewal rights of their book." As agents complete the transition, she notes, they likely will communicate with policyholders as they establish their own brands.
Overall, Shore says, Nationwide's transition to an independent agency model "will enable us to grow and grow profitably. We have a singular focus on our top priority, which is that we want to be the best independent agency company in America. We're maintaining our direct-to-consumer operation, but we'll be deemphasizing that as our primary focus for growth. We want to streamline all of our decision making in pursuit of that objective we're all working toward: a strong, efficient, and successful independent agency operation."
By agents, for agents
As Shore explained, Nationwide has gone to considerable lengths to engage agents in the decisions it has made to facilitate its transition to the independent agency model.
Seeing a need among his fellow Nationwide exclusive agents for ongoing guidance through the transition, veteran agent Mike Griffin spearheaded the creation of First Choice Agents Alliance (FCAA), where he serves as chief executive officer.
Griffin is president and chief executive officer of Griffin Insurance Agency, Inc., which he established in 1978, and also is president of Tarheel Insurance Services, which provides workers compensation products to Nationwide agents for their clients.
Serving as president of FCAA is Keith Captain, who was with Nationwide for 15 years in several management capacities and most recently was an associate vice president of Donegal Insurance Group. Diane Wagner, who has more than 30 years of experience in underwriting, marketing, and coaching, is chief operating officer. The newest addition to the management team is Scott Mudger, vice president of personal lines development, who most recently was a Nationwide sales manager in South Carolina.
In June, Griffin will mark 40 years as a Nationwide agent, and on July 1,he will make the transition to full independence. The company is offering agents two transition dates: July 1 of this year and July 1, 2020.
Griffin says he saw Nationwide taking a big step toward moving to an independent agency model in 2014 when it announced that its exclusive agents would be able to place commercial lines business with other carriers. "Nationwide is the largest writer of small commercial business in the country," Griffin says, "and many agents welcomed the opportunity to pursue bigger and more complex commercial accounts."
FCAA was created in 2015 by Griffin and five associates shortly after Nationwide's 2014 announcement. "At that time," Griffin says, "we had no idea that Nationwide was going to go to a totally independent business model."
Opportunities and challenges
How does Griffin view the advantages to an exclusive agent of going independent, and what about the challenges?
"I think a key advantage is the opportunity to increase our closing ratios because we'll have multiple carrier options," he responds. "This also will have a favorable impact on retention. Both of these factors will allow us to grow our business, and as independent agents we'll own our renewals. Another advantage is the ability to choose our own agency management systems rather than being restricted to using a company system," he continues.
Independence offers choices, and those choices often present challenges. One example Griffin cites is the afore- mentioned selection of an agency management system. It's great to have one's choice of systems, but then one faces the challenge of becoming informed about the many available systems, evaluating their features, narrowing the selection down to a few systems, and then choosing the one that seems to offer the best functionality and vendor support.
"Another challenge is adapting to the loss of the back-room support that exclusive agents have come to take for granted," Griffin points out. "Being independent means setting up and administering your own back-room support. It also means providing education and training to your employees that previously was delivered by the company." In addition, agents need to find and engage professionals to develop their websites and set up social media channels. Even for established and experienced agents, Griffin observes, making the transition to independence is somewhat like starting an agency from scratch. The bottom line, he says, is: "Agents will have to learn to become self-sufficient."
Some agents, he says, have compared the transition to independence with the five stages of grief articulated by the late Elisabeth Kübler-Ross, author of the seminal book On Death and Dying: denial, anger, bargaining, depression, and acceptance. "It's really hard to move forward and get to that acceptance stage, especially for older agents who never contemplated a change of this magnitude," Griffin remarks. "I think some agents have stayed in the denial and anger stages way too long."
Aggregator model
First Choice Agents Alliance was formed by agents, for agents and is not connected with Nationwide.
FCAA's initial focus, Griffin says, was to help its members acquire contracts with insurers so they could place commercial business. "In 2016, we added an individual to our management staff who had experience with the aggregator model with SIAA (Strategic Insurance Agency Alliance). Originally we operated just as a brokerage house, but we quickly realized that whenever an intermediary is involved, the agents take a real haircut on commissions. That was totally counter to what we were trying to accomplish. When I met Diane Wagner, she asked me if I had ever considered the aggregator model. Coming out of the exclusive agency world, I couldn't even talk intelligently about the aggregator model," Griffin says ruefully. "She came on board a few months after we met, and we put the aggregator model in place at the beginning of 2017."
As an aggregator, FCAA holds the master contract with each insurer, and it secures a subcode for each agent so that the agent places business directly with a carrier and receives a commission directly from that carrier. "For example, we've obtained appointments for 12 agents with one insurer under a master contract," Griffin says. "All the premiums from those agents are added together under the master for the purposes of profit sharing, growth bonuses, and any extra compensation we might have negotiated. This allows us to quickly get into profit-sharing tables."
After Nationwide's 2018 announcement that it intended to move toward an all-independent agency model, Griffin says, he and his team at FCAA put serious thought into what kinds of help and support they could offer agents as they went through the transition. "Our thinking was, if we're going to make this change, let's not settle for being mediocre; let's do it with best practices in mind. Let's focus on how we can be the best at what we're getting ready to do."
FCAA has put together an array of programs to help agents navigate the transition, Griffin says. "We continue to help agents negotiate and secure carrier contracts so they don't just go out and sign up with whatever carrier will take them. We also negotiate with agency management system vendors and lead generation vendors. Education is a big part of what we offer. Some of our management people provide coaching on strategic planning, carrier selection, and other issues."
FCAA members have access to:
Seasoned agency owners who have built profitable commercial lines profit centers
Coaches who have effectively mentored agency owners and producers for many years
Proven strategies to engage their teams and improve productivity and time management
Assistance in building an effective marketing plan
Peer advisory groups
Perpetuation planning
"We started FCAA pretty much from scratch," Griffin remarks. "We now have more than 125 members managing almost $1.5 billion in written premium and are continuing to grow weekly. A sense of urgency has set in as the deadlines approach, and agents are realizing that they need the education, coaching, and other kinds of support we're providing on the back end."
As Nationwide's Independence Day draws near, it's obvious that the exclusive agents who are making the transition can count on strong support from both the insurer and their fellow agents who are navigating the same challenging course.
For more information:
Nationwide
www.nationwide.com
First Choice Agents Alliance
www.fcaalliance.com