Leverage technology to effectively drive sales, delight customers and position your agency for tomorrow
An irrefutable correlation exists between technology investment and the value of an independent agency. And the ultimate key to agency value is investing time, training and talent to use that technology to the fullest, to effectively drive sales and deliver a better customer experience.
"Every agency one day will be bought, sold, merged or internally perpetuated in some way, shape or form. Thus, every principal must recognize that the firm that fully leverages its management system will command a premium," says Bob Pettinicchi, executive vice president and chief lending officer at InsurBanc, a division of Connecticut Community Bank, N.A.
How much of a premium? "Agencies today are valued at six to eight times or more of EBITDA (earnings before interest, taxes, depreciation and amortization), which means pretax profits, basically," explains Kevin Stipe, president of Reagan Consulting. "So a dollar in recurring savings is worth six to eight dollars in agency value."
Tech fuels perpetuation success
Steve Aronson, president and CEO of Aronson Insurance in Needham, Massachusetts, is a vocal advocate of the multipliers of technology. Aronson recently sold his nearly 100-year-old family agency at terms he wanted, which included the ability to retain full control until he's ready to retire. He's convinced that without the efficiency, expense savings and topline growth delivered by fully leveraging technology, he wouldn't have been able to secure a solid future for his firm.
Aronson says focusing on the bottom line—on running the agency like a business rather than a "typical" small insurance agency—is critical to receiving full value for the firm.
"At some point, acquisitions start to be a multiple of EBITDA rather than a multiple of commissions," says Aronson. "When you look at the cost of acquiring and keeping a customer, you quickly learn that technology is a great enabler—it allows you to be much more profitable."
An agency can't afford not to take advantage of everything it receives from its technology solutions provider.
Digital tech is here to stay. Our customers expect ease of doing business, and that's particularly true of younger generations. Businesses that fail to fully embrace technology will struggle to survive. Millennials will be here long after Boomers are gone, and as an industry we have to be ready for them, whether they're customers or employees.
"As our employees get younger and younger, technology is not optional; it's essential," Aronson says. "We don't give classes on Windows or iPhones or the F2 key anymore. Technology is a life tool."
A well-trained staff maximizes technology value. While talented people remain an irreplaceable ingredient of success, a strong case can be made for technology as an asset of growing importance in today's agency. A small investment in training, and effectively using a tool, can have an exponential impact on both cost savings and the ability to increase sales and therefore revenue.
The goal of any technology user should be full-system utilization. That means getting the most for your money from the technology investment. With training, it's possible to get ever closer to that goal.
Aronson firmly asserts that investing a modest amount of time engaging with a technology users group can pay off.  "Spend time with successful people who are achieving the things you wantto achieve," he says. "Sometimes a webinar is easier and the expense is minimal, but the value of attending a conference or workshop is the time spent outside the session sharing ideaswith other users." Other learning resources that users groups offer include on-demand education, system certifications and local chapter meetings.
Systematically passing along that learning to others in the agency leverages the value of any training investment. When agency professionals return home from a conference or meeting, they must share what they have learned with coworkers—handling e-forms, applications and certificates, eliminating dual entry, mastering document management and integrating accounting software.
Time and again, tech users tell me that peer-to-peer learning is the best. Many agents make an initial contact at an in-person event and then follow up to interact in online forums and over the phone with peers they've met from around the country or locally. Those are the insurance pros who are learning the most and striving daily toward full-system utilization.
Cash in the rewards. It soon becomes apparent that the benefits of investing in technology and working smarter are limitless, and here are a few:
By putting its data in the cloud an agency can go paperless.
Being able to manage information flow allows an agency to outsource functions to reduce expenses.
Putting processes and workflows on a common platform helps agencies efficiently integrate with one another.
Technology unlocks the power of data to improve prospecting and the customer experience. The more we know about our customers, the better we can service them and help solve their problems.
"To be able to pull the data on your book of business is gold," says principal analyst Ellen Carney, insurance eBusiness and channel strategy at Forrester Research. "If you look at where insurance business spending is increasing more than other industries, it's in data analytics."
Data drives business
When Forrester asked small business owners what's most important to them when purchasing insurance, many key attributes cited revolve around technology:
79% said customer service, second only to price. The agency management system performs repetitive tasks, saving keystrokes and time so more energy can be devoted to customer service. It also delivers instant access to the answers policyholders need.
61% said access to a dedicated local agent. A producer can focus on the agency's market and prospects when the machine takes over workflows and consolidates data entry.
57% said the ability to access, view and share certificates of insurance electronically. Agency management systems streamline the connection between carrier and customer.
The numbers are convincing. However, just thinking about what customers want and need can lead to sleepless nights, because there's a fundamental behavioral reality behind all of this: Change is difficult and technology can seem intimidating.
Get your head in the cloud. "Not long ago we would mention cloud-based management systems and agents would push back," says Ron Berg, executive director of the Agents Council for Technology (ACT), part of the IIABA. "They didn't want their data outside the four walls of the building until big events like hurricanes wiped out some agencies and they didn't have backup. Today, we're seeing more acceptance of cloud-based solutions, as well as preparedness."
Berg says ACT members help others in the independent agency channel overcome the fear of the unknown and embrace technology by examining how they can improve at each step of the insurance cycle:
What do you need to do for customers who first realize they need insurance?
How can their policies be presented and bound efficiently?
How can you better serve them throughout the policy period?
What about customers at renewal?
What about customers filing a claim?
Take baby steps. "We advocate starting with one or two things rather than tackling it all at once," says Berg of converting processes and workflows to automation. "We take different tool sets and strategic plans and break them down into what they are and why they're important."
"When you look at the cost of acquiring and keeping a customer, you quickly learn that technology is a great enabler—it allows you to be much more profitable."

—Steve Aronson

President and CEO

Aronson Insurance
Pettinicchi has seen the industry change with the times, albeit haltingly, and he likens the technology transformation to ripping off a Band-Aid. "Nobody thinks twice about technology once it becomes embedded in our lives. On a daily basis we maintain a calendar on our smartphones or drive a modern car. Once we learn and practice it, we don't think twice about it. Embrace it, use it and it will become embedded," he says.
"I remember a time before compu-ters and spreadsheets," he adds. "When all these things came out you'd go to a class to learn about it but, still, not everybody had PCs to put it into practice. When you finally got the PC and your alternative was taken away from you, you were forced to take the leap."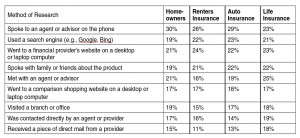 It's one thing to talk about technology, but accelerating the transformation is the mission of NetVU, ACT and other industry groups.
"The best thing we can do for agents is to provide the tools they can snap in place," says Berg. "It starts with giving them interactive guides to walk them through an analysis of their agency to show them where they need to take next steps."
The time to move on technology was yesterday, and the time to fully embrace it is now because the wolf is at the door.
"There are a lot of people trying to figure out how to use technology to steal business from agents," says Pettinicchi. "Why wouldn't agents use the technology they have at hand to make their business sustainable?"
Consumers use tech for insurance decisions. Forrester's survey of adults who purchased a financial product in the last 12 months illustrates the pervasiveness of technology. Yes, the agent remains the preferred source of help, but technology-based tools, such as search engines, websites and comparison sites, are closing in.
If the agency model is to remain viable and consequently increase in value, all processes and interactions in the policy cycle must be driven by, even rooted in, technology. Not only does full use of technology reduce errors and save time and money, but agents will become stronger advisers when technology is their ally.  And that accrues to the bottom line.
The author
Kitty Ambers (kitty@netvu.org) is CEO of NetVU, the Network of Vertafore Users.