LIMESTONE AGENCY, LLC
Kentucky agency marks 175 years in business
J. Miller Hoffman III, CIC
---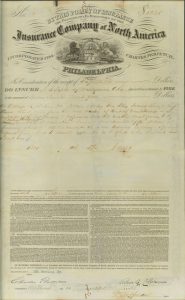 Hoffman's Insurance Agency was founded in 1847 in Mount Sterling, Kentucky, by William Hoffman, my great-great-grandfather. He was the cashier of a local bank and sold insurance as a sideline.
The oldest policy we have in our archives was countersigned by him on April 10, 1869. The contract insured a barn for $800 and hay, grain, and farm implements for an additional $425, for a premium of $15.21.
At some point, William's son, Albert, joined the agency with his father. Around 1910, Albert's son (my grandfather), Jouett Miller Hoffman Sr., joined the agency. Later a partner, C.C. (Rusty) O'Rear, was brought into the firm.
My father, Jouett Miller Hoffman Jr., joined the agency in the mid-1950s after working for The Hartford for several years. My grandfather died in 1960, leaving my father an
d Rusty O'Rear as the principals. Floyd Jack Ison was brought into the agency (again from The Hartford) as a producer and purchased O'Rear's 50% interest in 1970 or 1971. The agency was incorporated at that time to become Hoffman's Insurance Agency, Inc.
I purchased my father's interest from his estate after his death in 1988. In 1993, Hoffman's Insurance Agency, Inc., merged with our competitor across the court-house square, L. Greene & Associates, Inc., to form Hoffman, Ison & Greene, Inc. In 1997, Ray A. Robertson joined the agency from Kentucky National Insurance Company. He purchased Lewis Greene's interest, and Greene entered semi-retirement. In 2004, Ison semi-retired as well, and his interest was sold to Robertson and me.
Robertson was featured in a 2020 profile in the Kentucky Independent Agent magazine and shared his philosophy, which is based on his experience coaching amateur baseball.
"You have to believe in your own talents," he asserts. "That's not to say that everything is always going to work out. We certainly didn't win every game. But you have to believe that you did all you could do."
How has Hoffman-Robertson responded to the ever-changing needs of its clients and the industry?
"We meet our clients where they are," Robertson responds. "There are some we email frequently and others who prefer the 'old' way of doing things. And while we have a lot of technology at our disposal—from DocuSign to a website and social media—I insure in a very 'old school' manner. I will not insure anything I haven't physically seen. I deal with everything from tobacco barns and outdoor sheds to homes worth millions. Seeing helps me wrap my head around the needs of a current or prospective client."
Three locations
On January 1, 2005, we finalized the purchase of Carpenter Insurance Agency in Flemingsburg and Thomas-Woodford Company in Paris, and we suddenly had three locations. In 2006, we changed our corporate name to Hoffman-Robertson, Inc. The Flemingsburg branch was sold in 2014.
On January 1, 2008, a merger with the McClure-Hill-Case Agency in Paris was completed. This created a new entity named Limestone Agency, LLC. The ownership consisted of Hoffman-Robertson, Inc. (two-thirds interest), and Jeff Thompson (with one-third.) The Thompson-Woodford location was physically merged into the McClure-Hill-Case location, and a new name was given to the Paris agency: Woodford-Hill-Thompson. Jeff Thompson retired in 2011.
Limestone employs 15 people and is a generalist agency that writes a substantial amount of agricultural business.
When I joined the agency in 1981, we were on the AMS batch system. Today we use Applied's cloud-based Epic system.
What factors account for Limestone's longevity?
It may sound corny, but we treat our clients the way we'd want to be treated. No client is too small in his or her own eyes—or in ours.
Looking ahead, we need to recruit some younger people to ensure our perpetuation into the future.
The author
J. Miller Hoffman III, CIC, is principal at Limestone Agency.
Do you know of an independent agency we should feature that has been in business for 100 years or more? If so, please send background information and email addresses to Elisabeth Boone, CPCU (elis.boone@icloud.com). We'll take it from there.