Founded by Workers for Workers
Amalgamated Life proudly meets the insurance needs of working families
Elisabeth Boone, CPCU
---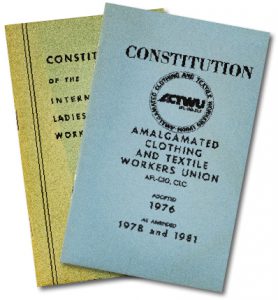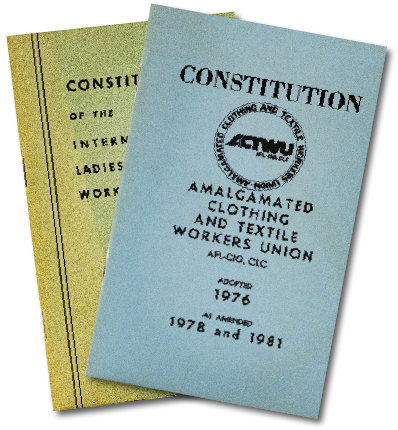 Soon to celebrate its 80th anniversary, Amalgamated Life Insurance Company has a rich history of focusing on the insurance needs of American working people and their families.
Established in 1943 by Sidney Hillman, founder and president of the Amalgamated Clothing Workers of America, Amalgamated Life has followed in his footsteps by providing exceptional insurance products and employee benefits solutions for working people.
Over the years, Amalgamated Life has evolved into the Amalgamated Family of Companies, whose affiliates also include Amalgamated Employee Benefits Administrators, a third-party administrator; Amalgamated Medical Care Management, a medical care management company; Amalgamated Agency, a property and casualty brokerage firm, and AliGraphics, a printing and graphics company.
Licensed in all 50 states and the District of Columbia, Amalgamated Life has maintained an A.M. Best rating of A (Excellent) for more than 45 years.
To gain insights into the operations of this successful insurer, Rough Notes spoke with Paul Mallen, the organization's president and chief executive officer, and John Thornton, executive vice president, sales and marketing.
Mallen quotes the company's mission statement: "We are dedicated to helping working people and their families achieve financial security by providing affordable life, health, and pension products and services while maintaining an unwavering commitment to excellence."
Sidney Hillman was born in Lithuania in 1887 and emigrated to the United States. He settled in Chicago and became a garment cutter for Hart Schaffner & Marx. He believed in the power of organization for immigrants who otherwise had no place to gather.
Hillman created the Amalgamated Bank in the 1920s. He was also an early advocate of low-cost housing cooperatives and established the country's first such entity, the Amalgamated Housing Cooperative. "Hillman was also a pioneer in providing benefits to union members," adds Mallen.
"In 1944, Amalgamated Life sold its first life insurance policy with a face value of $500," Mallen explains. "The company also provided accident and health insurance; at the time, the benefit was $12 a week for men and $8 a week for women over a 13-week period in any calendar year. It was paid for by a fund that collected 2% of payroll from union members' employers. The fund was a nonprofit entity, and in 1947 it began to offer retirement pensions.
"In the 1980s, this third-party administrator was incorporated as a Taft-Hartley health and welfare fund, and the corporate family also includes a Taft-Hartley pension fund," Mallen adds. "In 1992, the chief executive officer at the time reconstituted the charter of Amalgamated Life so it could start selling its products on a for-profit basis.
"When I joined the company in 2005, it was primarily a group life writer. In 2007, we began to sell medical stop-loss insurance, and that product has worked well for us over the years. In 2017, we started to sell voluntary products, and since then we've added several more products," Mallen says.
"We also rebranded the company and changed the names of our affiliates to reflect the Amalgamated connection," he continues. "Last year we were named by Ward's 50 Companies as one of the 50 top-performing companies in the life insurance industry.
"We're involved in a joint venture with Magellan Rx, a pharmacy benefit manager. Through our medical management affiliate, we've created a new telehealth product, Nurse2DOConnect. When a patient wants to speak with a doctor, the nurse does the intake and may determine that the patient doesn't need to speak with the doctor but instead can have his or her needs met by the nurse."
Robust product suite
What are the key features of Amalgamated Life's group, voluntary, and medical stop-loss products?
"We sell group life, accident, short-term disability, and medical stop-loss coverages," says Thornton. "On the group side, we offer flexible benefit options. Our accounts range in size from small to large national accounts. We have one account that has over 130,000 members, and our small accounts may have as few as 10 members.
"We have a broad range of case sizes in our group product, and that shows the flexibility in our plan designs," he notes. "Given our history of serving working men and women, we think we do a better job of meeting the needs of those individuals. We process our claims in our White Plains headquarters and maintain a call center here.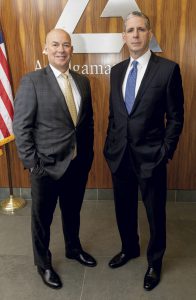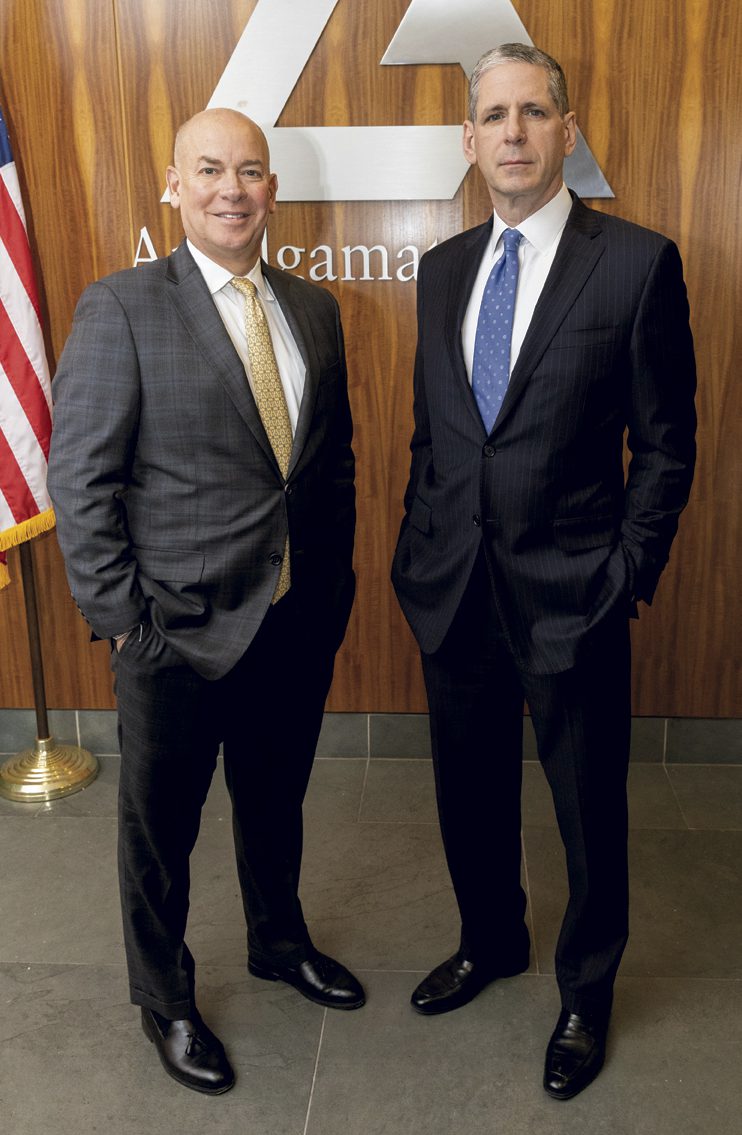 "We're open to connecting with partners who can provide support that will benefit our agents and brokers and their clients."
—Paul Mallen
President and Chief Executive Officer
"Given our comprehensive product suite, our affiliated companies, and our A.M. Best rating of A, we can provide a total solution to brokers and consultants."
—John Thornton
Executive Vice President, Sales and Marketing
"A lot of carriers outsource claims processing and other functions to Indonesia, Ireland, or other countries," Thornton continues. "We do everything here in the United States.
"On the voluntary side, we offer a full suite of benefits, ranging from group and individual accident, group and individual disability, and a port-able group term life product, which allows an individual to keep the coverage in the event of retirement or a job change," he notes. They also market a dental product, a hearing product, and a legal protection plan.
"What's more, we offer a whole life policy that is a 50-50 risk share with Security Mutual. Our full suite of voluntary benefits allows us to be competitive in the marketplace," Thornton asserts. "Most of these products are available in all 50 states, and we have salespeople across the country who are selling the products.
"Voluntary products are hot right now," he says, "and we're able to offer freedom of choice to employees through their employers.
"We started to offer medical stoploss in 2017, and the product is approved in all 50 states and D.C.," Thornton explains. "We are a niche player, serving working men and women across the country, and over the years we've experienced significant growth in that pro-duct. We are a direct writer, although we do use some managing general underwriters. Our product is experience rated as well as being fully pooled.
"Something that sets us apart is that carriers often use manual rates or pooled rates and quote on that basis. In contrast, we will blend the manual and pooled rates into our experience rate and in many cases can offer a more competitive rate," Thornton says.
"Given our comprehensive product suite, our affiliated companies, and our A.M. Best rating of A, we can provide a total solution to brokers and consultants," he continues. "Our products are competitively priced and in most cases are approved in all 50 states. Our size allows us to be more flexible in our plan design to meet the needs of employers."
With how many brokers does Amalgamated Life have relationships? "Approximately 150," Thornton responds.
The ideal broker
What qualities does Amalgamated Life seek in an independent agent or broker?
"The first and most important quality is a desire for partnership," Thornton says. "We also value the ability to provide consultative services to the broker's clients so we can provide the appropriate benefits. It's essential to have synergy among the three parties.
"The broker needs to find out exactly what the client is looking for in terms of benefits, then explain to us what the client's needs are," he adds. "Then we tailor our portfolio of products to the needs of the broker and his or her clients.
"From my perspective, a big part of it is integrity," Thornton continues. "We value our trust with our brokers, and we're looking for people who are offering a needed benefit to the employer/union and his or her insureds."
How does Amalgamated Life work with agents and brokers to deliver its products to them and their clients?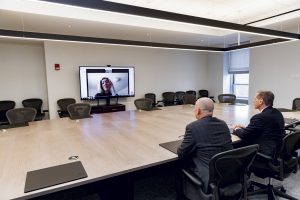 "Often it's through face-to-face meetings, and in the era of COVID we've been able to connect with our brokers via Zoom," Thornton explains. "We also do telephone meetings. On our website, brokers can find out more about our products and individuals can register to be a broker. It's an interactive website that also has a mobile app, and we recently introduced videos on the website so a broker can click on a short history of the company or a particular product in which he or she may be interested.
"We have a broker advisory council that we formed several years ago for our higher producing brokers and consultants, and that allows us to have an exchange of ideas and gain a better understanding of what is in the marketplace and what matters to brokers and their clients," Thornton says. "This allows us to make adjustments to our products and services so that our brokers can deliver the message to their clients."
What does the future hold?
Looking ahead, what key goals will Amalgamated be pursuing, and how will attainment of those goals benefit independent agents and brokers?
"As previously stated, our mission is helping working families achieve financial security," says Mallen. "We're always looking at new products and seeking great agents and brokers who want to enhance their client relationships with their clients.
"As with our 50-50 split with Security Mutual on our whole life product, we're open to connecting with partners who can provide support that will benefit our agents and brokers and their clients," Mallen explains. "We're also continuing to build our brand and create market awareness."
The author
Elisabeth Boone, CPCU, is a freelance journalist based in St. Louis, Missouri.