Southern California agency makes clients, insurers, employees and community feel special
"Some people arrive and make such a beautiful impact on your life, you can barely remember what life was like without them."—Anna Taylor
Most of us have enjoyed that   special moment when we meet someone with whom we have an instant rapport. Almost before we get to know them they are already our best friend.
Well, for a lot of people in Southern California, that moment happens when they meet Patty Lares.
Patty had 13 years of experience at another agency when she decided to go out on her own, opening AA Lares Insurance Services in Orange, California, on October 2, 2000. She had just turned 29 and this was her birthday present to herself. "I didn't want it to look like I was the only one in the business, so I set up four desks with servers and computers in the office," Patty remembers. Whenever someone came into the office, they saw the empty desks and probably assumed Patty's team members were out to lunch or meeting with clients or prospects. "I didn't actually hire anyone else until after I was in business for eight months," she admits.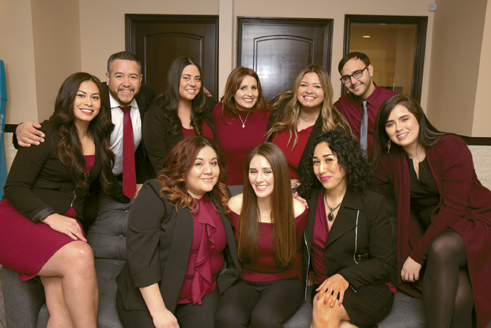 "So, on my first day, I was sweeping up and washing windows when I noticed a line forming across the street at the Village Theater," she explains. "I'd had flyers made up ahead of starting my business so I took them across the street and handed them out to the people in line. That first day, I went from having zero clients to having one when Betty Cook called me from the theater line. She came over after the movie, and we talked and became friends and I wrote her personal lines business."
And so it went, day after day, as Patty met people in the theater line or those who were recommended to her by her growing clientele. And she listened to them, learned about their families and their dreams and, more often than not, wound up writing their insurance.
To be continued
When it came time to add team members to keep up with the growing client base, Patty wanted her approach of engaging prospects to be continued. She looked for people who would duplicate her approach of establishing a relationship with every potential client, even before getting to his or her insurance needs.
Today, the agency has two locations—one in Orange and another in Anaheim—and revenue of around $1.4 million. The nine employees all consider themselves to be members of the agency family. As employee Adriana Torres points out: "Some of our team members are actual relatives, and the rest of the team have been with us for so long they feel like family members. We all work together as a team, striving to accomplish the same goal: to serve our community and make an impact."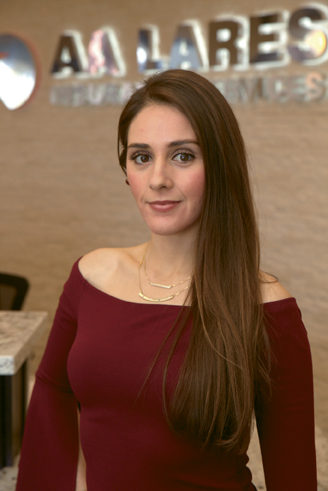 Employee Krystal Lares says that "each team member carries within them a desire to serve others. Our love for others is reflected in the moments when team members go the extra mile to help our clients. We truly see our clients as family; we serve and protect them as if they were our own blood relatives. This truly sets us apart."
Internally, she continues, "Our team is united in a beautiful purpose—and that is to help each other become the best version of ourselves. We hold each other accountable and we encourage each other to pursue our dreams. We live to serve, joining together to reach out to our community."
And, not surprisingly, this concern for others extends well beyond clients and prospects to include the locales the agency serves. In fact, every one of the employees spoke about community involvement and how fortunate they felt to be able to help others.
As Patty quipped with some amusement and a great deal of truth, "We leave a little time to sell insurance in between our commitments to helping others." And these commitments go well beyond simply donating to local charities. AA Lares employees are involved in many activities, donating their time to help others. And often they are joined by clients, who are inspired by their eleemosynary zeal to contribute their time and money as well.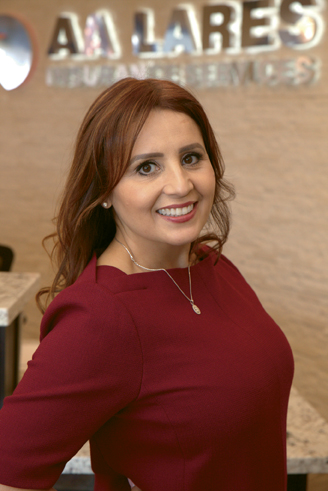 Doing for others
The agency focuses its charitable efforts on specific targets every two months. Since February is the month of love, January and February are dedicated to raising money for and awareness of the work of the Orange County affiliate of the American Heart Association to help everyone have a healthy heart. During those two months, AA Lares donates $10 to the local American Heart Association group for every referral. The effort culminates in March, when AA Lares employees this year joined in the OC Heart Walk. This year, the walk at Angels Stadium drew 10,000 people.
In March and April, all proceeds from the referral program go to the March of Dimes, which culminates in the March for Babies. The May-June program is Backpacks for Success. Backpacks are filled with school supplies purchased with referral funds or donated by clients, and then AA Lares employees go out with clients and distribute the backpacks to needy students. "That's the part I love most," Patty comments.
July and August see the AA Laresmonies and people going to the Orange Library summer reading program. "We all volunteer for that and bring along the AA Lares mascot, Ally the Alligator," Patty says. The effort to defeat cancer is supported in September and PINKtober, as proceeds go to support Susan G. Komen. Employees can add to the money raised by paying $3 to wear jeans any day of the week. Everybody wears pink on Fridays.
November and December feature food drives where AA Lares employees create bags of nonperishable food and deliver them to the homeless. They also visit a senior home to spend time with seniors who may have been forgotten. "Many of them never have any visitors," Patty says. "Their families are no longer around. So, we sit with them and listen to their stories, or play cards and bingo with them. It's great to see them open up and smile."
As if that weren't enough, Patty was excited to tell me about the agency's latest effort—a scholarship for two deserving high school seniors—one in Anaheim and one in Orange. "Many of these youths have never been outside the city and they see no chance to further their education. We are offering a $1,000 scholarship to any senior with a 3.1 GPA or better. We want them to write about why they want to further their education and how that would have an impact on other people's lives. My ultimate goal is to inspire youth to pursue education and become part of a kindness movement that will make the world a better place," Patty adds.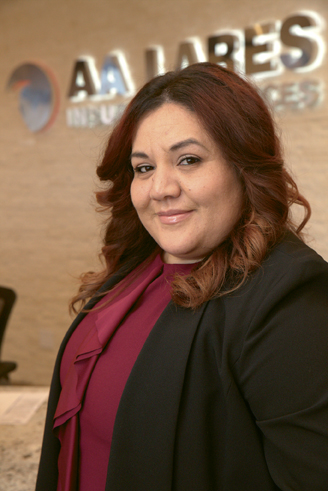 Oh yeah, insurance stuff
"For us, providing insurance to clients is a very personal experience," Patty says. "Our goal is to provide them with the right coverage at a price they can afford. Because we are bilingual (Spanish and English), we can reach segments of the community that often are not sought after by other agencies."
As Adriana explains: "We focus on being inclusive. We don't turn down customers because they want only one insurance policy or because they don't fit an agency guideline. We continue to find insurance programs that work for every-one's specific needs and budget, while educating each client on the importance of an insurance investment."
Patty adds, "That doesn't mean we don't want to be the agent for all of our clients' insurance needs. But we believe that they will see that we really care about them and eventually will move all of their business to us. Of course, we do talk to our clients about their other insurance in an effort to cross-sell."
She continues, "We also are involved in expanding our commercial lines book. It currently represents about 20% of our total revenues, and we would like to see that grow. We're currently working on developing a program for landscaping firms. My brother has a firm and is helping us with this effort.
"In addition," Patty explains, "we already have a number of clients in that business, including one who recently hired my niece as an intern. I adopted my cousin's daughter from Mexico. She now is getting a degree in landscape architecture. There are a lot of landscape businesses here in Southern California that are bilingual, and our ability to speak both languages gives us an advantage. But I'm not counting on that.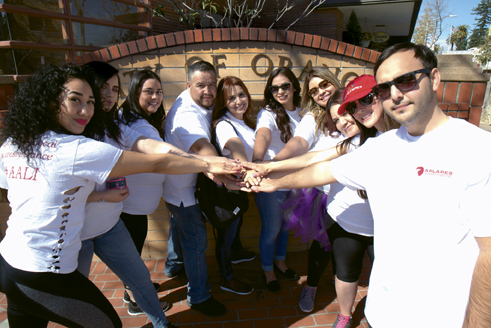 "What I'm really trying to develop—and I'm working with several carriers on this—is a comprehensive package that truly fills the insurance needs of companies in that niche," she notes.
AA Lares has grown by 10% or more every year. And its retention rate is very high, as is its closing ratio. Mercury Insurance provides live leads to the agency because of its high closing ratio, rewarding that accomplishment by naming them the only bilingual agency to receive those leads. And, of course, the team enjoys a tremendous referral network of clients who are rewarded for every referral not only with a contribution to a charity, but with a $15 gas card and entrance into a prize lottery that takes place every quarter.
Rough Notes is proud to recognize AA Lares Insurance Services as our Agency of the Month and I am proud to say that I have a new friend after a brief conversation with Patty. She really is a special person with a special agency. She genuinely cares.
By Dennis H. Pillsbury