Experts note plan enhancements and a move toward the voluntary market
When a molar starts to throb in the middle of the night, suddenly dental insurance jumps from a minor paragraph in the benefits booklet to a godsend. And when aging eyes cause someone to fail a driver's test for the first time, an employer-paid eye exam may help solve the problem.
Dental and vision care are among the oldest employee benefits—companions to medical and retirement benefits. But although many employees remember only the basics they provide—dental and vision exams and basic assistive services—the benefits are now evolving faster than ever before.
"To some degree, dental benefit innovation has been relatively slow," explains Tedd Klovstad, Dallas-based regional sales manager of Renaissance Life & Health Insurance Company of America, which provides dental, vision, life and disability insurance. "But there are some new influences in the field."
"There is more encouragement to get people into their providers a couple of times a year, and many carriers are providing extra benefits for participants who make regular visits."

—Tedd Klovstad
Regional Sales Manager
Renaissance Life & Health Insurance Company of America
Like group medical benefits before them, dental benefit plans are focusing more on wellness and incorporating more cost containment strategies, including bigger preferred provider networks and cost sharing plan designs.
Although dental benefits have always had a wellness feature—encouraging and paying for a dental examination once a year—dental insurers are expanding preventive benefits, Klovstad notes. "There is more encouragement to get people into their providers a couple of times a year, and many carriers are providing extra benefits for participants who make regular visits," he adds.
Dental networks also are growing, he says. Carriers are building bigger national networks and negotiating fees that can help employers contain costs if they can successfully drive utilization to in-network providers.
Employers are always looking for bigger, better networks and partners with whom they can negotiate fees, he says. "Everybody wants to enhance their networks, and carriers are looking to increase coverage in rural areas where providers may be fewer and farther away from plan participants."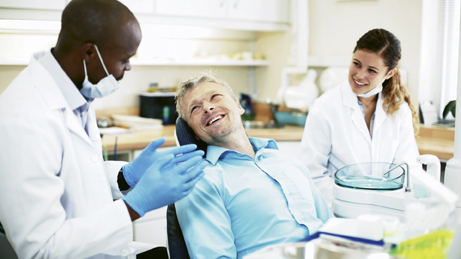 Employers also are looking to leverage negotiations with providers to contain costs, Klovstad says. Small employers with fewer than 50 employees tend to purchase dental and vision benefits in a package, but larger employers are more likely to split the services among two or more insurers, and large employers with 500 or more employees may self-insure or negotiate fees with vision plan providers. Renaissance partners with VSP, an international vision care network, to administer vision benefits.
Paul Piechnik, senior vice president, product and pricing, group benefits at MetLife, says employers are also seeking modernized benefit designs consistent with new technology.
"Dental and vision benefits have not changed much in decades even as optometry, dentistry and technology have. For example, 15 or 20 years ago, a crown was generally expected to last five to 10 years. Now a crown is expected to last well beyond 10 years, yet there are still plan designs with crown replacement at five years," he says.
Also, traditionally employers offered one dental plan option for employees; now, however, the trend is to offer multiple options, so they have a choice of plans that meet both their oral healthcare needs and their financial needs.
"For dental, the connection between oral health and overall employee wellness is of increasing interest to both employers and employees," says Mike Estep, vice president group products and worksite leader at Guardian Life.
"One trend is an increase in including preventive services in plan designs, such as personalized dentistry. These benefits are tailored to a patient's risk for dental disease or to a medical condition such as pregnancy or diabetes."
He says policyholders are seeking greater cost transparency as employees are contributing more to pay for their dental insurance. Technology-enabled dental products are becoming more prevalent, and agents and brokers need to bring employers up to date on product innovation and related technology.
"Dental and vision are still benefits employers want to expand, but they are moving the costs more toward the employees. The key is to provide their employees and families access to the benefits."

—David Polen
Director of Products
Colonial Life & Accident Insurance Company
Dental and vision continue to be among the most requested benefits by employees after medical insurance. Piechnik adds. "Access to these benefits is key to an employee's overall health, and employers have a desire to keep their employees healthy for reasons of both productivity and employee retention. We believe that brokers should take a consultative approach with their clients to evaluate their current plan design to make sure that the contract and benefit designs reflect modern technology and practice protocols."
Although most dental plans are employer paid, many employers now require employee contributions and some employers have moved the benefits to their voluntary suite along with supplemental life and accident insurance. In response, insurers are developing new plan designs for the supplemental market.
Superior Dental Care (SDC) recently introduced a voluntary product, the Fit 500 dental plans, named for the $500 contract maximum benefit per member. The plan offers four options that cover a targeted set of dental services with no deductible, all at lower monthly premiums than traditional comprehensive dental plans.
"With all the uncertainty in the healthcare arena, we wanted employers to be able to offer dental coverage to their employees at a cost they can afford. Our new Fit 500 plans are a great way for employers to provide a lower-cost option to employees who don't need or can't afford comprehensive coverage," says Traci Harrell, SDC's chief executive officer.
SDC's Fit 500 plans are available to companies domiciled in Ohio, Kentucky and Indiana. The four plan options include one that covers essential services such as cleanings, one that covers services such as root canals and crowns, and two that cover a combination of services such as cleanings and fillings. Each plan includes access to SDC's national dental network.
In addition to the new lower-cost dental coverage options, SDC has added a no-cost benefit to its dental plans. Every plan now comes with a free prescription discount card that saves members an average of 20% off the retail prices of select prescription drugs at participating retail pharmacies. The card can be used anytime a prescription is not covered by insurance, or as an alternative to insurance. Other value-added benefits include a free second opinion on costly dental treatment plans, a discount on cosmetic dental services, and savings on vision products and services.
"These added benefits help employers offer substantial value to their employees and stretch their benefit dollars," says Shannon Ford, director of sales and service. "The free second opinion benefit appeals to the new generation of consumer-minded individuals."
Most dental benefit plans are still sold as group benefits, insurers say, but employers are shifting more costs to employees. More than half of employers require employee contributions, and some employers are providing paid benefits only to employees and requiring full-cost contributions for dependents.
As part of their cost-containment strategies, employers are also shifting dental benefits to employee-paid voluntary designs that can offer more flexibility and are portable, so employees can take them when they leave the company.
Colonial Life & Accident Insurance Company, one of the largest voluntary benefits insurers, recently launched supplemental dental and vision benefits with its sister company, Starmount Insurance Company.
David Polen, director of products, says the new products "have the positive look and feel of a traditional group benefits plan but are totally portable. Employees can buy them and take them with them and retain them until age 75, which is unique among dental benefits." The program is available in 40 states and features a network of 323,000 providers.
Polen says more employers are shifting dental and vision benefits into the voluntary supplemental market for strategic reasons as well as cost containment. "Dental and vision are still benefits employers want to expand, but they are moving the costs more toward the employees. The key is to provide their employees and families access to the benefits," he says. Small and medium-sized employers also appreciate that the plan eliminates the group participation requirement, which can hamper implementation, Polen says.
Vision benefits also are evolving, Estep says. Vison trends include tele-health options for eye tests, replacing a full in-office exam. For example, policyholders can take an eye test when and where they want using a mobile device, he says.
Online eye tests are particularly popular, confirms a survey from Transitions Optical, Inc. In December 2017, the ninth annual Optical Employee Perceptions of Vision Benefits survey polled 1,800 employees older than age 18, who worked for employers that offer vision care benefits.
About half of employees not already enrolled in a vision plan said they would be more likely to enroll if the plan covered online eye exams. But the majority of employees did not fully understand what an online exam entails and how it is not a substitute for an office visit with an eye health professional.
"In a world in which technology is becoming increasingly more dominant—and time is becoming more and more limited—it's not hard to see why online eye tests would be appealing to today's employees," notes Drew Smith, Transition Optical's director of North American channels.
Also, according to the survey, one in five employees currently enrolled in a vision plan is unlikely to use benefits to get a comprehensive eye exam within the next year, even though eye exams are covered by their plans.
"This is a gap that needs to be filled, and it reinforces the need for education, as online eye exams continue to become a more common option," Smith says. Online eyewear stores, he says, also are included in the insurer's in-network plan.
For more information:
Colonial Life & Accident Insurance Company
www.coloniallife.com
Guardian Life
www.guardianlife.com
MetLife
www.metlife.com
Renaissance Life & Health Insurance Company of America
www.renaissancefamily.com
Superior Dental Care
www.superiordental.com
The author
Len Strazewski is a Chicago-based writer, editor and educator specializing in marketing, management and technology topics. In addition to contributing to Rough Notes, he has written on insurance for Business Insurance, Risk & Insurance, the Chicago Tribune and Human Resource Executive, among other publications.