PROFESSIONAL LIABILITY IN A PANDEMIC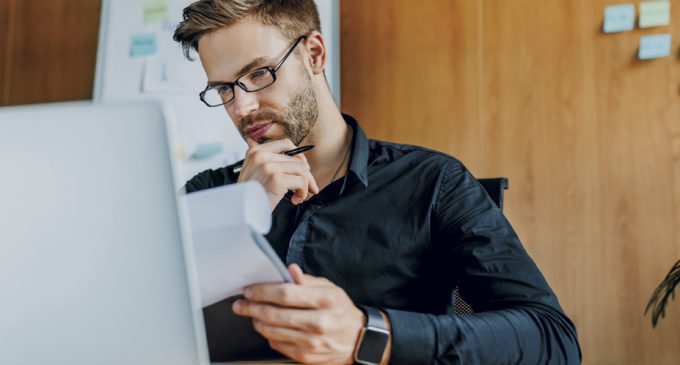 SPECIALTY LINES MARKETS
PROFESSIONAL LIABILITY IN A PANDEMIC
Agents should help clients manage risk during these extraordinary times
By Lori Widmer
It's2020, a year in which there are few surprises left. From a professional liability perspective, the lack of surprise is hardly a comfort.
Thanks to a global hardening of the P-C market, professional liability insurance buyers can expect to see rate increases over the next year. Increases were being racked up more than a year ago. According to the Deloitte Insights 2020 Insurance Outlook, for instance, professional liability rates were up nearly 10% in the second quarter of 2019. Those increases, says the report, were driven by losses stemming from increased securities and derivatives lawsuits.
It's a trend that industry experts believe will continue. A USI Commercial Property & Casualty Market Outlook for Q2 2020 describes the professional liability and errors and omissions market (excluding medical malpractice) as being in a state of flux and firming. Premium and retention increases were the order of the day in the first and second quarters of this year, and non-financial areas are seeing a general decline in the number of primary and excess markets willing to write E&O—another catalyst driving up premiums by 15% to 50%, says the USI report.
Even COVID-19 is impacting the market. As companies try to continue serving clients amid potential reductions in staff and compensation, E&O exposures increase, according to the USI report.
Trends, good and bad
Manny Cho, executive vice president of Executive Lines for Risk Placement Services, says the impact of the hard market has not been the same for all classes of business. "We're in a hard market, but a stable market for many professions," he explains. "There are a couple of classes of business that have undergone some changes because of COVID. But overall, in a number of sectors you still have competitive rates and competitive companies."
According to Marilyn Marshall, senior vice president of professional liability at Arch Insurance, COVID-19is one of the biggest issues facing professional liability insurers at the moment. "Some professional liability insurers are feeling the impact of the COVID-19 pandemic more immediately, while others are bracing for what is still to come depending on the classes written," she says, pointing out that COVID-19 is helping to drive two other primary issues in the market: economic recession and the very low interest rate environment.
Joseph Lincks, vice president of programs and professional liability at Berkshire Hathaway's GUARD, says that 2020 "has been an unprecedented year thus far with the pandemic, increased catastrophic environmental activity, and property-related events that have all disrupted the national economy.
"Insurers will be re-evaluating how they are applying their capital," he adds. "This will impact the larger lines such as commercial package and commercial automobile and could have an impact on professional liability as a result. We have already seen modest rate increases in the professional liability segment and expect this to continue into 2021. While some carriers have left the market, we still see new entrants emerging."
Not all news is bad, however. Mike Herlihy, executive vice president and partner at Ames & Gough, says that application of technology is trending in the market, with design-build project delivery in the public sector driving more technology use. "Project delivery is seeing increased use of virtual reality, 3D modeling and drones," he explains. "Virtual reality and 3D modeling improve initial design quality and enable designers to spot and correct issues prior to construction." Drones, he notes, are improving inspection safety while reducing time and costs.
Reducing costs is certainly on the minds of underwriters, says Cho, who adds that much underwriting is being done from a financial perspective. "This is especially true in some of what many might see as the higher risk categories—staffing or travel agencies, real estate, commercial and residential; in these segments, people are taking a second or third look to see if they (the insureds) are financially secure," he explains.
Pricing and capacity
That kind of re-examination is indicative of what many experts are seeing across the professional liability arena. Depending on the class of business, writing coverage is more challenging. Debbie Williams, senior vice president and regional manager of commercial lines for USG, has seen pricing increases between 10% and 15%.
Williams says some of the more concerning issues are coming from EPLI. "Employment practices has seen a huge tightening," she observes. "It is extremely difficult to find a market that will write this coverage for an insured if they have not had prior coverage. It is also difficult to find this coverage for restaurants and taverns."
Healthcare and large cyber accounts are experiencing that same reduction in capacity, says Marshall. "Specific to the healthcare space, we are seeing an increase in the attachment of communicable disease exclusions upon renewal, which Arch's healthcare underwriters will consider removing if insureds can demonstrate that they are following all CDC guidelines."
Marshall says the uncertainty in these classes has some of the "fringe players" exiting certain niche markets altogether. "But this pullback is having little impact on policy pricing and terms for small to mid-market lawyers, accountants, investment advisors and design professionals, where capacity is still quite abundant," Marshall adds.
What could have an impact in the professional firm market: cyberattacks. As frequency and severity are on the rise throughout all industries, such activity could cause a ripple effect on pricing and capacity as they increase in frequency within the professional market. "The uptick in cyber events is affecting design professionals who rely more on technology and cloud-based services," says Jared Maxwell, vice president and partner at Ames & Gough. Common claims now, he says, are coming from cyber criminals posing as vendors, then attempting to persuade unwitting employees to transfer funds to fraudulent accounts.
The new claim driver
Many experts point to ransomware as a trending claim driver. "We're seeing a meaningful increase in the frequency and severity of ransomware claims," says Marshall. Like Maxwell, Marshall also observed an increase in fraudulent transfer losses, which have occurred thanks in large part to the fallout from the coronavirus. "While this trend started before the COVID-19 pandemic, remote working environments have made firms more vulnerable for cyber criminals to infiltrate their networks through COVID-19-related phishing schemes," she explains.
That has added a new element to the industry's response, says Williams. In addition to changing shape with so many people working from home, she says, "It has also changed what limits you can get—or not get—on certain classes."
Fortunately, there are plenty of new entrants in the cyber insurance arena, Williams says. While some may be tacking small sub-limits onto their professional or general liability policies, "more and more companies are writing stand-alone policies" and are examining remote work procedures as part of their underwriting process, she says.
Then there are the industry-specific claim drivers that, while not new, are serving as a catalyst for increased activity. Herlihy says his company's annual PLI Market 2020 Survey revealed that architects and civil engineers serving as prime designers on projects experienced the highest claims frequencies in their class of business. "When serving as prime designer," he explains, "firms need to have a robust project-specific QA/QC (quality assurance/quality control) program in place. They should carefully select their sub-consultants and ensure that the subs implement and follow proper QA/QC procedures."
Herlihy identifies another professional class that needs to take extra precautions: structural engineering and geotechnical engineering, which he describes as the disciplines with the highest risk. "Mistakes or errors affecting the structural integrity of a project are expensive to fix," he says. "In addition, construction complexity and increased costs are factors adding to claim severity."
So is a pandemic, of course. For medical facilities, for instance, there has been a "significant increase" in claim frequency thanks to the spread of COVID-19 in both hospitals and long-term care facilities, says Marshall. And while allied health professionals are experiencing a reduction in claims, she says that's as a direct result of pandemic-related office closures. "However, this trend is expected to reverse itself quickly due to more complications and deaths from neglected chronic conditions or delays in diagnosis," she explains.
How the pandemic-related economic downturn fully impacts professional liability claims remains to be seen, says Lincks. "Our professional liability portfolio has been unaffected by COVID-19 thus far," he notes. "Our submission counts and ratios are very similar year-over-year during the COVID months."
Marketing professional liability
Lincks says now is the time for agents and brokers to help smaller firms increase diligence with regard to operations and coverage maintenance. "It is important to note that small firms have been forced to be flexible with their case/client selection due to the pandemic," he says.
"There have also been staff reductions, employees working remotely, part-time hours, and retirements to deal with," Lincks adds. "In many cases, firms are not able to meet face to face with clients, and this could lead to potential errors or omissions. We have encouraged our insureds to keep policies in force to maintain their retroactive dates."
Amid it all, agents and brokers have to find a way to sell and service a product that is in a state of flux. Williams says there are some things agents and brokers can do, no matter what class they're selling, to help customers keep rates reasonable. First up, look at the claims history. "Claims frequency is one of the main issues," Williams says. "Agents need to look at the claims and see if they can figure out where the problem is coming from. If they can, then they need to sit down with the insured and figure out a plan to prevent future claims."
Agents also should encourage insureds to use all the tools available to them. "Retail agents and brokers should be encouraging their clients to utilize the hotlines and other loss control services insurance carriers often provide to their insureds free of charge," says Marshall. For small companies with limited resources, she says these tools could be a lifeline by resolving claims before they're made.
For cyber especially, carriers have been on top of providing risk management resources to their insureds, says Cho. Agents and brokers should familiarize themselves with those offerings and advise clients on the steps to take should a cyber event occur. "If there's anything they should have in their emergency phone book, it is that information from the carrier to employ all the services to help them through the cyber event," he explains.
Agents and brokers also should know what's going on in their market. "Besides staying abreast of insurance products that address the needs of design professionals, agents should closely monitor the latest claim trends and emerging risks," says Maxwell.
He says insurers are happy to provide detailed claims information. "Share this information with your clients to educate them on project risks," he advises. "Ultimately, the services and support agents provide in helping their clients understand and manage risk are as important as any insurance products they offer."
Agents need to remain on top of local and national emerging issues, advises Lincks. "They should be a student of the business to continue to understand what their insureds are facing and the key exposures to their business. They should encourage their clients to use available value-added risk management services to help navigate these unprecedented times."
For more information:
Ames & Gough
www.amesgough.com
Arch Insurance
www.archinsurance.com
Berkshire Hathaway GUARD Insurance Companies
www.guard.com
Risk Placement Services
www.rpsins.com
USG
www.usgins.com
The author
Lori Widmer is a Philadelphia-based writer and editor who specializes in insurance and risk management.