Beyond Insurance
Turn your raving fans into a high-powered prospecting team
As I travel the country meeting with agencyprincipals and producers, I hear a common question: How can our agency implement a disciplined, strategic, energized system to fill our prospect pipeline with qualified opportunities?
If you are questioning the desire of a raving fan to accept your offer to enthusiastically and consistently help you with prospect research, identification, and qualification, you are going to be pleasantly surprised.
Too many agencies use a hit-or-miss approach quarterbacked by the individual producer or telemarketer. This method lacks creativity, differentiation, and impact. It is not a winning formula. In this article I will give you a proven system to take your prospect research and qualification capabilities to the next level: the Prospect Research Evaluation Program (PREP).
Before I outline the mechanics of setting up PREP, please grade your prospecting outcomes by responding to the ten statements to the right: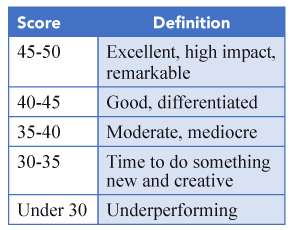 Scoring System
If you did not score at the level you wish, do not fret. You are about to learn how to connect your raving-fan network to help you with prospect research and qualification.
History and development of PREP
In 1990 I started an agency from scratch. No revenue. No clients. No prospects. Only a $50,000 credit line and a vision for success. Over the next 25 years the firm's revenue grew to $19 million. My personal book was over $10 million of revenue.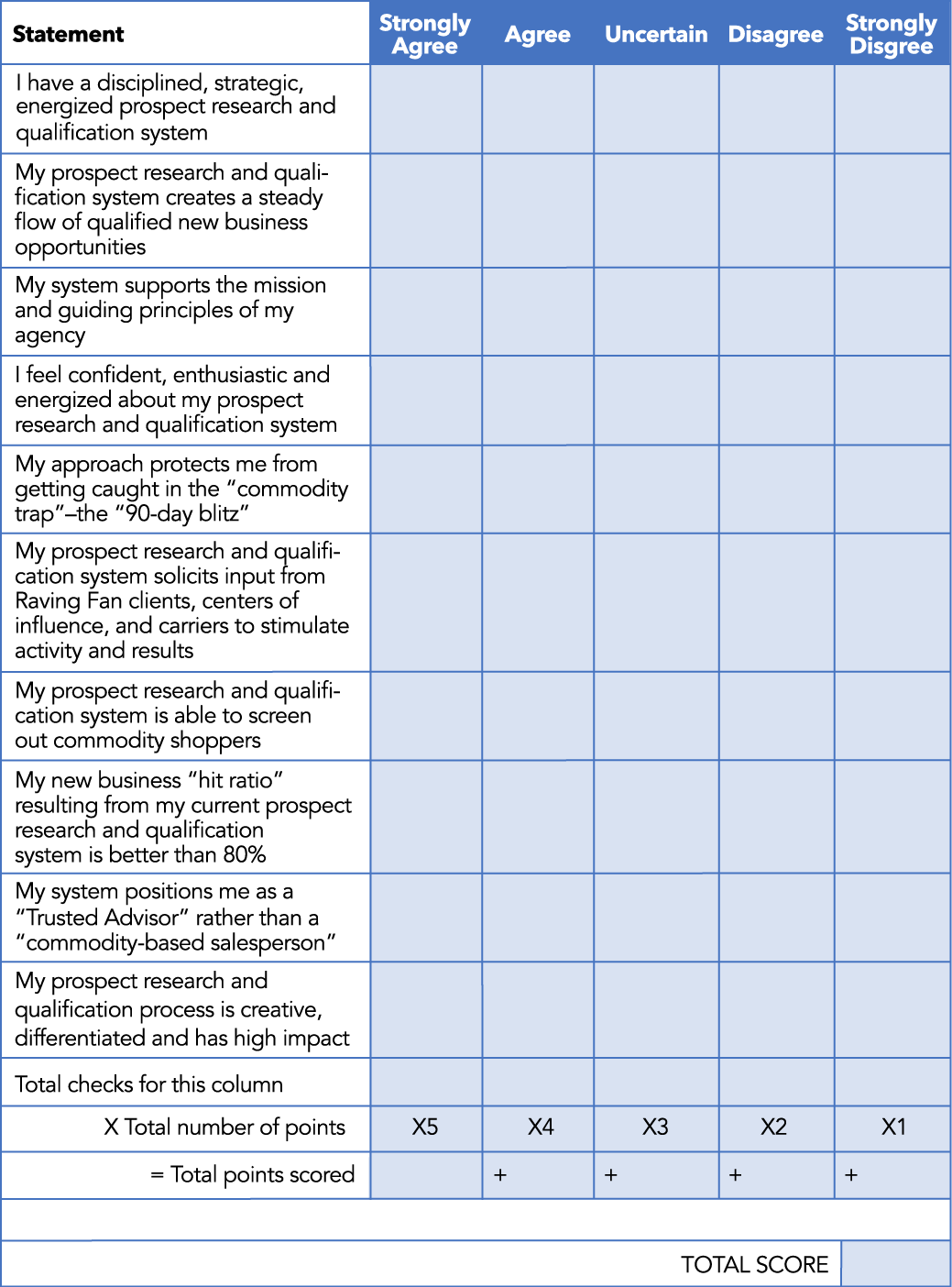 Shortly after the firm's doors opened, it became apparent that there was a tug of war among three responsibilities—account management, business development, and agency operations. I was a gifted account manager, but I quickly realized that it was critical to build a prospecting pipeline system. It was essential that the system be simple, disciplined, strategic, and energized. And, most important, the program needed to hold me and my associates accountable.
As I pondered possibilities, I recognized that the firm was blessed with supportive centers of influence (i.e., accountants, attorneys, investment advisors, etc.), clients, and insurance carrier underwriters. Each person was interested and invested in our success. This network of "raving fans" would become the focal point of The Addis Group's prospect pipeline system.
The formation of PREP consisted of five steps:
Step 1: Identification and Analysis of Raving Fans
Take out a piece of paper and list your raving fans from A to Z. A raving fan is a person who trusts and admires you. He or she wants you and your firm to be successful. I suggest that there are three primary categories:
Raving Fan Clients
Raving Fan Centers of Influence
Raving Fan Carrier Representatives
Once you have finished your list, place an asterisk (*) next to the name of anyone who is a "mover and shaker." These people have their own networks of supportive friends and clients. It is your client who sits on his or her trade association board, the CPA who coaches kids, the real estate agent who serves on a nonprofit board or two. Don't forget to identify a carrier underwriter, as he or she has pertinent data on those accounts you cherish.
Step 2: Invitation to Join Your Board
After you have identified your ravingfans—clients, centers of influence, and carrier representatives—pick up the phone and call them. They will be honored to join your Prospect Research Evaluation Board. Please consider the following dialogue:
Express how much value you place on the relationship and his or her status in your community.
Explain that you and your firm have made a decision to add more discipline and rigor to prospect research and qualification.
Advise that you plan to research 15 to 25 organizations each quarter (60 to 100 annually).
Request 10 minutes of his or her time each quarter to review your list to offer knowledge they have about your prospects. Confirm that you are not expecting them to call or write letters.
Assuming they say "yes" (and they will), formally invite them to be members of your PREP Advisory Board. They will be honored!
Step 3: Prospect Research
In Step 2 you committed to research and submit 15 to 25 opportunities each quarter. That being said, you may be required to enhance your ability to research new business opportunities. Today there are so many ways to accomplish this objective, including but not limited to LinkedIn, trade association lists, and companies that specialize in prospect information (e.g., Hoovers, SalesGenie, etc.). The success of PREP is contingent on the commitment you make to research new business opportunities. I should mention that your PREP Advisory Board will make you accountable because they want you to be successful.
Step 4: Submission of Quarterly List to PREP Board
Each quarter you will send the list of your 15 to 25 researched opportunities to your PREP Board. A simple email with the list of prospects is all that is required. You will be pleased when your PREP Board:
Carefully reviews your list and offers comments about organizations or people they know. Even though you told them that there was no need to write letters or call people, they often will.
When a PREP Board member does not recognize prospects on your list, they very well may offer a name or two that is not on your list.
If the PREP Board member is an attorney or CPA, my experience indi-cates that they will share your list with other professionals in their firm.
Step 5: Thanking Your PREP Board
Historically I had six to eight PREP Board members. I routinely thanked them with quarterly gifts (e.g. chocolate pretzels, Virginia peanuts, etc.). And I wrote personal notes each time they positioned me for introductions to a specific opportunity.
There is a huge psychological benefit to having a PREP Board because you will work extra hard not to let them down. I would also like to suggest that you spend quality time with each PREP Board member to confirm that he or she understands your unique value proposition.
If you are questioning the desire of a raving fan to accept your offer to enthusiastically and consistently help you with prospect research, identification, and qualification, you are going to be pleasantly surprised. Why will these people agree to serve as scouts and cheerleaders in your community? Because they are your raving fans. And they trust you and love your game!
Raving-fan clients and certificates
I would like to suggest one more proven strategy to fill your prospect pipeline. Please go back to the list of raving fans that you put together and circle any client. Print out the certificate-holder list of a raving-fan client. Google these firms and you may find gold.
Once you identify a prospect that strikes your interest, place it on your quarterly list and/or pick up the phone and let your raving-fan client know that you have identified a supplier or vendor of theirs that strikes your fancy.
Discipline, strategy, energy, differentiation, and high impact. These are words that will describe your prospect pipeline if you choose to implement PREP!
The author
Scott Addis, CPCU, CRA, CBWA, is the CEO of Beyond Insurance and is recognized as an industry leader, having been named a Philadelphia finalist for Inc. Magazine's "Entrepreneur of the Year" award as well as one of the "25 Most Innovative Agents in America." Beyond Insurance is a consulting firm that offers leadership training, cultural transformation, and talent and tactical development for enlightened professionals who are looking to take their practice to the next level. Since 2007 the proven and repeatable processes of Beyond Insurance have transformed individuals and organizations as measured by enhanced organic growth, productivity, profitability, and value in the mark