Looking Back, Looking Ahead
RUE INSURANCE
Fourth-generation agency has served central New Jersey for 102 years and is still going strong
Having recently marked its 140th anniversary, Rough Notes is celebrating its long track record of supporting the independent agency channel by profiling agencies that have been in business for 100 years or more. In this month's article, we feature a firm founded 102 years ago.
By Elisabeth Boone, CPCU
Then …
The insurance firm that was established as Chas. E. Rue & Son has a long and distinguished history in central New Jersey. The agency was founded in 1917 when Charles E. Rue, operator of a feed and grain mill in Windsor, New Jersey, was invited to join the board of directors of Farmers Reliance Insurance Company, which provided property insurance to New Jersey farmers. As a director, Charles was entitled to become a sales agent for Farmers Reliance. This appointment allowed local farmers to purchase feed for their animals and insurance for their property all in one place. Talk about one-stop shopping!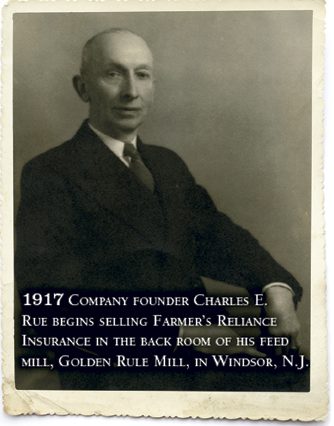 The business model proved successful, and in 1926 Charles entered into a partnership with his son, C. Lester Rue, to form Chas. E. Rue & Son. Charles enjoyed the insurance business so much that he eventually became president of Farmers Reliance in addition to his agency partnership.
At that same time, C. Lester Rue joined Selected Risks Insurance Company as a claims adjuster. He advanced quickly and held the positions of senior vice president, manager of the Trenton branch office, and board member. In addition to his duties at Selected, Lester later succeeded his father as president of Farmers Reliance. He remained in these two positions until his retirement in 1970.
From 1917 to 1949, Charles E. and C. Lester Rue operated Chas. E. Rue & Son as a part-time venture in addition to their full-time positions at the insurance companies. The agency operated from a downstairs corner office at 349 West State Street in Trenton in the same building that housed both insurance companies. Upon graduation from college in 1949, Charles L. Rue Jr., Lester's oldest son, joined the firm. Charles was the first family member to take over full-time management of the agency, which at that time employed a salesman and a part-time clerical person. The agency quickly outgrew its office on the first floor and moved to a larger one on the second floor. Charles replaced his grandfather as a partner in the firm in 1952.
Chas. E. Rue & Son continued to grow quickly and in 1962 moved to new quarters in neighboring Hamilton Township. In 1965 the agency changed its ownership structure from a partnership to a corporation, Chas. E. Rue & Son, Inc.; C. Lester Rue served as president, and Charles L. Rue Jr. as secretary-treasurer. Upon graduation from college in 1969, Lester's youngest son, William M. Rue, joined the agency. In 1970, Charles was promoted to president, and Bill became executive vice president.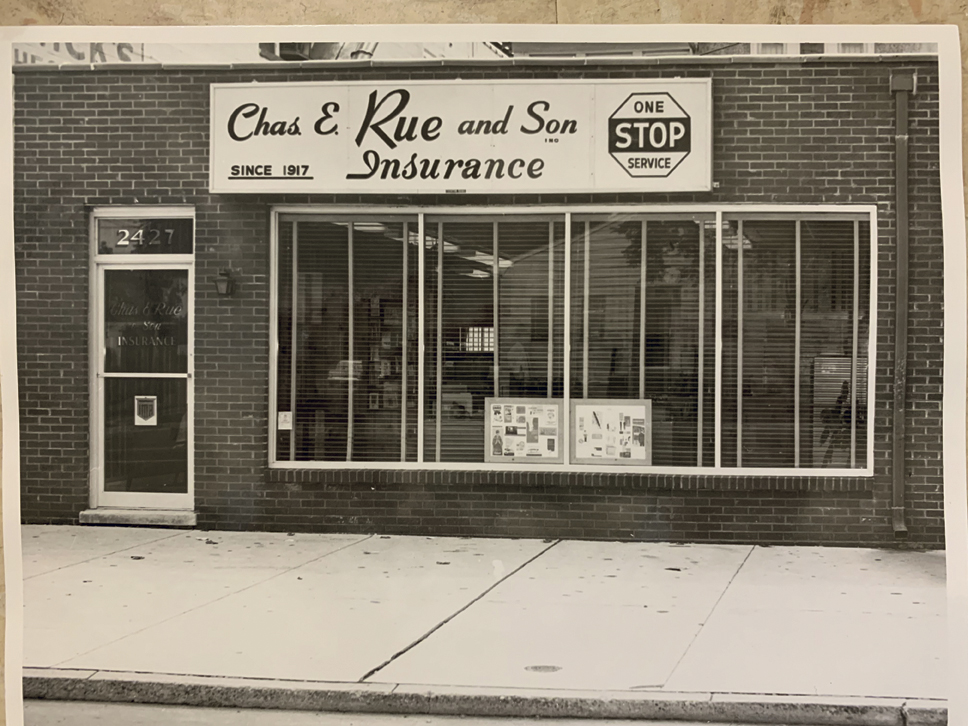 The ensuing years brought additional growth and expansion. In 1971 a branch office was opened in Allentown, New Jersey, and a second branch was opened in 1974 in Cranbury, New Jersey. The '70's also saw the acquisition of a number of smaller agencies. In 1979 the main office was moved to a new location in Hamilton Township. The agency also installed its first agency automation system, called Insurenet, which was later acquired by Applied.
The 1980s started with the acquisition of two more local agencies. With these purchases, Chas. E. Rue & Son, Inc., became the largest agency in Mercer County and changed its emphasis from personal lines to commercial. A milestone was reached in 1980 when agency revenue surpassed $1 million. To celebrate the accomplishment, everyone in the agency went on a weekend trip to Bermuda. Another milestone occurred in 1982 when Donald B. Allen Jr. joined the agency and became the first non-family member to have ownership.
The year 1985 saw the beginning of many changes at the agency. Needing a larger main office, the firm purchased 2.5 acres of ground, and a 10,000-square-foot office building was constructed. In January 1985 the agency consolidated its main office and the Allentown and Cranbury offices into the new building at 3812 Quakerbridge Road in Hamilton Township. After completing a marketing study, the agency adopted a new trade name, Rue Insurance. Charles L. Rue Jr. retired after 36 years of successful expansion and William M. Rue succeeded him as president.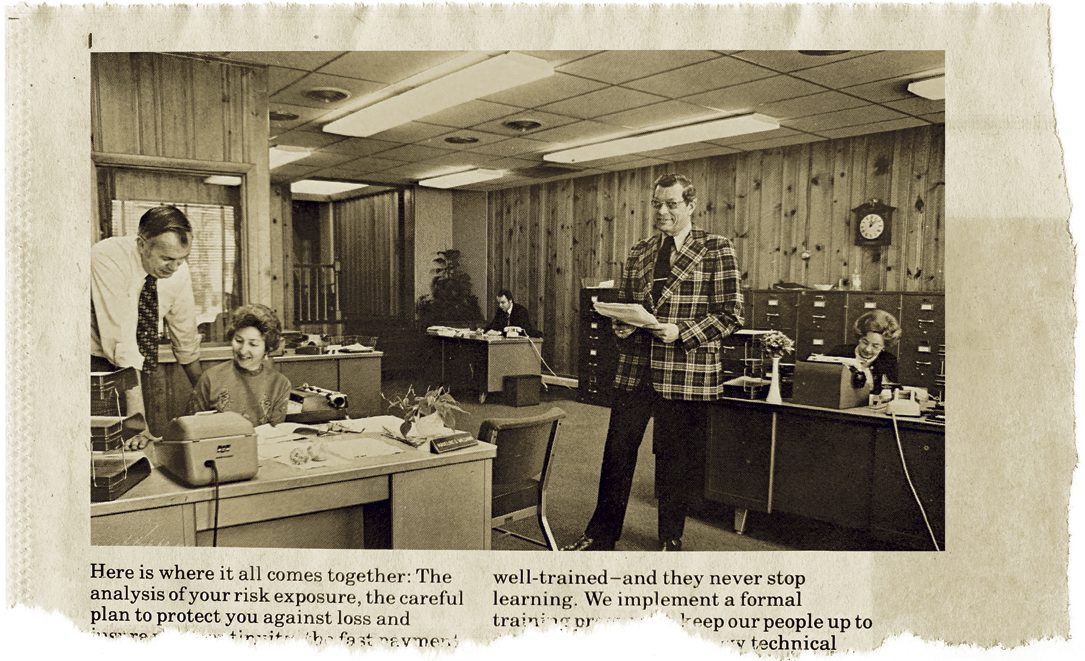 Newly named Rue Insurance continued its rapid rate of expansion through joint ventures and acquisitions. In the late 1980s the agency entered into a joint venture with Sheehy Associates to form Rue Financial Services, Inc., which would provide life, health and employee benefits to Rue clients. Closing the 1980s, Rue purchased Fisk and Proto.
As the company moved into the 1990s, another joint venture was formed with Crestmont Federal Savings and Loan to offer homeowners and automobile insurance to the banking firm's customers. Rue Insurance purchased three additional agencies. To manage the rapidly growing business more efficiently, a new computer system and agency management system called TAM was installed in 1991. In the mid-1990s, Donald Allen retired, and Elizabeth Allen was promoted to the position of executive vice president. Liz became the second non-family member owner in 1999.
In 1993, Rue Insurance joined Charter Partners, whose purpose was to bring specialized insurance products to middle market accounts. The agency used its affiliation to start an affinity group of excavating contractors called Associated Site Improvement Contractors (ASIC). Additional groups using this process followed: Community Services Providers Group (CSPG) and Associated Professional Electrical Contractors (APEC).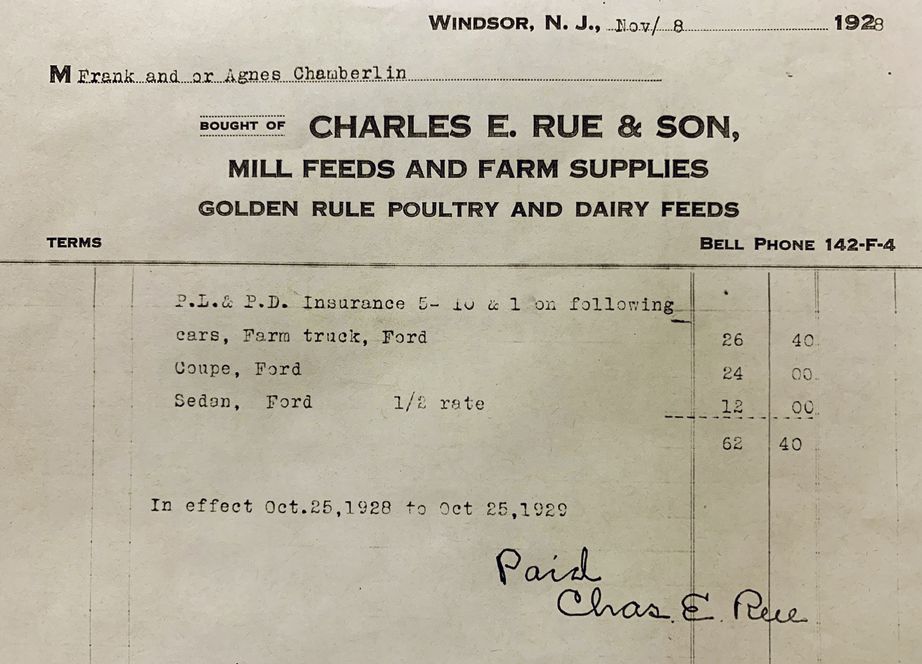 Also in the 1990s, Rue Insurance formed PL, LLC, a partnership with four other agencies. The purpose of the organization was to become an administrator of Joint Insurance Funds (JIF). The new company became the fund manager for a group of public schools (SAIF) and a group of municipalities (PACE). Rue also worked on new initiatives to improve client service through a project called Pinnacle and to increase sales through a program called Vertical Growth.
… and now
Rue Insurance entered the new millennium in strong financial condition and with new technology to enhance productivity. Knowing that the success of the agency depends on its employees, Rue Insurance committed to improving its culture to make the organization more modern and inclusive. In 2001, Rue formed a joint venture with Consolidated Risk Management to bring risk management services to its clients and purchased the remaining 49% of Rue Financial Services, Inc.
In 2002 the fourth generation of the Rue family joined the firm. After completing graduate school, William M. Rue Jr. took over management of a new employee benefits department. The agency also added financial services to its product line and in 2004 introduced the concept of the "Four Seat Table." The concept depicts the organization's full-service capabilities: property and casualty insurance for businesses, property and casualty insurance for individuals and families, employee benefits, and financial services.
Rue Insurance has always recognized its responsibility to the community from which it acquires its business. Over the years, the agency and its employees have initiated many projects that provide food, clothing and financial assistance to those less fortunate. The principals of the firm either have sat or currently sit on the boards of many Mercer County not-for-profit organizations. In 2004 the Rue Foundation was formed to provide financial support to local nonprofit social service concerns and educational institutions. Since its establishment, the foundation has provided more than $1 million of operating grant funding.
A key priority at Rue is to foster a meaningful and enjoyable work environment. In 2007 the agency received its first Best Places to Work in New Jersey designation from NJBiz magazine. Rue has gone on to place among the Best Places to Work in the state more than nine times!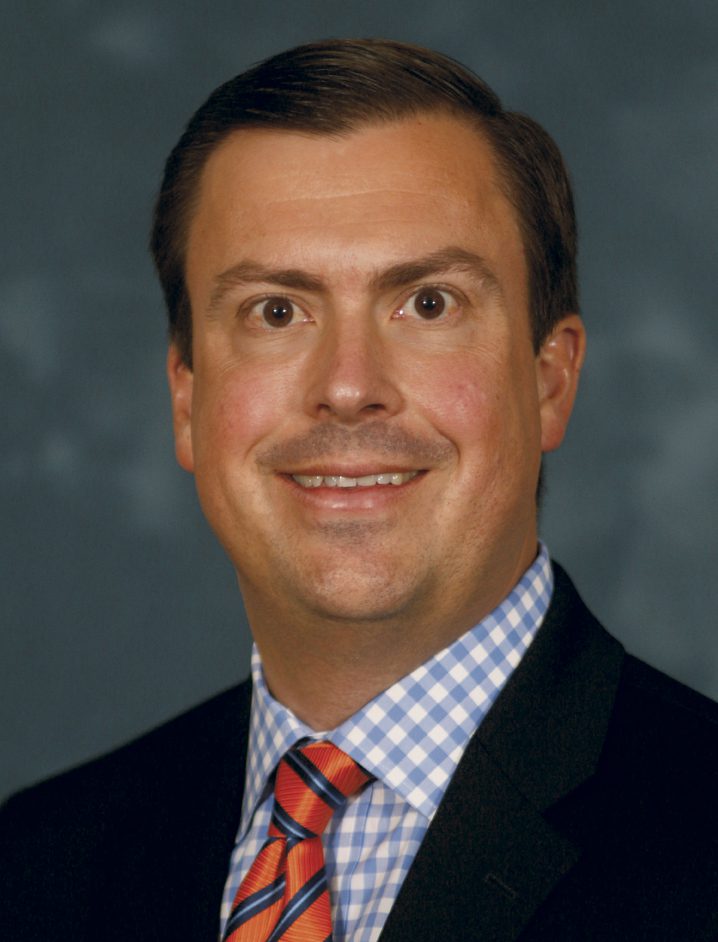 In 2008, Bill's second child, Lisa Rue, joined the firm after serving as a consultant in the defense industry. Lisa followed in her brother's footsteps handling sales and service and eventually becoming manager of the employee benefits department.
In 2010, Rue Insurance purchased the assets of the Bittner & Carton Insurance Agency in Keyport, New Jersey. That acquisition helped Rue surpass $10 million in revenue. Rue celebrated this significant milestone with a two-day cruise for all employees and their spouses. In 2012 the Keyport office was moved to Hazlet, New Jersey.
On October 29, 2012, Superstorm Sandy struck the east coast, causing devastating damage, particularly to the Raritan Bay-area clients of Bittner & Carton. Rue's Hamilton office was without power for four days while the Hazlet office was out for an entire week. During the weeks after the storm, Rue processed 1,629 claims with two-thirds of them coming from Hazlet office clients. After this disaster, an automatic generator was installed in Hamilton and new disaster planning procedures were implemented.
In 2013 the board of directors elected Bill Rue Jr. to the position of president of Rue Insurance, and he became the fifth Rue to lead the organization. Bill Sr. was elected chairman. The organization continues to be recognized on both a local and national level with the MID Jersey Chamber naming Rue Insurance its Outstanding Small Business of the Year in 2014 and the Independent Insurance Agents & Brokers of America naming Rue a Best Practices Agency in 2016, 2017 and 2018.
A major milestone was reached in 2017 when Rue Insurance celebrated its 100th anniversary. Through five presidents and 100 years, Rue has helped businesses and individuals be ready for the event they just don't see coming. "As an organization that continues to seek the next level, Rue Insurance is proud of its heritage, proud of its accomplishments, and proud of all the employees and clients who have contributed and will continue to contribute to its success," says Bill Rue Jr.
"As we look forward to the next 100 years of Rue Insurance, we are pursuing a number of initiatives," Rue says. "We are focused on becoming a 'learning organization,' as knowledge and technical expertise are critical to maintaining our value as advisors to our clients. Also, we are attracting a number of young employees into our firm as many valuable long-time employees transition into retirement.
"Having a learning and development path increases the success rate of our new employees while ensuring that critical knowledge from retiring employees is passed along. We work hard to maintain a positive and productive culture," he adds. "This is a people- and relationship-focused business, so having a passionate and engaged team gives us an advantage.
"We are proud to have perpetuated an organization for more than 100 years; but with the rate of change we are seeing now, we work diligently to maintain a balance of the history that has made us successful and the changes that must be made to continue that success," Rue concludes.