Healthcare executive delivers for clients and employees
This month we present the fifth article in our Broken Glass series, in which we talk with a woman in the independent agency business about the challenges and rewards she has experienced throughout her career. This month we profile Linda Jones, MHA, CPCU, who is managing director of healthcare and chief operating officer of Self-Insured Services Company, Inc., a subsidiary of brokerage RCM&D.
How many of us, in our growing-up years, envisioned ourselves pursuing a career in insurance?
The fact is, most people in the insurance business today had no intention of working in the industry, and the stories of how they became involved in it form a rich and colorful tapestry. Linda Jones has a story of her own.
"I wanted to be a healthcare administrator," Jones recalls, "and I earned a master's degree in health services administration. As part of the program, we each had to complete a residency and rotate through different departments in the hospital administration. I ended up in risk management, so I stayed there while I finished my degree.
"When I finished graduate school, I traveled around the country working in healthcare consulting for a couple of years, and when I came back, I started working in risk management and handling claims for Princeton Insurance Company in Princeton, New Jersey, which writes healthcare liability for physicians and hospitals," she adds.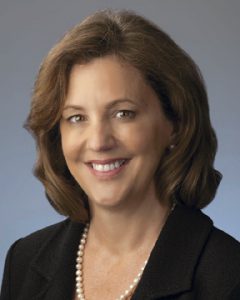 Building a team
Jones joined RCM&D in 1996 as a workers compensation risk consultant for SISCO, the company's third-party administrator (TPA). "The firm had a clinical risk manager on the professional side, and she ended up resigning, so I took on those responsibilities. It turned out to be perfect for me. Ever since I came on board, the firm has been strongly supportive of me as I've strived to create an entrepreneurial culture and build out my team's talent pool with brokers and consultants in claims, risk management, and safety."
RCM&D is an established middle market brokerage that in 2015 celebrated its 130th anniversary. In addition to its headquarters in Baltimore, RCM&D operates satellite offices in Washington, D.C.; Philadelphia and Harrisburg in Pennsylvania; and Richmond, Virginia. Total staff numbers 275 and, as a member of Assurex Global, RCM&D places business domestically and globally through a network of partners around the world. The firm maintains practices in healthcare, education, professional services, construction, nonprofits, manufacturing, real estate, associations, and technology.
SISCO, the TPA that Jones manages, provides services primarily to healthcare clients. "When a healthcare organization becomes self-insured, we handle its claims and offer other services," Jones explains. "From a healthcare perspective, I believe that every claim has some risk management implications, in terms of how best to control that risk by learning from its claims.
"My client service philosophy centers on having many strong roots in the ground, so that it's hard for competitors to topple that 'tree,'" she says. "We play more of an advisory role, as opposed to approaching prospects with 'Let me quote your insurance.' Our mantra is: When there's a problem, call us. Whatever the need—help with medical office staffing, clinical risk management, or enterprise risk management—we can help our clients."
In the volatile and rapidly changing healthcare sector, challenges abound for Jones and her team. "In 2004 we contended with an extremely hard market, and that's why many of our healthcare clients have offshore captives," Jones comments.
The firm also provides risk management advisory services. "Right now a big issue for our clients is managing safety and security within their operations. Concerns include guns in the workplace, employee assaults, and gang members entering the emergency room. We're providing a lot of consulting and risk reduction in that area.
"The Affordable Care Act brought in a number of new reimbursement methods, and some of those may change if legislation is passed that repeals and replaces the ACA," Jones says. "For many hospitals today, a major expense is providing health insurance for their employees. One of our health system clients is paying $50 million to $60 million a year for employee benefits. We are working with them to provide risk mitigation services to control this large expense, and our challenge is to develop new solutions."
Then and now
Without question, attitudes toward women in the insurance business have undergone substantial change since the days when "the girls" were expected to sharpen pencils, serve coffee, and defer to men. Today's women enjoy vastly expanded opportunities for leadership and for fulfilling careers beyond the service desk.
"My experience was somewhat different because I come from the healthcare side, which is composed mostly of women," Jones observes. "When I began my insurance career, women were underwriting, providing risk management services, and handling claims, but they weren't necessarily executives. Since joining RCM&D, I've had no problem with discrimination, and my boss is extremely supportive of me. As a matter of fact, most of the people on my staff are women."
An area at RCM&D where Jones has committed herself to breaking new ground is telecommuting. "I travel frequently to see clients, or I work at home. I employ many women and mothers who telecommute. They may not be working traditional office hours, but they're extremely productive.
"When I started to offer the telecommuting option to carefully selected employees, I received skeptical feedback from some members of the senior executive team. 'How do we know they're working and not at their kid's ball game?'
"Managing telecommuters according to productivity and client satisfaction is different from managing by presence in the office. I'll allow flexibility so long as my employees are getting their work done, and we have satisfied clients. If anything, we have more of a problem with people working too much, rather than too little."
An exception, Jones notes, is new employees. "I don't think telecommuting is a good idea for young people who are just starting out in the industry," she remarks. "They learn a lot by being in the office environment and being called into meetings, and if they worked from home, they'd feel very isolated."
What unique qualities does Jones believe women bring to leadership positions in the insurance business?
First, she says, is the ability to multitask. Professional women who have many responsibilities learn early to juggle many tasks at the same time. Jones's support of telecommuting for young mothers demonstrates her recognition of their need to balance work and family life.
Women, she adds, also tend to be perfectionists, although if taken too far this trait can become a liability rather than an asset.
To young women who may be considering a career in insurance, Jones offers an enthusiastic welcome. "I think insurance is a fabulous career; I have made it a point to recruit and develop young people, and they are excited about the opportunities open to them."
Cases in point
One young woman started working at the firm part time while she was in college. "She was an accounting major, who has earned her master's in health administration and her Associate in Captive Insurance and is pursuing the CPCU designation," Jones notes. "Insurance is a great career for her, because she can make what she wants of it. She can travel, use her accounting skills, conduct research, and provide advisory services.
"Another young woman graduated five years ago. She was a business major and wasn't sure if she wanted a career in insurance. Unfortunately, insurance often gets a bad rap because agents are seen as hard-sell types motivated only by money.
"At RCM&D we're consultants and advisors," Jones explains. "On many accounts, we're competing against the largest insurance brokers in the world, and our greatest strength is the quality of service we provide.
"This business is changing, and with the introduction of artificial intelligence and advanced technology platforms, the pace of change is constantly accelerating. It's a great opportunity for young people who seek a challenging and meaningful career path," she concludes.
By Elisabeth Boone, CPCU
Do you know a female agency owner, principal, or executive who might make a good subject for a future Broken Glass profile? If so, please contact Elisabeth Boone, CPCU, senior features editor of Rough Notes (elis.boone@icloud.com), and provide some details about the woman as well as contact information. We'll take it from there.