START YOUR ENGINES
Canadian young pro pursues passion as a part-time racecar driver
By Christopher W. Cook
---
In the insurance industry, certain dedicated young professionals stand out among their peers and are members of an elite squad of individuals. These are their stories. "Dun dun."
When we're younger, we're told to dream big. Eventually reality kicks in and some of those dreams get permanently shelved. Hearing that someone else is living the dream that I wanted as a child gives me mixed emotions. But, ultimately, in this scenario—I think it's awesome.
Shantel Kalika, chief sales officer at Cornerstone Insurance (the November 2019 Rough Notes Agency of the Month),headquartered in Prince Albert, Saskatchewan, first joined the insurance industry after wanting something different from her original career path.
"I was doing administrative work At a law office where I then stepped into the role of a legal assistant; I thought then that I wanted to become a lawyer," she says.
She left that position and enrolled at the University of Saskatchewan, but the move away from family and the need to work on top of taking classes eventually became too much.
"I found myself finishing the school year and transitioning back to the law office; they welcomed me back with open arms," Kalika says. "This move brought a position change, where I was now a real estate paralegal and, although fulfilling, I was doing work for someone else and knew I needed more.
"A friend of mine was working at Cornerstone Insurance at the time, and I reached out to ask her about the company, industry and a job posting before applying. Coming into this career I had no idea what I was getting myself into."

"Set a goal and allow for it to become a reality; don't just think 'it will happen.'"
—Shantel Kalika
Chief Sales Officer
Cornerstone Insurance
Kalika started with the agency in 2014 in the Personal Lines department as an account executive, where she would grow her book by focusing on a proactive sales approach and a great understanding of her clients' needs. In 2018, she was promoted to her current position.
"CEO Tim Longworth, COO Brock Longworth, and at-the-time CFO Lyn Schmidt saw more in me then I saw in myself," she says. "I have always been a humble person and find it extremely hard to talk about myself, but work ethic is a very high quality to me, and I know I exude that in everything I do."
Over the past couple of years, Kalika has been trimming her personal lines and commercial lines books of business to focus on the business and management side of the agency, with culture at the forefront.
"I lead and manage the sales functions inside of the agency, but I also currently am managing our Motor Licensing department along with co-managing our Commercial Lines department and our HR representative; 21 individuals inside of our 47-person organization directly report to me," she says.
In 2018, Kalika earned her Canadian Accredited Insurance Broker (CAIB) designation and hopes to attain her Chartered Insurance Professional (CIP) designation within the next five years. While time commitments can be a challenge (will get to more on that later), Kalika finds educational opportunities when she can.
"After my role within the company drastically changed, I've found myself looking into education in additional fields," she says. "Currently, I am researching business management and human resources management courses that are of interest but that needs to be strategically planned around my other commitments."
For young professionals interested in continuing their education, Kalika advises to "strategically plan your education and/or designations and make it a priority. You will always have some-thing come up—new accounts, prospecting, deadlines, retention of your book, vacations, life in general—and it will take over. Many licensing requirements are in place depending on the department you will be working in, but full designations take time and need the investment.
"Set a goal and allow for it to become a reality" she adds. "Don't just think 'it will happen.' The knowledge you will gain will always be something you can look back to; then you can apply the tools learnt so you can propel in the industry."
When it comes to her success inside the organization, Kalika is thankful for Brock, Tim, and Lyn.
"All of them were senior staff when I started at Cornerstone Insurance," Kalika says. "When I came to work here, I was a 24-year-old kid who knew nothing about the industry or management, but they all saw something in me. Starting at an entry level position and in four short years becoming the CSO and sitting in a room full of the individuals I looked up to, it was intimidating.
"Brock holds seven designations and has a wealth of knowledge in the industry, but he has also propelled our company ahead when it comes to new innovative ways to do business. To this day, Tim still helps guide and shape my management style. He is always a listening ear and willing to share any experience or information to get you to the next step.
"I still idolize Lyn," she continues. "It takes a lot to be a woman in business and Lyn always held her own. She handled any challenge thrown her way and, when in a room amongst others, listened and digested but let the others' voices be heard.
"All these individuals challenged each other when they needed to and offered ways to think differently so it could breed creativity and ingenuity that pushed the organization forward. I knew I wanted to be a part of that, and by watching I was able to learn and grow myself."
For young and/or new professionals entering the industry, Kalika shares this advice:
Be open to guidance and mentorship.
Set goals for yourself, both personally and professionally.
Put in the work and it will pay off. This industry is a very tough, but a very rewarding one. Stay humble but know your worth.
Respect is not given; it is earned.
Create your own brand under the company you work for. At Corner-stone Insurance we call it "Me Inc.," a 30-second commercial about you.
A passion for racing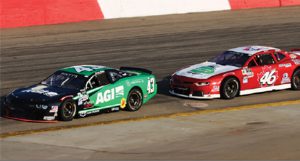 When she isn't doing "insurance stuff," Kalika stays busy with her husband and son, who turns three in May.
"My husband is a shift worker, so that creates a juggling act to make everything work," she says with a laugh. "We are very family oriented and love to get outside. We own a camper, so we go camping in the summer. We also like to travel and are big sports fans."
When it comes to her husband and son's favorite athlete, the answer should be an easy one—Kalika herself. That's because "outside our basic lifestyle, the next thing that comes is racing," she says. "I grew up watching my father race and spent my childhood days at the racetrack. I started by crewing on many teams and spotting for drivers over the years, but I first got behind the wheel when I was 20 years old, and I haven't looked back.
"I call Sutherland Automotive Speedway in Saskatoon my hometown track. I've won multiple races so far in my career as well as winning a Pro Truck Series Championship in 2016 and a Sportsman Series Championship in 2018."
That same year, Kalika climbed the racing ladder and began diving part-time in the top-tiered NASCAR Pinty's Series, a national racing league in Canada. She became the tenth female racer in the league's history—out of 12 to date. That same year (2018) she was named Prince Albert's Female Athlete of the Year.
"Our summer from May to September is go, go, go," she says. "At times I have family or friends watching our son,and then I get to see him for 15 minutes and then I'm out the door again. It also doesn't help that spring to fall is the busiest time in the insurance industry as well."
Along with driving the car, Kalika also runs her racing team's social media among other things.
"We'll participate in racing displays and I work on the race cars with my father. (She races for Busch Racing—a family-run team.) My son now joins us in the shop, and it is honestly a huge highlight to be able to share my passion with him," Kalika says. "I wouldn't be where I am today without the support of my family, fans and sponsors."
Kalika says that her time behind the wheel also benefits her insurance career. "I have a no-quit attitude; I have been told 'no' many times and each time I get back up and get back to work," she says. "I am lucky to have the parents I do, who have always pushed me to be the best version of myself and have always been in my corner, and I am thankful my husband is by my side through it all. He knows he married a crazy person who is always busy, but I know that my son and many others can be very proud of the things I have worked so hard for and for that I am thankful and proud of myself," she concludes.
P.S., this writer never did get the go-kart he asked for repeatedly for his birthday and Christmas every year when he was younger. I'm kind of tall to be a race car driver now anyway. (Waves checkered flag.)