Coverholders and Risk Takers
The market that is best equipped to take on a new program idea in the start-up phase is Lloyd's
For the past 30 years, my team and I have been specialists in the program business arena. As a small, entrepreneurial firm, we've been fierce advocates for this unique market niche and have been blessed to play a leadership role in forming two different industry trade associations in the program administration world—Target Markets Program Administrators Association in 2001 and the CHART Exchange just a few years ago.
"Insurance distribution firms that specialize in profitable niche programs often command higher valuations from strategic buyers than generalists. Acquirers view specialists as added value through unique products, underwriting expertise, and distribution."

—Chris Hughes
Managing Director
Merger & Acquisition Services
With that in mind, please join me on a quick trip down Memory Lane: During our inaugural association meeting in 2001, we heard no fewer than 16 different program companies make, with a seemingly genuine display of pride, a statement along these lines: "We looked at two hundredopportunities last year and only wrote two." This mindset is totally foreign to any insurance agent who invests significantly in marketing designed to generate application flow. What program specialist could afford to have a 1% bind-to-submission ratio?
A second theme we heard from carriers in 2001 went something like this: "If you have $10 million in aggregated accounts and five years' worth of great loss experience, we'd love to speak with you." The consensus response from the audience of business-minded agents was: "If we had $10 million in aggregated niche accounts and five years' worth of great loss experience, we wouldn't need your help."
Bob Dylan was right when he sang "The times, they are a changing." Seventeen years removed from that inaugural meeting, it seems as though everyone is in the programs space. Sixty-plus domestic U.S. carriers, risk retention groups, risk purchasing groups, captive insurers, and others have grown this business niche geometrically.
Program administrators have become a hot commodity and are targets for acquisition by wholesalers, agency conglomerates, and even the insurance carriers themselves. My friend and fellow-Early Adopter Chris Hughes, managing director of Merger & Acquisition Services, explains, "Insurance distribution firms that specialize in profitable niche programs often command higher valuations from strategic buyers than generalists. Acquirers view specialists as added value through unique products, underwriting expertise, and distribution."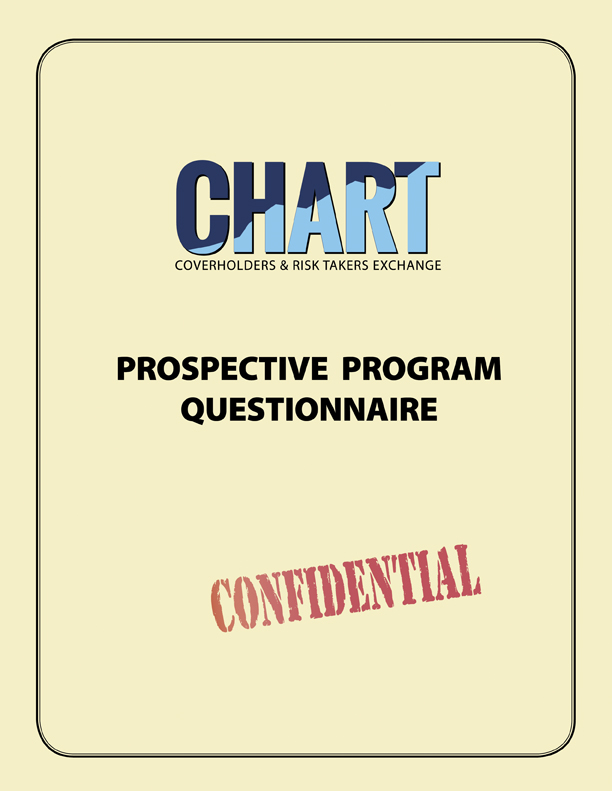 Having a voice
In an age of consolidation, we're seeing some repercussions. Smaller agencies that are trying to develop specialized niches find it increasingly difficult to be "heard." Organic growth is what fueled significant expansion of program business in the early 2000s. Where does the entrepreneurial agency go today to address the insurance needs of an underserved market or make a significant impact on an existing niche?
The simple answer is that today's forward-thinking specialist should look to the same innovative underwriting partner they looked to before the year 2000: London. The market that is best equipped to take on a new program idea in the start-up phase is Lloyd's.
In future columns, we will spell out in greater detail the mechanics of exactly how this is done. But first, we'll look at preparations needed to get the ball rolling.
Composing a program submission for a new idea is similar to creating the business case on the long-term profitability of an existing book of business. One key limitation, however, is the lack of past experience data that you can use to help make your case. A new program submission must include compelling and convincing narrative. It must demonstrate mastery of the niche, articulate the most important issues, and propose viable solutions.
This submission document also must tell the story of the submitting agency—everything from back-office capabilities and expertise within the target business community to the level of financial commitment the agency and its team are willing to make in order to fund the necessary marketing initiatives.
We like to express a program submission as a 10-point plan. The first five are research-oriented; the second five, developmental.
Research elements
Market research. Familiarize your potential business partner with the nuances of your target audience. Use both secondary and primary research techniques to determine things about your potential clients. Your findings will help quantify such indicators as their preferred method of communications (mail, email, etc.) and perceptions regarding their various risk exposures. Use this space to also expound on the competitive scene. How are other agencies/markets approaching this space?
Analysis. Now that you've provided the "lay of the land," take some time to interpret what you've found. Is your target audience sufficiently aware of the insurance risks they are facing? If competition exists, is it pervasive enough to serve as a barrier of entry for a new player?
Gaps and solutions. Use this section to put your knowledge and expertise within your target niche on display. Identify the deficiencies within any competitor products. Reveal areas of differentiation that could help your product stand out from all the rest. Talk about how your marketing messaging will address your audience's "hot buttons" and raise awareness about potentially devastating gaps in their existing insurance products.
Language and format of your solutions. Provide a set of model underwriting guidelines, rating structures, policy forms, optional coverage endorsements, etc. Some words of sage advice to all aspiring specialists—learned the hard way from our own experiences: Don't be afraid to seek assistance. Experts in such diverse disciplines as actuarial, legal, and claims administration can strengthen your proposal through their expertise.
Also, be prepared to have every one of your assumption sets challenged. It pays to have a thick skin when it comes to submitting a new program.
Prospect niche universe. Quantify the prospect universe. Are there enough homogeneous risks out there to help you achieve your premium production goals? Which demographics will you use to identify the entities that best fit your eligibility parameters (SIC code, revenue size, risk location, assets, etc.).
Development items
Financial exhibits. You need to let your potential business partners know the level of commitment you intend to make. Underwriters take risks, but their assumption of risk is variable, based on the business written. The program specialist must invest significant capital upfront to promote the new product on their behalf. Use these exhibits to demonstrate your "skin in the game."
Distribution strategy. The marketing research you conducted earlier will identify how your target audience prefers to make their insurance purchase. Are they sophisticated enough to purchase coverage directly, or would they prefer to have an intermediary? You should also know whether or not your potential clients belong to any business associations, organizations, etc. Use this information to articulate your intended distribution channels.
Marketing materials. Include mock-ups of promotional materials as part of your package. Copies of brochures, sell sheets, websites, and the like allow you to highlight product features you believe are important. Doing this also gives you an outlet for your creativity.
Expectations from the market. You have invested a great deal of time and effort to "sell" a potential partner on your product idea and expertise. Now it's time for a little quid pro quo. What are your minimum standards for such things as referral turnaround time, claims support, etc.?
One other requirement you should consider: Let any interested market know that you expect to have periodic status meetings with them once the initiative is launched. The agency can use the forum to update the underwriters on program performance statistics, changes in the competitive scene, and new opportunities within the niche. The risk taker can share loss results and inquire about changing business trends. This dialogue will help strengthen the business relationship.
Plan execution/measurables. What statistics will be used to determine the success of the program? Describe the management information reports you will be using and sharing with your partners. Also use this section to provide premium forecasts, projected loss ratios, and other financial data.
There is no substitute for an effective track record in delivering on a successful program by an agent. A well-conceived Program Submission Plan (PSP) can help the aspiring insurance specialist convince a market to back them.
The author
Coverholders and Risk Takers is a periodic column written by principals or "Early Adopters" of the CHART Exchange (www.chart-exchange.com). The group's core mission is to facilitate more U.S./London commerce via personal interaction, education, and technology. Glenn W. Clark, CPCU, is owner and president of Rockwood Programs and the "Earliest Adopter" of the CHART Exchange. Email him at Glenn.Clark@rockwoodinsurance.com.