THANK YOU FOR YOUR SERVICE(S)
Veterans bring military skills to the insurance industry
By Christopher W. Cook
While patrolling the oceans in a U.S. Navy ship or flying a U.S. Army helicopter sound more exciting than assisting a client with bundling home and auto policies, the insurance industry and the United States military share common values of teamwork, problem solving and helping others. With Veterans Day being celebrated this month, we spoke with two veterans whose paths eventually led to the insurance industry. They shared their military experiences and how their training and duties came in handy with their current careers.
Army Captain Most
Despite his father's long career as an insurance agent, Craig Most, vice president of Most Insurance LLC (the Rough Notes Agency of the Month in May 2013), never considered working in insurance or learning about the industry. Instead his life path after high school led him to the United States Army.
"After receiving appointments to West Point and the Naval Academy, I chose to use the four-year Army Reserve Officers' Training Corps (ROTC) scholarship I had earned and attend Tulane University," Most says. "Four years of ROTC during college led to my appointment the day after graduation as a Second Lieutenant in the Army."
The next day Most traveled to Fort Knox, where he would spend the following year as an armor officer. "I spent the year supporting cadet training in the summer and then learning my craft in the Army Officer Basic Armor School," Most recalls.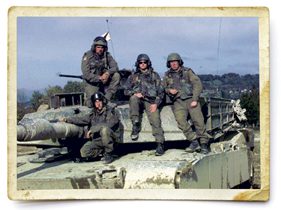 After three weeks at Fort Benning, Georgia, where he earned his airborne wings for parachuting, Most was stationed at Fort Hood in Texas for the next three years. "Initially I was a platoon leader responsible for four tanks and 16 soldiers," Most says. "During that time, I participated in rebuilding our aging M1A1 tanks to factory specs and issuing brand-new M1A2 Abrams tanks; we were one of the first units in the Army to have the new tanks. I also learned how to use the new weapons systems and technology.
"As we mastered the new tanks, we were assigned to serve in Bosnia as peacekeepers. We spent the next few months training for the mission and then were stationed there for seven to eight months. Just prior to deployment, I was promoted to First Lieutenant."
Upon returning to the United States, Most moved into a new role as the second in command, Executive Officer, of a 14-vehicle Tank Company.
"After a few months in this role, I became second in command of a 345-person, 119-vehicle Headquarters Company that directly supported the four tank companies of the battalion," says Most. "My last major mission before leaving the Army was our deployment to the Mojave Desert, Fort Irwin, in California for desert warfare training. I left the military in 2000 as a Captain."
After military service, Most worked in Boston in inside sales and later as a reference program manager for PTC, a computer software and services company.
"It wasn't until my third winter in Boston, which spurred my desire to relocate to somewhere warm, that I decided to pursue a career in insurance," Most recalls.
After securing his insurance licenses, he worked for his father's exclusive agency for three years. He then operated his own captive agency in Brandon, Florida, before merging it with his father's agency two years later.
Navy Captain Jenne
Kevin Jenne, director of agent and consumer research at Liberty Mutual, served 30 years in the U.S. Navy on both active and reserve duty. He retired as a Captain in 2015.
After graduating from Navy ROTC at the University of Washington, he served as a Division Officer aboard the U.S.S. Sumter.
"We always say that Navy officers get responsibility fast," Jenne says. "As a 22-year-old being given responsibility for 20 to 30 sailors and much of the ship's heavy equipment, plus safe navigation at sea, I had a lot on my plate."
He went on to serve as a Company Commander with the Seabees construction battalion, deploying to Okinawa and Spain.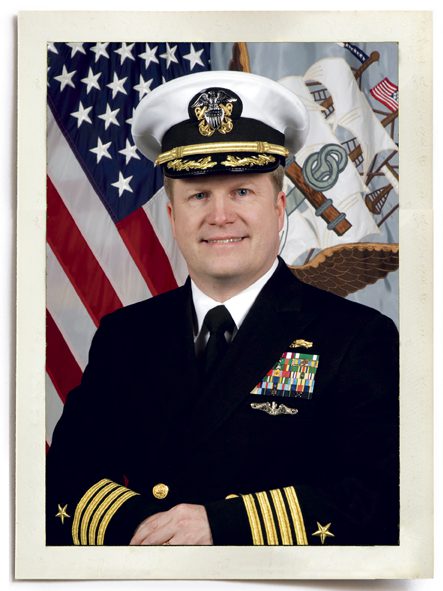 After starting his civilian career, Jenne continued with the Navy Reserve, serving four years on an oceangoing minesweeper before moving into harbor defense. As Executive Officer of a fast patrol boat unit, he led the first two overseas deployments with the new 28-foot boats to Kuwait and Turkey, protecting high-value cargo ships. His unit was mobilized after September 11 to provide harbor defense for several critical Navy bases in Washington State and to help those bases develop their own defensive capabilities.
He went on to assignments as a Logistics Officer with the Pacific Command in Hawaii and the Seventh Fleet aboard the U.S.S. Blue Ridge in Yokosuka, Japan. He was recalled to active duty after the South Asia tsunami in 2004, coordinating humanitarian relief efforts to deliver food,  water and shelter to thousands of survivors in the immediate aftermath.
"I was then fortunate to get the assignment all Navy officers aspire to—my own command, of an expeditionary port unit," Jenne recalls. "It was a great privilege to mentor and guide a highly professional team, from junior enlisted to senior officers, through deployments to Hawaii and South Korea."
He was recalled to active duty again, this time for three years to lead the Navy's transformation efforts in South Korea, working with its navy to enable it to lead the maritime defense of its country.
"This was a terrific opportunity to build teamwork with people in different cultures, solving both long-term challenges and crisis actions," Jenne says. "It was also a great experience for my family to live overseas and immerse ourselves in the culture and history of the Korean people."
Jenne's civilian career consisted of working as a deposit operations manager for Pacific First Bank before joining Washington Mutual as a project manager and later serving as first vice president of market research; next was a research and strategic insight position at insurance communications consultant Aartrijk. It wasn't until his time in the Navy came to an end that he signed on with an insurance carrier.
"One of my colleagues from a previous employer contacted me while I was getting ready to leave active duty in Korea," Jenne says. "She had just started at Safeco Insurance and wanted me to apply for an opening they had for her manager's job—which was a great fit, doing market research again and with a respected colleague.
"The work involved many of the same issues we faced in banking—developing great products that fit people's complex needs and helping to make them simple and easy to use."
Veterans and insurance
Although their work may not be as exciting as operating a tank or a patrol boat, insurance professionals do share similarities with those who serve in the armed forces.
"My military career prepared me extremely well for my career in insurance," says Most. "Time management, mission completion, and teamwork were all disciplines I honed while in the military, and all are relatable in the insurance world. Understanding the big picture and the small critical part I played in each mission has enabled me to articulate insurance and risk management concepts to my clients.
"Working with a variety of people whose backgrounds and agendas were very different than mine was not much different than working with a customer or prospect," Most continues. "Time spent asking questions and listening to customers and prospects is critical to understanding their concerns, and this allows me to educate them and provide options that are tailored to their needs and wishes."
Adds Jenne: "Some of the traits we find most valuable in service members are the very strengths we're looking for in our company's employees—military values like being mission-oriented, flexible and working effectively within teams to solve problems and then quickly orient to new challenges.
"The working hours are much better in insurance," Jenne remarks, "and I don't miss driving a boat into an amphibious landing above the Arctic Circle at 0400 hours or patrolling a harbor in 120-degree heat."
With veterans possessing several qualities that are ideal for insurance careers, both captains recommend the industry to anyone who is leaving military service.
"There is nothing more noble than serving your country, whether in the military or in other capacities," says Most. "That said, a very close second is serving your clients by providing education and options, and by being there for them when they are in need or are faced with a loss.
"There is nothing more noble than serving your country, whether in the military or in other capacities. That said, a very close second is serving your clients by providing education and options, and being there for them when they are in need or are faced with a loss."

—Craig Most
Vice President
Most Insurance LLC
"I derive a real sense of accomplishment and 'mission completion' by taking care of clients and helping them navigate the confusing world of insurance. While the industry does not allow me to go to gunnery with my Abrams tank, fly in combat helicopters, or look sharp in camouflage, it does give me the opportunity to take care of others, work with a team, and be there when needed: all things I did in the Army."
"I'd definitely recommend insurance as a career for veterans," says Jenne. "Many of the things we loved about military life are here—the camaraderie of working with terrific teammates, solving problems collaboratively, always having a new challenge, and the ability to take on different assignments to maintain a steep learning curve.
"Some companies, like Safeco and Liberty Mutual, have veteran employee groups. Ours is called Valor, and we meet and network with other veterans across the company. It's a great chance to connect with and learn from people who share our experiences and our jargon."
Whether they were protecting our homeland or serving overseas, to all of our veterans, and to those who continue to help others by working in the insurance industry, we thank you for your service.