Being different makes a difference for this Indiana and Colorado agency
What do you get when a modern hippie acquires his dad's insurance agency?
Sounds like the start of a joke, but it's not.
What you get is a successful agency whose parent company is named Someday Is Today LLC and whose corporate vehicle is a 1970 VW microbus wrapped in tie dye with The Thompson Group logo on the side. You get an owner whose father and mother appear in the agency's advertising wearing nothing more than strategically placed signs that emphasize the need for proper coverage. You also get a woman-owned agency whose mantra is a variation of a common agency theme but adds the word that was the only thing a flower-child needed. "Find the Pain, Heal the Pain, Show the Love" is a corporate ethos that the agency lives up to every day.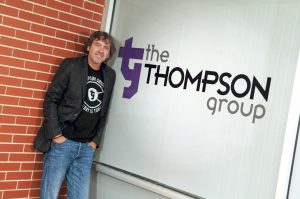 The two owners are the Insurance Ninja, Anson Ross Thompson, CIC, CRM, who has seven books on Amazon because he apparently doesn't have enough to do at the agency, where he is available to clients 24/7 and owns 49% of the agency, and Insurance Queen, CEO Jenny Dils-Durr, CIC, CRM, who owns 51%.
The Thompson Group has evolved from a small personal lines agency in Parker City, Indiana, which was founded by Anson's dad, Wayne Luther Thompson, in 1973. Anson purchased the agency in 1996. Jenny joined the group in 2012, when Thompson merged with the Indianapolis office of RMD/Patti, an agency based in Richmond, Indiana, that was founded by her father, Jerry Joe Dils. Jenny started the Indianapolis office from scratch and grew it to nearly $1 million in revenue.
Today, the agency has offices in Parker City, Indianapolis, and two locations in greater Denver, Colorado. The Denver operation was started from scratch in December of 2015 because Anson and Jenny "fell in love (there's that word again) with Colorado." Since that time, The Thompson Group purchased a small Colorado agency and a workers comp book from a PEO with which they have a loose partnership. "We've really caught fire in Colorado," Anson says proudly, "and we now alternate weeks between Indiana and Denver."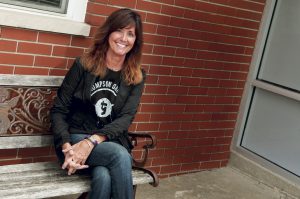 Harmony and understanding
"We look and act very differently from the typical agency," Anson says, pointing out that "I wear a t-shirt and sport coat when I visit clients or prospects. We also are very selective with whom we do business. We refuse to quote. Instead, we rely on our audit process to develop a strong relationship with every one of the clients who meet our criteria. About 30% of the time, we find that there is not a fit.
"The audit is a three-step process," he continues. "The first meeting with a client is all about conversation, not selling. We want to hear what their relationship with their current agent is like and actually look for a client that has been with an agent for a while. We don't want clients who have hopped from one agent to another. We then ask them for a chance to look over their entire insurance portfolio. Our audit department will comb through the coverages to determine if there are any gaps or overlaps. They then prepare an outline of every coverage on an 11×17 sheet and also include forms and endorsements that would fill areas that are not covered. For example, if the client is a manufacturer, we look to see if they have contingent loss of income in case they lose a supplier. That's often overlooked.
"At our next meeting with the client, we'll go over the outline of their current coverages and our recommended changes to determine if the prospective pain is big enough to justify a change. If they believe that a change is needed, we ask for an agent of record letter and loss runs, and we establish a budget for the coverages that we recommend. It may wind up being more than what they are currently paying but the benefits of better coverage, we believe, will outweigh the higher cost. Of course, there also are times when we come in with a lower cost.
"Then we go to the company that is the best fit for the client. We already know and understand our underwriters' appetites, so we don't send out the same business to a large number of companies. The result is that our submissions go to the top of the pile, because the companies understand that they will probably write the business that we send them and won't be spinning their wheels providing quotes."
This is backed up by Guy DeCosterd, CPCU, senior vice president of distribution at Liberty Mutual Business Insurance–Central Division, who points out: "Our Liberty Mutual underwriters work very closely with the team at The Thompson Group. Relationships matter. We know them well—and they know us. They know the strength of our commercial products, utilize our easy-to-use online eCLIQ® system, and leverage the power of our data and analytics. … Because of our partnership, they also know that they can call to discuss any account to ensure that we are providing the best coverage and the best price."
Anson continues: "At the third meeting, we'll sign a contract with the client and obtain consideration for our efforts. The contract delineates both what the client can expect from us and what we expect from them."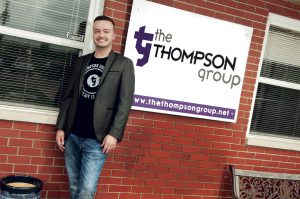 Sympathy and trust
This approach to acquiring business results in a relationship with clients who become friends. They are on a first-name basis and know that they can call the agency at any time, day or night because, as we all know, insurance emergencies don't just occur during business hours. And the clients find out that the phone is always answered by a human being, not a computerized voice that directs them to start hitting buttons. The agency is open from 8 a.m. to 9 p.m., with a human being always answering calls during that time. The call is then directly fed to the person on staff who is best able to respond. After hours, "the call goes to my cell phone," Anson says. (See, I wasn't kidding about him being available to clients 24/7.)
Another important part of The Thompson Group success is education. "We understand that the only way we can 'heal the pain,'" Jenny says, "is to have employees who are educated about the insurance business. We take that very seriously. We pay for staff members to take the CIC courses and, if they earn the designation, we reward that achievement with a $250 bonus." It's hardly surprising that the agency has a number of CICs.
"We also recognize that employees need to enjoy what they are doing and feel like they are part of a team," Jenny continues. "We want them to know how much we appreciate and trust them to handle our clients in the same manner that they would like to be treated in any of their business dealings. One of the ways that we show our people how much we appreciate their loyalty and caring occurs on their 10th anniversary with the agency. We send them on a vacation to an island of their choice."
No falsehoods or derisions
"We're different and it's fun," says Chief Operations Officer Dakota Crabtree. Dakota joined the agency as a receptionist at the age of 15. A decade or so later, at the ripe-old-age of 26, he manages the operations of 18 people in two states and was instrumental in helping set up the Colorado presence. He also has worked diligently to implement ideas that make the agency more attractive to Millennials, like working from home.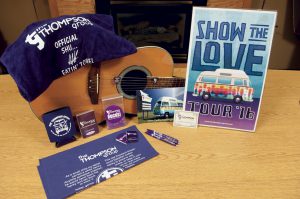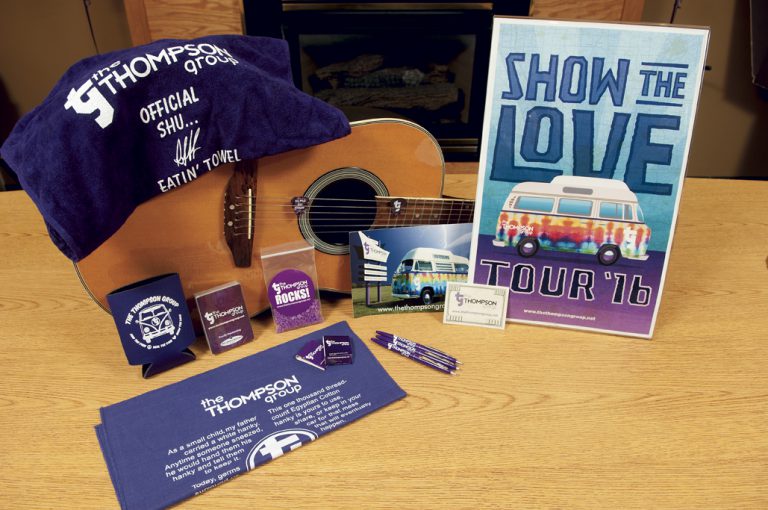 He calls this "the best experience of my life. We've created a culture here where every member of the agency wants to help clients and each other and take pleasure in their successes. Culture means everything to us, so we look for like-minded individuals when we recruit new members of the team. They don't need to know insurance. We'll teach them that. But they do need to be people who are positive and want to work for a place where everyone loves what they are doing. We have people from financial services, medical, airlines, and hospitality, to name a few of the industries that are represented. That makes us better at what we do because they understand business, not just the business of insurance."
Jenny concludes that "one of the most important lessons that I learned from my dad, who passed away last October, is that the owner of an agency needs to lead by example. We can't just tell people how to succeed; we need to show them. Anson and I are the lead sales people in our agency and we use what we have learned to support our seven producers.
"That includes a pipeline that is always filled with prospects, thanks to our business development person who makes 100 dials a day, setting up appointments for our seven producers."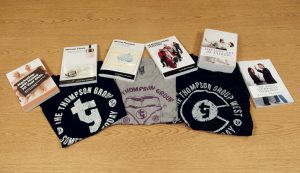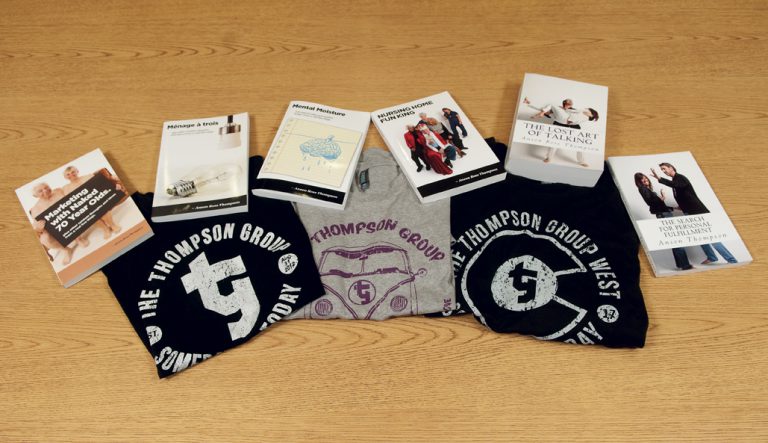 The mind's true liberation
Anson adds proudly that the agency also supports producers with memorable and creative marketing. "We don't just leave a business card when we drop in on a prospect. Our latest marketing piece is a guitar pick that says 'We Pick Our Clients,' and includes The Thompson Group logo. It's amazing what a difference that makes. When our agents call, the prospect remembers the pick and takes the call. It also helps that we don't waste time on the phone. We quickly explain our way of doing business and then hang up unless they show interest. The average call is about 30 seconds if there's no interest. We have an endless stream of prospects so we don't want to waste their time or ours.
"And it's working," he continues. "Our revenues now exceed $2.3 million and we're in 26 states. We're getting referrals from states where we don't have an actual office because people like our difference.
"We're having a hell of a good time," he concludes. "And the best part is that we don't work, we live. You couldn't ask for anything better than that."
Rough Notes is proud to recognize The Thompson Group as our Agency of the Month. Their unique way of doing business shows how varied the agency business can be and still offer success.
By Dennis H. Pillsbury