Initial setbacks lead to success for Conrey Insurance Brokers and its clients
It was some 15 years ago and Jerry Conrey well remembers the feeling of frustration working as a district manager in the world of captive agents—surrendering control of the way he did business to his corporate overlords. "I finally decided that I had to do something," Jerry says. "There was an agency in Tustin [California] for sale by its second owner. It had a $4.3 million book, of which 75% was personal lines, and it employed six plus two elderly producers."
It wasn't perfect, he notes, but it had all the right company appointments. "Tustin is an affluent community, in the dead center of Orange County and 30 minutes from San Diego and Los Angeles counties," Jerry adds. "My philosophy has always been that nothing is perfect, but if you can get to 97%, that's about the best you can expect. This seemed like it was close to that, so I took the contract value of my district and bought the agency."
Fourteen years later, Jerry's confident that he made the right decision. Conrey Insurance Brokers and Risk Managers just surpassed the $10 million premium mark. Revenues are just under $1.7 million. And it's now a "triple threat," Jerry notes proudly. "We offer commercial lines, financial services and personal lines. But most important, we provide strong risk management support for our clients."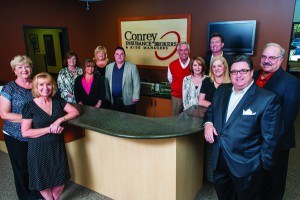 A prospect's frustration
A year or so ago, Lisa Sutton, owner of Cater Tots Too, Inc., a company that provides catering to schools in the area, was discussing her insurance woes with a business colleague. "I was incredibly frustrated," Lisa recalls. "My workers comp premiums kept going up, even though I had only had four small claims, each of which was settled in less than a week. There was a fifth claim that everyone knew was fraudulent, but that remained open for three years, because no one bothered to move it forward."
Her friend recommended Jerry's agency. "I was convinced there was nothing he could do, especially because my renewal was only three days away," she says. "I was with an agency that supposedly had expertise in the food business. So what could a generalist do for me? It turned out that he could do nearly everything that needed to be done.
"As soon as he heard about my deadline, Jerry dropped everything and saw me within an hour. Then he spent the next hour and a half educating me about workers comp and what I could do to improve my mod, including providing me with ways to encourage employees to get involved in reducing claims. It was a real eye-opener."
Lisa says she learned more about workers comp in that one day than she had in the nearly 15 years she had been with her previous agency. "That's right, I said 'previous agency,' because I'm now with Conrey Insurance and am proud to have recommended them to five others in the business," she explains.
"In the short time they had, Jerry and Debra Barnes worked to put together a program that saved me $16,000. Most of that came about because they took the time to find out what I do. And let me tell you, that was a huge savings for a low-margin business like mine, with 36 employees."
To be continued
That's a great story, but what's far more important is the continuation that is the hallmark of Conrey Insurance Brokers. "Our goal is to be proactive rather than reactive," Jerry maintains. "I spend at least 70% of my time on the road, meeting with clients and prospects, so I can be certain that no gaps have developed in their coverage because of changes in their operations, or that their reserves are correct, or any of the myriad things that can occur in a complex business."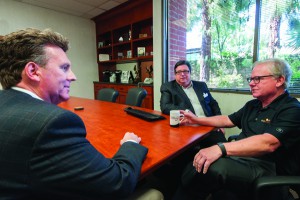 He says seeing clients is not a burden. "It's our way of doing business," he explains. "We see ourselves as a very middle market agency that treats clients as if they're a Fortune 100 company. Our targets are those businesses that are just about to bloom. We want to get in on the second or third floor of a company that will ultimately become a 10-story structure—or even a skyscraper."
Client Bill Ross, of Bar Bakers, LLC, a food manufacturer, points out that, "Jerry proactively comes to us with recommendations to help reduce the magnitude of our risk levels and with programs that are not only cutting edge, but solid and down to earth." Bill employs up to 1,000 people at any one point in time and sees Jerry as his go-to person for his business and for his "many properties and assets."
Janine Stein, general manager for general contractor DonRay Company, A California Corporation, adds, "The Conrey Insurance team continually provides us with excellent customer service and exceptional knowledge and expertise to meet our insurance needs and to protect our company's interests. Jerry and his team continually strive to provide service that goes the 'extra mile' for any company's best interest."
One of the principal reasons Conrey Insurance is able to provide what Jerry calls "concierge service" is that it focuses on developing relationships only with clients that want to be involved in risk management and risk mitigation. "We don't want one-off clients who are just shopping for a policy," Jerry says. "For too many people, an insurance policy is just a piece of paper that they are required to have.
"Our job is to show prospects the weaknesses in their current coverage and offer changes that result in risk reduction and risk mitigation," he adds. "We look at how things work at the client's business and help change the client culture that may have led to loss. If they're not interested in working with us on those efforts, then we're not interested in having that person or business as a client."
The Conrey team constantly "looks at the numbers" to see how each of its clients is faring. "During that process, we occasionally find a client that is no longer paying attention to risk management," Jerry explains, "so we'll sit down with the client and see if they're still a fit."  This approach has resulted in fewer clients but more policies, Jerry notes proudly. In fact, the average client has more than three policies with the agency.
Jerry's partner, Wayne Dennen, takes care of the financial services side of the house. "There's not anything we can't do," he says, taking apparent pride in his correct use of the double negative and in what it means. "Jerry and I each have nearly 30 years of experience in our fields, so we're able to protect virtually every aspect of a client's life and business. In essence, Jerry insures the stuff and I insure the people, with the ultimate objective being to make more wealth and protect that wealth for each of our clients.
"Too many businesses overlook the need for insurance protection for their key people," he adds. "But the death, disability, divorce or retirement of a key person can be just as devastating to a business as a fire or flood. We look at the whole enterprise, protecting its future viability for the next generation of owners, in addition to protecting against potential physical losses.  This approach has created a synergy of cross referring our clients to each other," Wayne concludes.
Thomas Lawrence, who joined the agency in 2011 as a producer, says it was the holistic approach to risk that attracted him to the firm. Quoting from "On the Waterfront," Tom points out that he never felt like he "could've been a contender" at his previous agency. "But here at Conrey, the leadership's passion is robust and palpable, and they serve as my personal proprietary 'Google' of insurance that I can access and share with my present and future clients.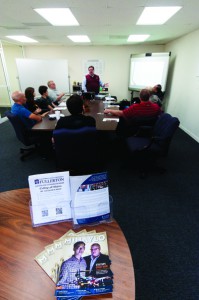 "What we're doing at Conrey is becoming even more important in today's litigious society," he adds. "A strong, comprehensive program of protection is paramount to keep a business owner protected not just from financial harm from physical losses, but also from the potential ruin that a lawsuit can bring."
Giving back
It should come as no surprise that the people at Conrey Insurance are heavily involved in the community they serve, with the most notable example being "The Big Boy Band," with Jerry and Operations Manager Gary Nouskajian as founding members. In addition to performing at private parties and public events, the band also plays at a number of charity events, including a benefit for the Children's Hospital of Orange County.
Jerry also volunteers at Cal State Fullerton, teaching at the MBA level as an entrepreneur in residence. The university offers entrepreneurship as an emphasis and Jerry provides not just the academic underpinnings for starting and running a business, but the actual real-world experience that often is missing from academia. "Students learn the philosophy in the classroom and then we take them out into the world for a dose of reality," he says.
Rough Notes is pleased to recognize Conrey Insurance Brokers and Risk Managers as our Agency of the Month. The agency exemplifies the best that independent agents have to offer by providing both a choice of coverage, so clients can be placed with a company that wants their business, as well as strong risk management support that has become a key part of the service the best agencies deliver.
---
By Dennis H. Pillsbury