AGENCY PARTNERS
THE LITTLE MUTUAL THAT COULD
Tiny Madison Mutual thinks and acts big
By Elisabeth Boone, CPCU
How many employees does it take to screw in a lightbulb?
At Madison Mutual Insurance Company in Chittenango, New York, lightbulbs are replaced, floors swept, and wastebaskets emptied by just nine full-time and two part-time employees, all of whom seem delighted to be working for this stalwart mini-mutual. In January of this year the company celebrated its 125th anniversary, and staff members are justifiably proud of its staying power and achievements.
Located some 12 miles southeast of Syracuse, Madison Mutual was incorporated in 1893 as the Madison-Onondaga Mutual Fire Insurance Company to provide insurance against fire and lightning to local farmers and business owners. After merging with a local fire cooperative in 1983, the company shortened its name to Madison Mutual Insurance Company. It carries an A.M. Best rating of A-/Excellent and serves the upstate New York region, writing a 60/40 mix of commercial and personal lines. Total premium volume is $5.7 million, and policyholder surplus stands at $10.9 million. The company is represented by about 100 independent agents.
"Our philosophy isthat we won't ask someone else to dowhat we can't or won't do ourselves."
-John C. Owens Jr., CPCU, CIC, ARe
President and Chief Executive Officer
What makes this sturdy little insurer tick? To find out, we spoke with its executive team, who were joined by the company's retired president and chief executive officer.
John Owens Jr., CPCU, CIC, ARe, current president and CEO, joined Madison Mutual in 1994 as marketing manager, with responsibility for appointing and working with agents. Later he added underwriting to his responsibilities, and in 2015 he became president and CEO.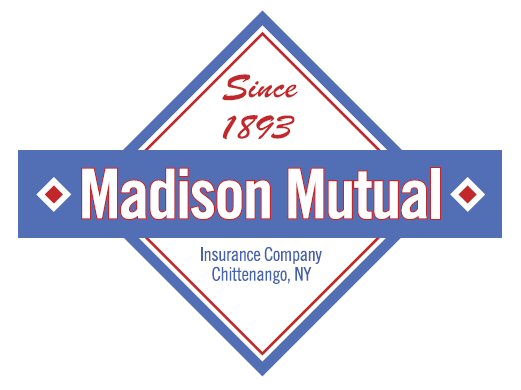 "In a small company like ours, we all wear many hats," Owens says. "In addition to marketing and underwriting, I assist with claims, customer service, and company operations—and with a colleague, I perform a vital executive function: shoveling snow off our solar roof (more about that later). Our philosophy is that we won't ask someone else to do what we can't or won't do ourselves." Owens acknowledges that rooftop snow shoveling involves an element of danger and hastens to assure us that the company's workers compensation premiums are fully paid up.
Serving as senior vice president of claims is Heidi Barron, CPCU, AIC, who joined Madison Mutual in 1995 after working for Associated Mutual Insurance in downstate New York.
Ben Thompson, CPCU, CIC, AIAF, ARC, AU, API, AIS, joined Madison Mutual a year after graduating from college and now serves as vice president of underwriting and marketing. As shown by the string of letters after his name, he took full advantage of the company's support of professional education.
Tim Burback, retired president and chief executive officer, joined Madison Mutual in 1978 after working for several years with major independent adjusting firms. After retiring as president and CEO, Burback became the company's investment officer, and he continues to serve on the board of directors.

Flexibility is key
Madison Mutual is a generalist insurer and doesn't pursue specific classes of business, Thompson says. "We're not a niche writer, but I like to think we offer niche solutions for the spectrum of businesses we insure. An example is underwriting and valuation flexibility. Across the industry we see the predominance of the cookie cutter approach in which insurers mandate 100% of insurance to value as they determine it. I'm not knocking that model; it is by far the most efficient way to provide quality coverage to the majority of consumers. That said, a lot of customers don't fit that mold, and we pride ourselves on an underwriting approach that takes individual differences into account so we can offer alternative options."
The company's product line reflects its commitment to flexibility. Its Homeowners Freedom Policy and Landlords Freedom Policy allow insureds to buy the coverage limit of their choice, up to the replacement value of the dwelling, while still providing replacement cost coverage on partial losses. Under the policies, actual cash value coverage is not mandatory and no penalties are imposed for underinsurance. The policies are designed to meet the needs of three categories of insureds: those who would rebuild and want full replacement cost coverage without an insurance-to-value provision; those who would rebuild but not with the same kind or size of dwelling, and those who would not rebuild and want to insure only for the market value or purchase price of the property.
"Even though we don't write business in Europe, we have policyholderswho live all over the world. We need to ensure the security of their personally identifiable information."
-Heidi K. Barron, CPCU, AIC
Senior Vice President-Claims
As more consumers adopt the smart home concept, Madison Mutual has responded by offering up to a 15% credit to policyholders who have qualifying smart home protective devices in their residences. A qualifying device is any appliance or feature of a residence that can be monitored or controlled remotely by a mobile app in a manner that decreases the likelihood or severity of a covered loss.
Adios to DOS
As hard as it may seem to believe, until just a few years ago Madison Mutual operated with a DOS-based automation system.
"We adopted a DOS-based system in 1982, and we stayed with the same vendor and the same programs through 2013," Owens says. "Around 2005 we recognized that we needed to be more forward thinking and that our future viability would be tied to taking advantage of developing technology. We began to explore options, including doing our own custom programming, and then we had conversations with BriteCore, a developer of software platforms for insurers, MGAs, and insurtech startups."
"We're not a niche writer, but I like to think we offer niche solutions for the spectrum of businesses we insure."
-Benjamin M. Thompson, CPCU, CIC, AIAF, ARC, AU, API, AIS
Vice President
Underwriting and Marketing
In 2011 Madison Mutual began the process of converting from its DOS-based system to a web-based system. "This was a major undertaking," Thompson says. "We were making the transition from a system that was so antiquated that there was no hope of transferring data, so we had to manually rekey data from every policy into the new system. I'm really proud of the way our employees performed this task. After the process was completed, I could count on the fingers of one hand the number of typos or other errors."
Once the new system was in place, the company ran parallel with the old system for a year. "We wanted to provide uninterrupted service to our agents and policyholders without having to ask them to be patient with us while we worked the kinks out of the new system," Thompson explains. "We doubly entered every single transaction, and as problems arose in the new system we were able to iron them out behind the scenes with no one being the wiser. This approach allowed us to achieve a seamless transition."
Thompson and his colleagues understandably are delighted with their state-of-the-art automation system. "It's brought us a world of advantages," he says enthusiastically. "In addition to online rating and quoting, we can offer our agents a comprehensive and functional portal with live chat capability. Our cybersecurity position is vastly improved with the new system. We no longer host our policy administration system on our own server. Our web-based system allows remote access for our employees. Another big advantage is that we've been able to move to a paperless environment."
A civil tongue
Most of us can agree that contemporary society, with its "in your face, me first, anything goes" mentality, is conspicuously lacking in the once highly valued quality of civility. To promote harmonious and productive interactions in the workplace, Madison Mutual goes beyond merely paying lip service to the concept and has enshrined its commitment in a civility policy that sets standards of conduct and identifies behaviors that will not be tolerated. In addition to rudeness and insults, the policy forbids profanity, derogatory language, raising one's voice, indecent suggestions, invading another individual's personal space, and gesturing at another person in a threatening manner.
"We thought it was a good idea to put downin writing how an employee should respond if someone started to cross the line."
-Timothy D. Burback
Retired President and Chief Executive Officer
The civility policy was developed by then President and CEO Tim Burback and was approved by the board of directors in 2008. The policy originally applied to staff interactions with agents, policyholders, vendors, and members of the public. Employees who were treated rudely or disrespectfully by outsiders were empowered to inform the offending party that the company adheres to a civility policy and that employees will not allow themselves to be subjected to abusive treatment.
"During my tenure I told employees to come to me if they were subjected to inappropriate behavior, and I took a few of those phone calls myself," says Burback. "Coming from a claims adjusting background, I knew what it was like to deal with angry insureds. We thought it was a good idea to put down in writing how an employee should respond if someone started to cross the line. In this situation the employee tells the individual: 'Stop right there. Go on our website and read our definition of civility, and when you can meet that standard, we'll be happy to talk with you and address your concerns.'"
From a set of guidelines for employees on how to deal with rude or disrespectful outsiders, the policy evolved into an organization-wide rubric that also applies to interactions between employees.
"The policy is intended to promote mutual respect, civility, and orderly conduct among company employees and the public," Owens explains. "It's not intended to deprive anyone of his or her right to freedom of expression but to maintain a safe, harassment-free workplace. We seek the public's cooperation in adhering to our policy."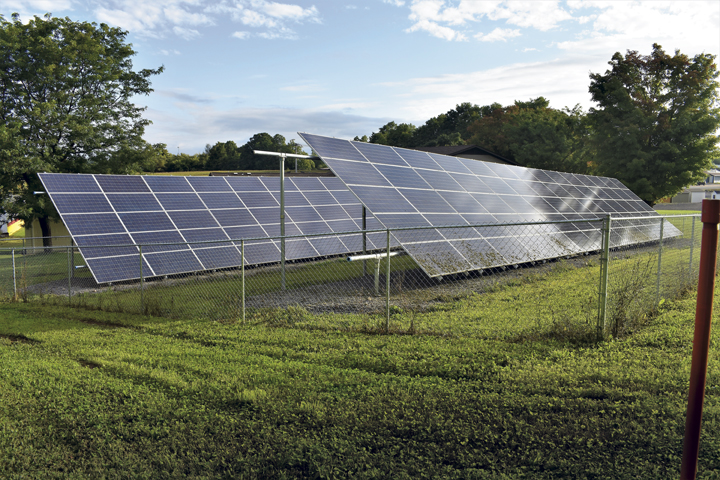 Going solar
Earlier we promised to tell you more about the solar panels Madison Mutual had installed behind its office building in 2017. The company has been committed to going green since the 1990s when it implemented a recycling and waste disposal initiative. At that time it was difficult to find a recycling center that would accept shredded paper, so the company decided to donate the paper to a local farmer who could use it as bedding for livestock.
The company's transition to a paperless environment also reduced its environmental impact, as did its choice to use energy-efficient LED lightbulbs throughout its building.
A huge step forward in Madison Mutual's green initiative was taken when it arranged for the installation of 115 photovoltaic panels in two ground-mounted rows behind its office. The company estimates that this system, combined with the conversion to LED bulbs, will offset over 100% of its previous annual electricity consumption. A link on the company's website invites visitors to view its solar energy production online.
From its founding in 1893 to the present, Madison Mutual has kept one foot firmly planted in traditional values while placing the other foot into the constantly evolving world of technology. Like any business, the company faces challenges and strives to turn them into opportunities.
One such challenge, Thompson observes, is the need to keep up with technological advances at the same time as the insurance industry finds itself in a landscape that might best be characterized by the word "disruption." Agents and policyholders, he says, expect providers of products and services to make transactions quick, easy, and painless. "Mastering insurtech and IoT technologies will be vital to our future," he asserts.
A related challenge is the need to provide robust cybersecurity measures to protect sensitive information from hackers, phishers, and other cybercriminals. As the executive with responsibility for cybersecurity, Barron must ensure that the company complies with the provisions of New York's cybersecurity law, which went into effect in 2017 and has a three-year phase-in period.
"We also have to comply with NAIC regulations and the provisions of the European Commission's General Data Protection Regulation or GDPR," Barron explains. "Even though we don't write business in Europe, we have policyholders who live all over the world. We need to ensure the security of their personally identifiable information."
A third challenge also involves technology: specifically, the IVANS download process in which the company has been engaged for several months.
"This is a time-consuming but essential procedure, and we're confident that it will deliver significant benefits to both our agents and our policyholders while allowing us to save time and money," Owens says.
As it celebrates its 125th anniversary, Madison Mutual demonstrates in its philosophy, operations, and initiatives that it truly is "the little mutual that could."
For more information:
Madison Mutual Insurance Company
www.mminsco.com