LOOKING BACK, LOOKING AHEAD
THE UNDERWOOD AGENCY
Indiana agency expands but keeps small-town values
Having recently marked its 140th anniversary, Rough Notes is celebrating its long track record of supporting the independent agency channel by profiling agencies that have been in business for 100 years or more. In this month's article, we revisit a firm that was featured in our 100th anniversary issue in 1978 to find out how they've grown and changed over the last 40 years and how they've preserved the values with which they were established so long ago.
By Elisabeth Boone, CPCU
Then, in 1978, we wrote …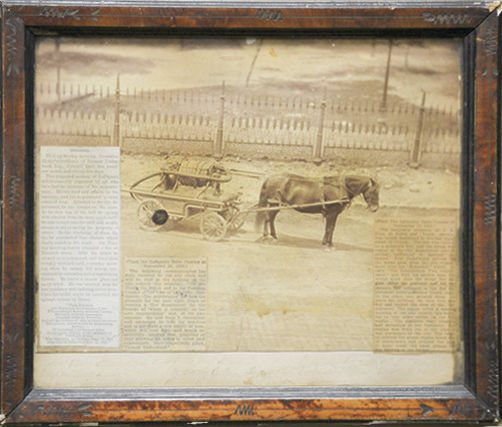 "The Underwood Agency was founded in 1865 by Thomas I. Underwood and has continued in the same family for its entire 113-year history. For more than 10 years the founder ran an independent fire department at his own expense, and a replica of his horse-drawn fire wagon remains today as the agency's trademark.
"The agency has had eight owners in its history. Current partners are Laverne A. Kast, who had been a fieldman for The Home; John Underwood Graham; and Craig W. Graham (great-great grandson of the founder).
"The agency's remodeled office stands at the same site today where the founder had his office building constructed in 1869."
… and now
Today the agency operates from headquarters in Lafayette, with a branch office in Remington, and satellite offices in DeMotte and Columbus—all in Indiana. In 2015 the agency celebrated its 150th anniversary. "We're the oldest general lines insurance agency in the state of Indiana," says the agency's president, Chuck Clark.
In 2017, Clark merged his agency, Preferred Insurance Group, with the Underwood firm. Craig Graham is president emeritus and a producer.
Today, Underwood's property/casualty premium volume stands at about $7 million; the agency also offers life, health, and employee benefits. On the commercial side, niche markets are contractors, manufacturers, restaurants, and churches. The agency represents more than 15 carriers and has won numerous awards for premium growth and other achievements.
Once an office filled with paper, today Underwood is virtually paperless, Clark says with pride. Thanks to automation, he notes, some employees can work from home or other remote locations.
Given its long history and accomplishments, the Underwood Agency would make an attractive acquisition target—but Clark says his intention is for the firm to remain independent and possibly make acquisitions of its own.
Looking ahead, Clark says that within the next five years he'd like to add one or two new locations and within the next two years hopes to purchase another agency. "I'd also like to open an office in Illinois," he adds, noting that the agency is already licensed there because its home base of Lafayette is on the Wabash River, which runs between Indiana and Illinois. Underwood also is licensed in several additional states.
"Automation is great, but when something bad happens, people still want someone there to hold their hand. Email and social media can never replace that personal touch."

—Chuck Clark
President
"The agency is almost 155 years old, and I'm the first non-family owner," Clark observes. "I started my agency in a small town, and my goal is to bring a small-town touch to our insureds that they wouldn't get from a mega-agency. When you call us, you don't get a recorded message; you talk to a real person.
"Our office is automated, but we pride ourselves on providing personal service. Automation is great, but when something bad happens, people still want someone there to hold their hand. Email and social media can never replace that personal touch. I'm available by phone 24/7, and my mobile number is on my business card. If I tell my clients I'll be there for them, I want them to be able to get hold of me.
"No matter how big we may become, I want our agency to live by those small-town values."
Note: If your agency has celebrated its 100th anniversary and would like to be featured, drop us a note at davew@roughnotes.com.