Insurance pro forms organization to bring training and unwavering support to 15,000+ insurance women
By Elisabeth Boone, CPCU
---
Energy. Enthusiasm. Exuberance. These are spot-on descriptions of Tracie Wynn, founder and chief executive officer of Women of Insurance (WOI). The organization boasts more than 15,000 members; it offers training and support to help women sharpen their skills and advance to positions of leadership in all lines of insurance.
"I began my career in life insurance about 10 years ago," Wynn says. "I had held positions in sales for over 20 years, and when I started in insurance, it was completely different from any sales position I'd ever been in.
"It was a much harder industry to navigate, to get help, to figure out whom to trust, and to decide which direction to go," she adds. "I got really frustrated for the first couple of years. I went through a couple of companies and didn't find the training and support I wanted."
That was the beginning of Women of Insurance. "That's when the concept was born," Wynn explains. The group is based in the United States and in 2024 will be expanding into Canada. As to the breakdown of membership, it's fairly evenly divided between commercial and personal property/casualty and life/health. "We welcome any woman who works in insurance," Wynn advises.
One of the group's main purposes is to help women figure out where they fit in. "Every line of insurance requires a different skill set to be successful," Wynn says. "We see women who say they have a friend who's killing it in a certain line, but it's not the right fit for their skill set.
"They may not succeed selling life insurance, but when they move to commercial P&C, their business really takes off.
"Women of Insurance provides everything a woman needs to be successful in insurance, whether it's guidance, support, connecting women to opportunities, or learning how to build an agency," Wynn notes. We either provide it, use our connections, or create it.
"One of our overall missions is to reduce the turnover in our industry, which is huge," she adds. "It comes from a lack of support and direction, and people being in the wrong position for their skill set. All of our speakers address not only insurance, but also how to manage your life as a mother and a business owner."
Career path
Why did Wynn decide to pursue a career in insurance? "My older sister died at age 40 and her group insurance didn't pay out the way my family expected," Wynn says. "This divided my family, and when I saw that, I decided to leave my career in pharmacy sales to pursue a career in insurance."
What were attitudes toward women like when Wynn began her insurance career? "Insurance is still a male-dominated industry, and it's not a good fit for everyone," she responds. "It takes training and education to become successful.
"If a woman is struggling, the solution is not doing more, like caring for children or aging parents," Wynn adds. "It's creating a schedule that works for you as a woman. Women don't need to make sacrifices to be successful. They need to work smarter; they need to work strategically."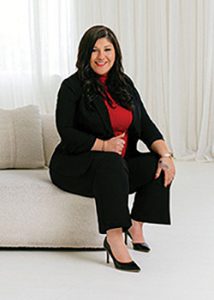 "Women don't need to make sacrifices to be successful. They need to work smarter; they need to work strategically."
—Tracie Wynn
Founder and Chief Executive Officer
Women of Insurance
How might attitudes toward women in insurance have changed over the years of Wynn's career?
"I don't know that I've seen a whole lot of change," she replies. "I actively work on establishing partnerships, but even having my platform, which I think is significant, some men will request an appointment with me and then try to control the entire conversation.
"I don't have any problem saying no," Wynn adds. "If a relationship or a partnership doesn't feel right to me, I'll say no. I'm careful about the people I do business with, and if I get a bad vibe, I always trust my instincts.
"We do have some male partnerships; the men are supportive, and we appreciate them," Wynn says. "They just need to be willing to be involved where they fit in and not think they're the exception to our practice of having only women speakers.
"Women are tired of going to events that are supposed to be for women but men are still standing up and speaking," she explains. "We appreciate men who are supportive, but our schedules are not the same. The way we sell is not the same, the way we build business is not the same, our communication style is not the same.
"Our biennial anniversary conference is customized for women, and it's beneficial to men because they can learn more about women: how we think, how we do business, what we're looking for, and the reason why we leave agencies," Wynn says. "Our recent conference was held this past June, and the next conference will be in June 2025."
Women's unique qualities
What unique qualities do women bring to the insurance business? "Empathy, compassion, and a softer approach," she responds. "Nobody wants to feel like they're being sold to, and some men take a matter-of-fact approach. Most women are more relatable; they're not listening to respond, they're listening to understand and provide solutions."
How would Wynn characterize the opportunities for women in the insurance business? "There's not a cap on what women can do in this industry," Wynn says. "Women can start their own agencies or remain with their current agency. They're able to do any of those things just as successfully as any man. I don't believe in putting limits on anything."
What advice would Wynn give to a young woman who's considering a career in insurance? "First do some research and talk with people who are in the industry," she advises. Understand prior to even looking at this industry what your skills and weaknesses are.
"If you're aware of yourself, that's going to help you figure out where you fit in and it's going to save you a lot of time before you go into the wrong line of insurance," Wynn adds. "Have a thorough understanding of yourself, your strengths and weaknesses, and then talk to someone in the industry who can guide you to the right position.
"Otherwise, people are going to tell you what's good for you, and often they're wrong because they don't know you."
For more information:
Women of Insurance
www.womenofinsurance.org
The author
Elisabeth Boone, CPCU, is a freelance journalist based in St. Louis, Missouri.
"Women don't need to make sacrifices to be successful. They need to work smarter; they need to work strategically."
—Tracie Wynn
Founder and Chief Executive Officer
Women of Insurance