Kids' Chance offers scholarships to youths affected by parents' work-related injuries or deaths
Regardless of the town meeting's agenda, The Simpsons' Helen Lovejoy, wife of Reverend Timothy Lovejoy, can be heard screaming her catchphrase: "Won't somebody please think of the children?!"
Most of us can only imagine standing in the shoes of a child who has learned that a parent has been killed or seriously injured in an accident at work. While this scenario may not have happened to you or someone you know, to put things in perspective, according to the U.S. Department of Labor's Bureau of Labor Statistics' Census of Fatal Occupational Injuries report, in 2012 there were over 4,300 fatal occupational injuries. While there are no records of how many children were affected, 65% of the accidents involved workers between the ages of 20 and 55—the prime years of parenthood.
These workplace accidents can bring loss of income, high medical bills and funeral payments, forcing families to face heavy financial burdens. Luckily, an organization exists to alleviate some of those.
The Kids' Chance organization was founded in 1988 by Robert Clyatt, a workers compensation attorney from Georgia. In his profession, he witnessed how serious workplace injuries affected children, who then faced the challenge of funding their own education. With assistance from the Workers' Compensation Section of the Georgia Bar, the first Kids' Chance state organization was created.
Kids' Chance of Georgia started reaching out to other states, and by 2007 the number of state organizations had grown to 15; Kids' Chance is currently represented in 43 states, with three more state organizations in development.
A 501(c)(3), Kids' Chance of America—the national organization representing all the state groups—envisions a time when all children affected by a parent's work-related injury or death can pursue their educational dreams without financial burden. It pursues this vision by providing scholarships to children affected by these scenarios.
"The Kids' Chance scholarship is unique; these kids are receiving it because a parent has been severely injured or killed," says Vicki Burkhart, Kids' Chance of America's executive director and CEO and president of the Burkhart Group, a firm that manages nonprofit organizations. "It creates a bond with the organization and strengthens our community because of that tie.
"As we fulfill our mission, Kids' Chance builds communities state to state within the workers comp industry. It's a growing community that is focused on helping families."
"Kids' Chance provides opportunity," says Dana Genheimer, assistant vice president of marketing at Key Risk (a Berkley company), Kids' Chance of America board member and president of Kids' Chance of North Carolina. "Our job at Kids' Chance of America is to support the success of the state organizations. Through the joint effort of the national and state organizations, we connect with the students and provide their parents with reassurance that there's support for their children to achieve their educational dreams and reach their goals."
The quantity and dollar amounts of scholarships vary, as these are decided by the individual state groups.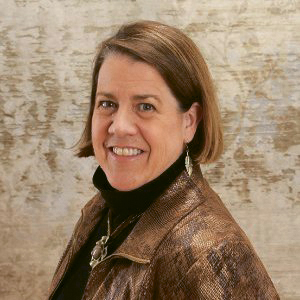 "New Kids' Chance organizations in their infancy may be awarding one or two scholarships a year, while some of our large states are awarding up to 50, 60 and even more than 100 a year," says Genheimer. "In total we've given over 6,000 scholarships since the beginning of Kids' Chance. They tend to have a lot of similarities, but each state dictates its own scholarship program."
Each state also regulates the age requirements and educational institution types to meet the availability criteria.
"In North Carolina, secondary undergraduate institutes and vocational/technical schools—including medical technology and ministry studies—are accepted into our program," Genheimer explains. "The length of time that the student is in our scholarship program also varies depending on the duration of their school experience. We had a kid who began in community college, and the scholarship supported them into the start of their master's program."
As for the age range, "In North Carolina, eligibility is for ages 16 to 25," she continues. "The 'kids' may be older. They might be caretakers of the parent, or there might be a delay with them going to school."
Spreading the word
To kick off their application season, Kids' Chance of America throws an Awareness Week in late November. Approaching the fourth year of the event, Awareness Week increases the visibility of the organization through multiple fundraising efforts.
"Our state organizations and supporters across the nation join together to celebrate Kids' Chance and build awareness to ensure that we can reach more kids in the future," Genheimer says. "There are a lot of grassroots efforts taking place and activities on social media."
"As the organization continues to grow, it gets more and more dispersed," adds Burkhart. "Awareness Week achieves one loud blast of noise to make everyone nationwide realize the depth of the organization.
"We provide tool kits and promotional materials to each of our state organizations and our major partners. We encourage them to plan activities within that week.
"Companies sponsor 'dress down' days and pizza days, where the dollars for each slice go to Kids' Chance. One group did a singing commercial on the local radio station in the morning, and it was promoted throughout the day. Several groups will do an activity with their scholarship recipients, whether it's a luncheon or an event at the governor's mansion. One of our partners  has an activity every day during Awareness Week."
"Our national partners are absolutely critical to our mission," adds Genheimer. "Their support has allowed Kids' Chance of America to build more resources to support state organizations and plan for the future."
The "Planning for the Future" initiative is designed to reach potential applicants who are not yet of college age. Identified future students' information will be collected and stored in a database, and communications will begin when the time comes for them to consider pursuing higher education.
"For example, an injury could occur today to a family that has a 5-year-old child," Genheimer explains. "How does that child connect with Kids' Chance 10 years from now? The database will allow Kids' Chance of America to connect the child with their state organization when they become of age to receive the scholarship."
"We have gotten a groundswell of support from state governors, state workers comp officials, the state organizations themselves, the media, and the Chambers of Commerce," adds Burkhart. "Our social media uses Awareness Week to blast content, and articles are written by some of our industry partners."
Partners of Kids' Chance include NCCI, One Call Care Management, Paradigm Outcomes, Sedgwick, ExamWorks, MES Solutions, Safety National, my Matrixx, W.R. Berkley Corporation, Broadspire, Gallagher Bassett, Employers, Optum and Genex Services; supporting organizations include the College of Workers Compensation Lawyers and WorkersCompensation.com, LLC.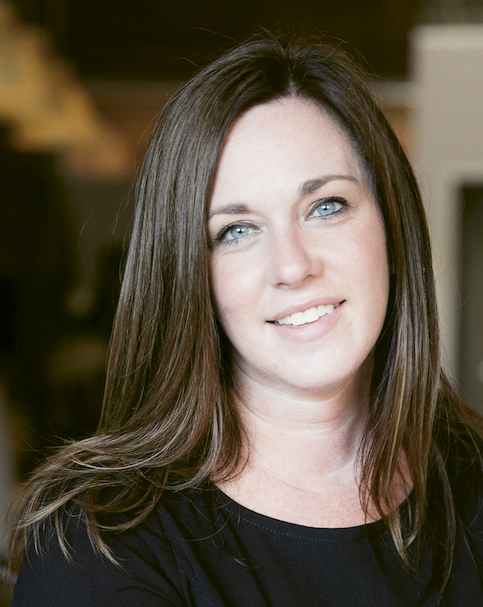 The future
Through corporate sponsors and assistance from the workers comp community, Kids' Chance can thrive and assist families across the country. But what can our everyday reader do to support the organization?
"Get involved and connect with your local state Kids' Chance organization; learn more about the kids we're supporting (see 'The Kids' sidebar, page 90)," says Genheimer. "Every scholarship is awarded as the result of individuals, average people and volunteers who have come together to make a difference to support these families."
Burkhart agrees. "Interested individuals, people who have experienced serious injury or loss in their family or their friend group, and small businesses can align with a state organization. They are looking for volunteers at multiple levels, from people who want to serve on the board or committees to people who are interested in organizing events and outreach activities or mentoring students. There are loads of ways for the interested person to become involved at the state level."
As for Kids' Chance's future? "Our goal is to be in every state. We're focused on providing more money to more kids, and I believe we will absolutely accomplish that," says Genheimer. "We're dedicated to our mission and will continue to do so. We have the partner support, volunteer support, and student support to continue to grow."
"Our challenge is keeping up with the new states because our growth has been so significant and fast," adds Burkhart. "I think there's potential to align with Canada and help provide a model for them.
"Our goal internally is to increase the percentage of kids who are eligible for the scholarships. Every year with the additional awareness and visibility, we see the scholarship statistics rise.
"There's going to be a new generation of Kids' Chance as well, because as we get stronger in the program, the scholarship recipients themselves as they graduate become active citizens in the work world. I've already seen the next generation of our community beginning to bloom," she concludes.
For more information:
Kids' Chance of America
www.kidschance.org
By Christopher W. Cook
---
THE KIDS
It's hard to call the recipients of the Kids' Chance scholarships "kids," as they become young men and women while pursuing their education. One section of the Kids' Chance website—Our Kids—allows recipients to share their stories and express appreciation for the ability to attend college, thanks to the scholarship.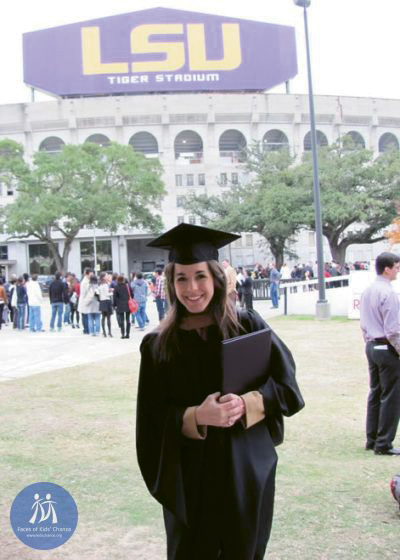 Molly C. from Louisiana shares that her father lost his life in a tragic workplace accident when she was 16 years old. She writes, "Losing a parent unexpectedly is never easy, but having family, friends, and the community rally to support you helps ease the pain and shows you that there is so much good in this world. The Kids' Chance community supported me throughout my college education, and for that, I am extremely grateful."
Thanks to the scholarship, Molly was able to attend LSU's College of Business and graduate with a degree in accounting; she went on to earn her master's degree.
John K. shared his story at a Kids' Chance of Pennsylvania event.
"In late 2009, my mom fell while going up a flight of stairs at work," he said. "After many surgeries, she still finds herself dealing with issues relating to the fall and unable to work, over five years later. My family suffered through a significant loss of income, and that put a huge financial burden on my parents when it came to supporting five children.
"I knew (my mom) wished she and my dad could do more to aid me and they tried, but I insisted they not do so. Because of this, I ended up taking time off after I graduated high school to begin saving money to help pay for my own education."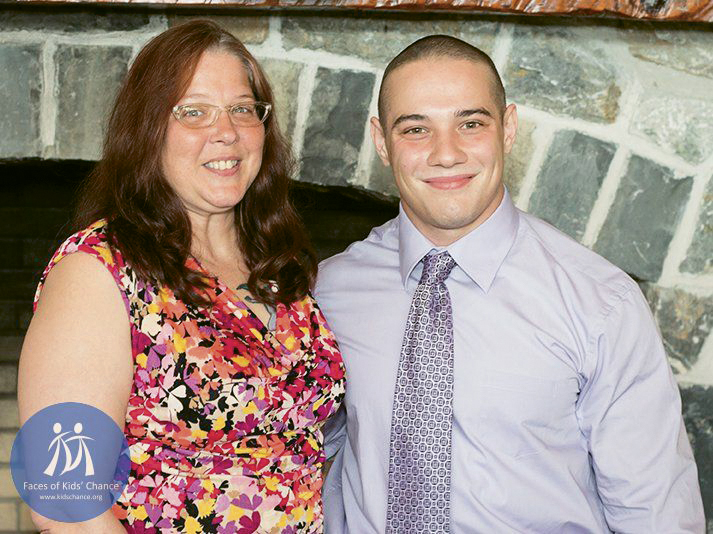 John discovered Kids' Chance during his sophomore year at Bloomsburg University. "I believe I speak for all of us, both students and families that have benefited from this organization, that we are forever grateful to this organization and for the support," John concluded.
Pennsylvania's Jessica L.'s father suffered a traumatic brain injury while at work, which left him incapacitated and in a nursing home. "It has been very difficult and emotionally challenging for us, but as a family we have managed," she writes. "My dad was the main financial provider, so the loss of his work income has greatly affected my family. This is especially true when it comes to our college education, because that was my father's main goal in life … to get his two daughters through college."
Jessica's sister graduated from Temple University, Jessica from West Chester University. "My family and I send our greatest appreciation," she concludes.
Alexis B. from Virginia faced a personal life change when her dad  was paralyzed from the waist down following a cement truck accident.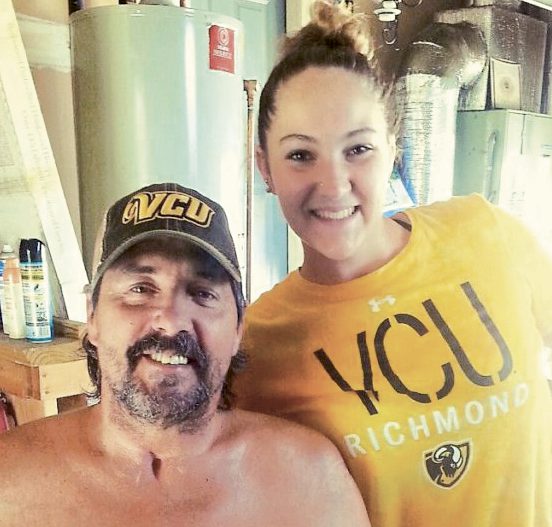 "My family and I have had to rearrange our lives a lot," she explains. "Getting a new vehicle that fits a wheelchair, having to buy a new home that is handicap accessible, and having nurses at our house every day are only a few of the extremely costly changes that have redefined our lives.
"It's so hard to watch someone go through pain, especially when it's your own parent; but it's especially hard when you wake up each day wondering how you're going to survive without their help. Other than my father surviving his accident, this scholarship is the best thing that has happened for me.
"I am so blessed that so many people contribute time, energy and money to this organization, just to help people like me. It doesn't seem like a big deal, but for me and every other student within this organization, it's life changing."
Due to her father's condition, Alexis chose to study physical therapy at Virginia Commonwealth University.
While all of the recipients are appreciative of receiving their scholarships, another trend seen amongst them is their willingness to give back by participating in organizations at their schools that do so.