WORKING HER MAGIC
A young refugee builds an all-virtual, 100%-remote agency and wins raves from her clients
By Elisabeth Boone, CPCU
"This girl is magical!" exclaims long-time Majdas Touch Insurance client Bob Ligget, a consultant based in Salt Lake City. "I delight in referring others to her. I tell them they won't find a more committed and responsive agent. She radiates passion for what she does."
"I refer everyone I know to Majda," says Las Vegas real estate broker Jay Lean, who has been with her since 2011. "I have all my policies with her, and her team just works wonders for me all the time. I want to give a special shout-out to her team lead, Nelson Brian; he really knocked himself out to arrange a policy I needed to close on a house I was buying."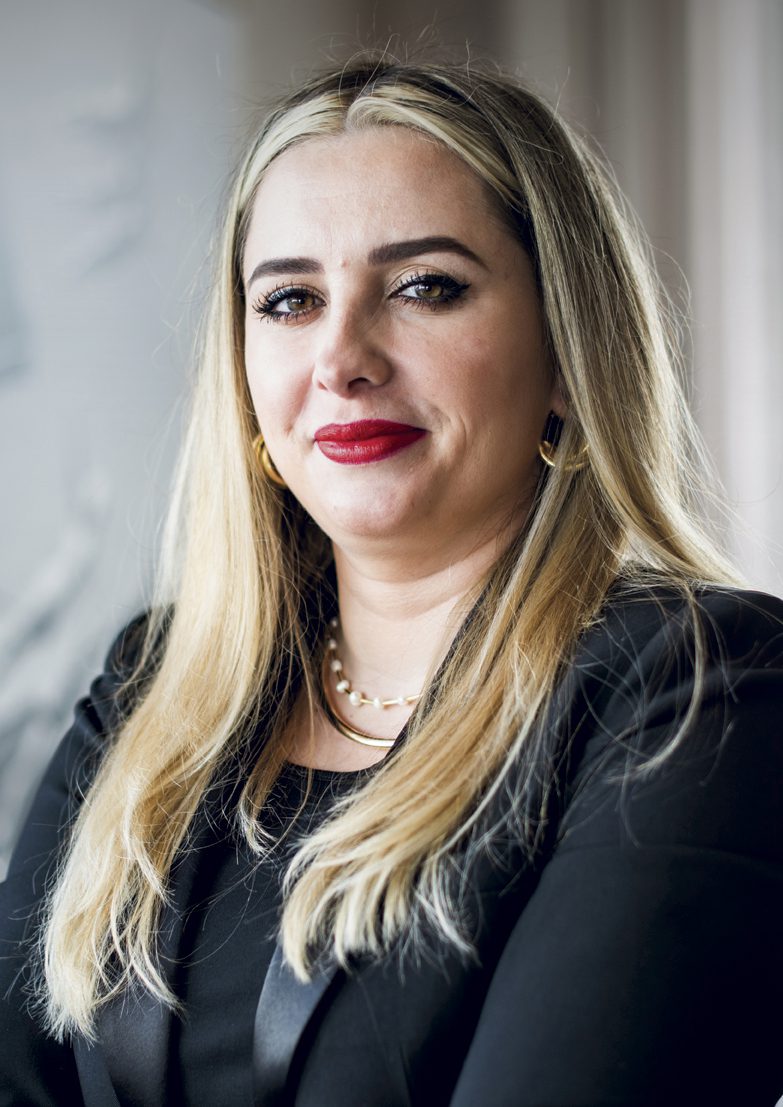 Going by the name "HB," this Majdas Touch client owns a gym in Los Angeles and gives Majda rave reviews for dedication, hard work, and engaging friendliness. HB has both his personal and commercial policies with the firm and has been with the agency since it opened its doors in 2018. "Majda is great," HB comments. "She's easily accessible, in contrast to larger companies where it's impossible to get hold of anyone.
"Doing business with her virtual agency is ridiculously easy. She's so personable, and her response rate is unbelievable." Asked about referrals, HB responds, "I think I'm the winner in that category. I think I've referred more people to her than anyone else."
Team lead Nelson Brian recently turned 24 and joined the agency in late 2020. "We take an honest, transparent approach to our clients, and I enjoy inter-acting with them on that basis," he explains. "There's no beating around the bush; we're straightforward so clients know where they stand. We use all sorts of social media to reach out to clients, and that makes my job so much easier."
Nelson is a successful producer who in one recent month wrote $90,000 in new premium. Asked what he thinks of Majda as a boss, he replies, "She's great. She's also an inspiring mentor. It's thanks to her guidance that I've been able to sell as much as I have. She deserves all the recognition she's getting because she's worked incredibly hard. She really cares about what she does, and I feel honored and privileged to be part of the process."
Added to all these kudos is Majdas Touch's selection as the Emerging Leader in Safeco and Liberty Mutual's 2020 Agent for the Future competition. The agency received a cash award of $5,000 and is using it to pay for courses in using Google, Facebook, and SEO marketing.
From refugee to tech guru
For the record, Majda does have a last name; it's Baltic. Her first name is pronounced MY-da; hence the agency's name: Majdas Touch Insurance.
Originally from Bosnia-Herzegovina, Baltic was a refugee from the Yugoslav war that spanned 10 years—from 1991 to 2001. She spent eight years living and attending school in Germany and then immigrated to the United States. At age 18, she became an agent for State Farm in Salt Lake City, later moving to Las Vegas and Los Angeles. She worked there until she left in 2018 to establish Majdas Touch Insurance at age 28.
As an exclusive agent, she wasn't able to write out-of-state risks or offer her clients the choices she believed they deserved; as an independent agency she and her team have access to more than 200 markets and operate in 25 states. In 2020, the agency wrote more than $2 million in premium and this year is on track to increase that number substantially. Its business is split 50-50 between personal and commercial lines.
"For years, people told me I had to meet with clients, wear business attire, and present an intimidating demeanor or no one would take me seriously. Since establishing my own agency, I've done none of this, yet new business and referrals keep coming in."

—Majda Baltic
Founder and Chief Executive Officer
Majdas Touch Insurance, Inc.
When Baltic arrived in the United States, the digital revolution was just getting under way, so she learned to rate policies the old-fashioned way: with pencil, calculator, and rate book. As the shift toward digital gained traction, she took a deep dive and structured her agency to be, as she likes to say, "100% virtual, 100% remote, and 100% green." She chose this structure to give her employees the same ease of communication that her clients have access to with her. She is available to her clients 24/7 via mobile phone, text, email, Instagram, and Facebook—and she always responds as soon as she receives a message.
As the pandemic took hold in the early months of 2020 and other agents struggled to equip their employees to work from home, field a myriad of questions from clients, and ascertain whether COVID-19 was covered under workers compensation, business interruption, and general liability policies, Baltic was perfectly positioned to thrive. Suddenly agents who had been skeptical about Baltic's virtual structure began calling, asking how they too could make the transition to digital.
To communicate with her clients, Baltic familiarized herself with Facebook, Google, SnapChat, TikTok, Instagram, YouTube, and LinkedIn. How do clients feel about connecting with her via social media in a virtual setting? All three of the clients we interviewed had high praise for Baltic's approach and made comments like, "I don't understand why everyone doesn't operate this way" and, "Agents need to go digital or risk going out of business."
Working for a quote
With almost 2,100 clients in 25 states and overseas, you might think Majdas Touch Insurance would be drowning in paper.
Not by a long shot. Baltic explains: "We don't have a lot of paperwork to follow up on because we implemented an onboarding process in which we ask prospects to send us a copy of their current declarations page and a photo of their driver's license before we begin to develop a quote for any coverage.
"This has been a huge game changer for us because it helps us weed out the people who likely will not be long-term clients," Baltic asserts. "The 90% of prospects who send us the information are the ones with whom we can build mutual working relationships."
Majdas Touch employs four producers, located in Washington state, Nevada, California, and Utah. Six employees cover the agency's 25-state operating territory. "No one specializes in a particular area or market; every-one does everything," Baltic explains. "Each employee handles all states."
Running lean, Baltic remarks, is made possible by technologies that reduce the busywork that employees tend to get caught up in. "We have a seamless process that makes the best use of our employees' time and frees them to focus on building relationships with our clients," she says. "We have an efficient structure in place. I worked on it for a long time, and I'm so grateful that I decided to go out on my own so I could test out technologies that can streamline our process."
An agency that's totally virtual understandably appeals to young people who seek a career outside the tradition-al bricks and mortar environment. "All of our employees are under age 35," Baltic says. "In fact, at age 31, I'm the oldest."
That will change soon, she explains. "A woman who is 62 will be joining us; she's not ready to retire and wants to continue her career." Baltic doesn't recruit from a specific age group. "Our structure is so simple that anyone of any age can work here."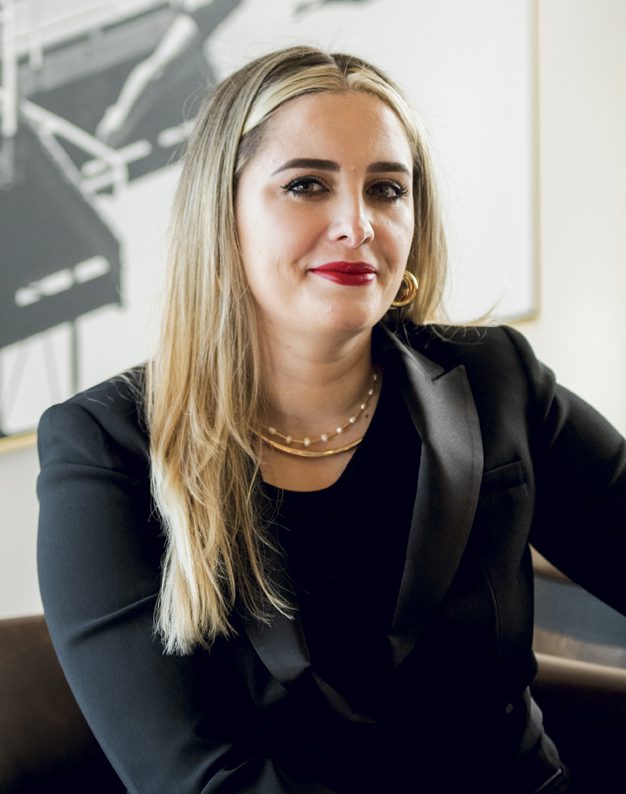 Exotic risks
High-net-worth individuals often seek out Majdas Touch Insurance or come to the agency via referrals. We asked Baltic to describe some of the unusual risks for which she provides coverage.
"A lot of our clients are building highly innovative projects," she says. "One client has a company that builds container homes, so customers can choose whatever space configuration they want. The structures can be anywhere from one to ten stories and can be apartments, condos, or retail spaces.
"Another client owns a trucking company and has a helicopter and a private jet. Another has an auto spa for exotic vehicles; he owns a fleet of fourteen Ferraris, two Bugattis, a Pagani, and more. A relationship may start out with arranging insurance for a condo and then grow into a high-net-worth situation. We're here for anyone, big or small," Baltic says.
Speaking of big or small, Baltic says she and her team feel the same about saving a client big money or just a modest amount. "We have a commercial client who was paying $15,000 a year for a general liability policy," she says. "We were able to get him the same coverage for $3,000. That's a saving of $12,000 a year or $1,000 a month that he can use to build his business. We feel just as good when we can save a personal lines client $50 a month on an auto policy."
Breaking the mold
If you can think of anything a traditional agency does, from mailing documents back and forth to meeting with clients in person, you can count on Majdas Touch Insurance to do the opposite. Being 100% remote, Majda says, creates a relaxed environment for both the client and the employee. It also appeals to the members of Gen Z, who don't necessarily have the time or inclination to go to an office for a signature or for another minor reason. For the convenience of both clients and employees, Baltic purchased a digital electronic signature platform.
"Our industry can be extremely rigid about what works and what doesn't," she observes. "For years, people told me I had to meet with clients, wear business attire, and present an intimidating demeanor or no one would take me seriously. Since establishing my own agency I've done none of this, yet new business and referrals keep coming in."
Baltic broke another "law"—to keep her personal and business lives separate—by adding clients as social media friends. Counseled by friends and colleagues not to do this, Baltic says her clients love connecting with her and her employees and seeing their authentic selves.
As an immigrant, Baltic initially found insurance difficult to understand, so she asked her employees not to use jargon that would intimidate clients. She created a set of templates that employees can use to provide clients pricing information, explain complex terms, and assist with claims. "We go a step beyond, using layman's terms to help our clients understand what they are buying," she says. "When they can see what their money is being used for, retention is all but guaranteed."
Asked if she has a vision for her agency over the next five years, Baltic responds that she is building out an online insurance school to help owners digitize their agencies and to provide training for producers and owners to conduct business with her methods. Along with the school, she would like to add producers to her team and have each own a Majdas Touch location, using the same tools and software the agency implemented in its original office.
Ambitious? You bet.
Achievable? Beyond a doubt, if your name is Majda Baltic.
The author
Elisabeth Boone, CPCU, is a freelance insurance writer based in St. Louis, Missouri.