Broken Glass
A QUESTION OF BALANCE
This young agent takes on a dual role at her thriving agency
By Elisabeth Boone, CPCU
With a degree in marketing, Jessica Jeffress wasn't planning on a career in insurance—and then she joined the Kentucky independent agency of Peel & Holland in September 2009, first as a receptionist and then as a personal lines customer service representative. Her marketing experience proved to be especially useful when she held other positions at the agency, but she desired to be more involved in the business than on the periphery. And involved in the business is exactly where she is now as associate vice president of business insurance and employee benefits at the $10 million agency with office locations in Benton, Murray, Mayfield, Paducah, and Franklin. Operating in 36 states, Peel & Holland is a family-owned agency that serves more than 5,000 clients with 60 employees and has been in business for 97 years.
Handling the operations of the agency's largest divisions is a natural for Jeffress, who thrives in her dual role.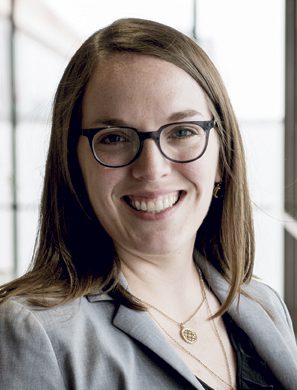 "A gentleman who had been working here for 30 years was looking to retire in the next few years, and his perpetuation plan was for me to step into his role," she explains. "I knew absolutely nothing about commercial insurance, so I dove in headfirst and took on accounts to work and really got into the scene, knowing that long term I would end up leading my teammates but first needed to earn their trust and understand exactly what they do.
"At this point I now have only a couple of commercial accounts, and I head the operations of the commercial and benefits divisions—everything from people issues to client experience, E&O, workflows, working through all of that to make our office more efficient and keep our team and our clients happy," she continues.
"As with property and casualty insurance, I knew very little about benefits, but my passion for processes and desire to help our team become more efficient and achieve a better quality of life drove me to take on the role of benefits as well," Jeffress says.
"I enjoy my job, and there's never a dull moment," she adds. "In some ways commercial insurance and benefits are totally different, but in other ways they're very similar. It's doing different things but following some of the same processes, so that's been really helpful as I have tried to learn the benefits side. It's been an interesting ride over the past couple of years."
Last year, Peel & Holland merged with Riddle Insurance and expanded its reach. The merger and subsequent acquisitions for what is now Peel & Holland Holdings included two more locations in Kentucky, in Madisonville and Owensboro, and added $5.5 million in revenue and 40 employees.
How did Jeffress get her job?
"My mother was a friend of the wife of a man who worked here, and she knew I was in a job where I was absolutely miserable," Jeffress says. "I was just out of college, and she said, 'Hey, I know Peel & Holland has an opening; you'd be sitting at a desk that has two computers.'
"I took the job, and I love it. What made me love it was when I walked into the office and saw photos of the current and past owners who were movers and shakers in the industry and were thinking outside the box from a rural area of Kentucky, and you don't see that a lot. I liked seeing the reach they had and their influence, and seeing their desire to stand out in small-town Kentucky and to be world class. I also admired their passionate approach to our team members, our clients, our communities, and our carriers. I saw the leadership and culture, and I saw the team members living that out every day. I can't imagine working anywhere else. I enjoy insurance, and Peel & Holland helps me enjoy it even more," she declares.
"With the culture we have here, insurance is exciting, and the fun of it is figuring things out and working together with our team members. And reaching beyond that, I'm chairman of the board of NetVU this year. Roy (Peel & Holland president and CEO Roy Riley, a former NetVU chairman) got me started in that and really pushed me to get involved beyond local concerns so I and the agency can benefit from a more national perspective," Jeffress comments.
How does Jeffress think attitudes toward women in the insurance industry have changed since she began her career, especially in leadership positions?
"There are so many opportunities in insurance for people who are my age and younger, and it's a very intriguing and exciting industry to be in," she responds.
"I've never felt that my gender has been an issue at Peel & Holland. The industry stereotype is older white men, but over the years I've seen through the industry groups I've worked with that it's not uncommon to see women leading organizations and having huge influence over the industry. I'm sure there's still some gender inequality, but I'm excited to say that at my age, and I'm 34, I'm seeing young women in the industry, and I don't feel like I'm limited because of my age or because I'm a woman. Even if those were limiting characteristics, I'm too driven to let those things hold me back or keep me from pursuing what I want out of my career."
Does Jeffress think she made a good choice to enter the insurance business?
"This was a great choice," Jeffress replies.
Do you know a female independent agency leader we should feature? If so, please email details as well as contact information to Elisabeth Boone, CPCU (elis.boone@icloud.com). We'll take it from there.
The author
Elisabeth Boone, CPCU, is a freelance journalist based in St. Louis, Missouri.