The Young Pro-Files
KEEPING AT IT
Young professional volunteers with numerous civil rights and social action groups
By Christopher W. Cook
In the insurance industry, certain dedicated young professionals stand out among their peers and are members of an elite squad of individuals. These are their stories. "Dun dun."
Welcome back to the fourth installment of The Young Pro-Files. I'd talk movies again, but, well, the fourth movie in several series is (putting it nicely) not very good. You've got Batman & Robin, Indiana Jones and the Kingdom of the Crystal Skull, Jaws: The Revenge, and The Next Karate Kid, to name a few. But not all number fours in a series are bad. Harry Potter and the Goblet of Fire is my personal favorite in the saga—
especially the end where you're like "whoa, things just got real." And call it a guilty pleasure, but I do enjoy Police Academy 4: Citizens on Patrol; ignore its Razzie award nomination for Brian Wilson's not-so-good song "Let's Go To Heaven In My Car" and its 0% rating on Rotten Tomatoes.
But fear not. You will not find mediocre or low-rated insurance professionals here, because The Young Pro-Files features an "elite squad of individuals." Remember the introduction? "Dun dun!" And on that note, let's begin.
Like many young professionals working in insurance, Joi Blume, master underwriter at Intact Insurance Specialty Solutions—formerly OneBeacon Insurance Group—joined the industry by accident.
"I was in sales around the time that the recession was starting back in 2007-2008," says Blume, who is based in Atlanta, Georgia. "The company that I had been working at for a few months suddenly closed and I was looking for a job.
"A lady who I had worked with previously at another company called—she was working as a recruiter at Randstad—and asked if I was interested in a three-week temporary assignment for Axis Insurance. I said yes, and that was my introduction to the insurance industry and to the E&S marketplace."
The three-week assignment worked out and Blume decided to give insurance a permanent shot.
"Once I got into the E&S market-place and realized it was a completely different side of the insurance industry that we all know from the State Farms and Nationwides of the world, I found it really intriguing," she says. "I learned that there was a lot of opportunity within the industry to do extremely well, so I decided to stay in it."
It was a different career path than originally planned, as Blume had earned a bachelor's degree from Alabama State University in radio and television communications, with a minor in political science; she later received her MBA from the University of Phoenix.
"I originally moved to Atlanta to pursue a career with CNN; that obviously didn't work out," Blume says.
"Be resilient, be open minded, and roll with the punches. You're going to have some good days and you're going to have some bad days, but just keep at it."

—Joi Blume
After working with Axis Insurance for three years, "a gentleman I had worked with there referred me to another guy, and I ended up working on his team at Breckenridge Insurance Services as an associate broker," Blume says. "I worked my way up from there."
Blume credits Tracey Carragher, founder and former chief executive officer of Breckenridge Insurance Group, as an important figure in her career path. "She was really instrumental in me being able to move up within my former organization, and just played a huge role in mentoring me and being someone who I can rely on as an ally within the industry," she says.
Involvement
A key aspect to Blume's professional and personal development is her involvement in numerous industry and non-industry groups.
"I'm involved with AAIP, the Atlanta Association of Insurance Professionals, which is the local chapter of the National African-American Insurance Association (NAAIA); I serve on the board as the corresponding secretary," Blume says. "Things that I get out of being involved with AAIP are making sure that the industry takes a good look at diverse candidates and talent within the industry and being able to promote the industry to students of color who are looking to either come into the industry or have never considered a career in the insurance industry before."
Blume also does a lot of volunteer work through various civil rights and social action groups like Alpha Kappa Alpha Sorority, Incorporated; the Georgia Diversity Council; and the NAACP.
"I've been volunteering with a teen homeless shelter here in the metro Atlanta area," she says. "It could also be doing various mentoring and speaking engagements with younger people who are looking to get more information on the insurance industry."
Blume is a member of the National Black MBA Association and was formerly on the logistics committee for charity events with St. Jude Children's Research Hospital. She also serves as a mentor to several college students and young professionals, both within and outside the insurance industry. She firmly believes, "we lift as we climb."
Another way young professionals get involved in the industry and further benefit their career is to seek out a designation. Blume earned the Property Risk & Insurance Specialist (PRIS) designation through the Insurance Partners Academy.
"My experience getting the PRIS was pretty smooth," Blume says. "It was a three-or-four-day class and then a pretty extensive test. It was a great course, very informative and pretty rigorous. The course itself was in Louisville, Kentucky, so I got to travel there and meet some great people within the insurance industry. It was a great experience."
Speaking of traveling for work, Blume is intrigued to see what business travel will look like post-pandemic. "So much of our success, prior to COVID, was around travel and seeing our brokers, and now we've proved that we can still be successful without travel," she says. "I'm interested to see what travel will look like going forward."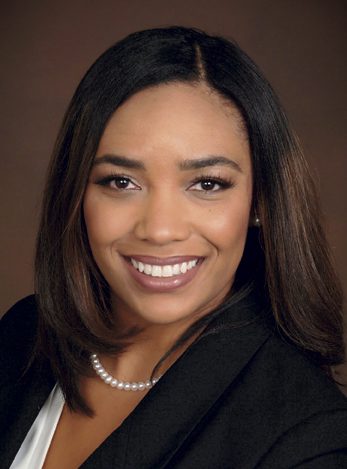 Advice and awards
For individuals starting out their careers in insurance, Blume advises to "learn all that you can—never stop learning or seeking knowledge about the industry and about what we do. Be resilient, be open minded, and roll with the punches. You're going to have some good days and you're going to have some bad days, but just keep at it."
Blume also finds it important to have a mentor: "An ally in the industry or several people within the industry that they can go to—a personal Board of Directors if you will," she says.
Licensed in Georgia as a P-C agent and a notary for the Superior Court of Fulton County, Georgia, Blume has received recognition in the communities she serves. "I was named, Who's Who in Black Atlanta in 2018 and 2020," she says. "Last year, I was named in the Alabama State University 2020 Class of 50 under 50, which honors and recognizes notable alumni who are excelling both personally and professionally within their designated field."
Blume has also been recognized as a "young gun" by an insurance trade publication, has spoken at several conferences throughout her career, serves on her organization's newly formed Diversity, Equity and Inclusion council and was the AAIP's member of the month in February 2020. Blume was featured as a guest speaker for the Glendale Unified School District, Glendale, California, as a part of its Black History Month Speaker Series.
But even after all her involvement, life's not all work. When she isn't doing "insurance stuff," Blume loves to travel and try different types of cuisine. "Some of my favorite places that I've been to are Morocco; London, England; and Canada. I also love spending time with my close circle of sister friends and I'm an avid reader," she concludes.
In 1996, Atalnta hosted the Summer Olympic Games (the U.S. won over 100 medals). Also, in the sports world, Atlanta is known for its avian mascots like the Hawks and the Falcons. And where can one spot these majestic creatures in flight? It's pushing it, but "keep watching the skies."