RIGHT PEOPLE, RIGHT SEATS
Georgia agency attracts talent with its emphasis on personal growth along with agency growth
By Dennis Pillsbury
---
"Our team has created a healthy work home, and we're just getting started," says Stephen (Steve) M. Harmon, AAI, ARM, principal at Snellings Walters Insurance Agency, Atlanta, Georgia. Steve joined the agency in 2007 as part of its transformation from a family-owned business to one that offers opportunities for ownership to a broader pool of talented individuals looking for a healthy place to work.
This transformation in ownership was accompanied by a reevaluation of everything the agency did, Steve recalls, searching to fill a need for a better infrastructure. "It was a journey of self-discovery where we were all figuring out what we were and where we belonged in the agency structure," he explains.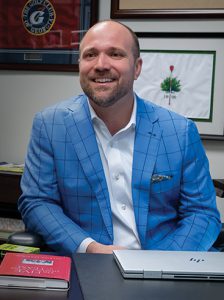 "The secret is in our ongoing effort to align our people with our core values of being engaged, accountable, curious and authentic."
—William (Billy) J. Potter
Chief Executive Officer
The beginning
It was 55 years earlier, in 1952, that the agency was born and started its journey to become a successful force. Like many agencies, it began primarily as a personal lines operation, led by Founder John Snellings, who at the age of 28 left another agency to strike out on his own. The agency changed to its current name when Nunnally Walters joined the firm.
In 1986, John's son, J. Clayton (Clay) Snellings, joined two weeks out of college. Clay, who holds the CPCU professional designation, is chairman today and principally responsible for bringing in shareholders who were not family members. "2007 was a big-time turning point," Clay points out. "Prior to that, my brother Bill and I owned the majority of the stock.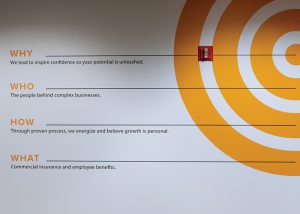 "We both recognized that we needed to expand the skill set within the organization to bring the agency to its next level and, if we wanted to attract top talent, we needed to invite them to be owners or lose them," he adds. "Bill and I decided that it was better to own part of a healthy, growing agency than to own all of something smaller.
"Steve was the first to come on board," Clay recalls. "He came to us from a competitor and had already started investigating ways to do his own thing by the time we offered him the opportunity to become an owner here."
The ownership decision appears to have been the correct one, at least in terms of revenue growth. In 2007, revenue totaled around $3 million. Today, Clay reports, agency revenue will be around $20 million, "with more than 60% of that coming from commercial lines and an additional 19% from employee benefits." Snellings Walters is part of the Assurex Global network of brokers and was honored as winner of the 2022 MarshBerry National MAX Performer Award.
While Clay and Bill began the agency's venture into commercial lines, things really started to take off as acquisitions of competitors "created opportunities for us to attract a number of commercial lines producers who were not happy with the new direction their current agencies were heading," Clay remarks.
Others join
Eric D. Levine, CIC, joined the agency as a principal and commercial lines producer in 2008. He was with a competitor that had been purchased by a large agency. Prior to that, he was an underwriter with The Hartford. "One of the things that attracted me to the agency, aside from its excellent reputation in the community, was its commitment to staying privately held," he explains. "A lot of people came here for that reason.
"Once I started at Snellings Walters, it became clear very quickly that I had made the right decision," Eric notes. "At my previous job, work was separate from home, but that wasn't the case here. That was transformational. The work/life balance is paramount here. Results are important, but balance is maintained."
"The secret is in our ongoing effort to align our people with our core values of being engaged, accountable, curious and authentic," says William (Billy) J. Potter, who joined Snellings Walters in December 2011, became a shareholder in 2018, and now serves as chief executive officer. "It was Steve who challenged us to be aligned with our values and then encouraged us to better understand our 'why.'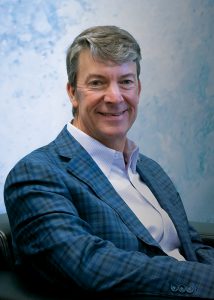 "[My brother] Bill and I decided that it was better to own part of a healthy, growing agency than to own all of something smaller."
—J. Clayton (Clay) Snellings, CPCU
Chairman
"After reading Start with Why, he spoke with other insurance professionals and discovered that they could only answer 'how' they got in the insurance industry and 'what' they did each day, but not 'why,'" Billy recalls. "Answering the question 'why' allowed us to discover our purpose. Our 'why' doesn't mention insurance, but rather focuses on creating a culture where every person is respected and where their talents are discovered and allowed to flourish.
"Using EOS® (Entrepreneurial Operating System, a business management framework/model), we started by creating an environment of accountability," Billy continues. "We track everything that matters and have a metric on everything that we do.
"This isn't designed to find fault with anyone," he explains. "Rather, it's a tool for leadership to find out if they are doing a good job of communicating and keeping everyone aligned with our core values. For me, this effort started right at my interview for the job. I'd been to dozens of interviews and this was the only place that asked me where I could improve and talked about how I could do better. It was eye opening.
"They were genuinely concerned about me, not just about what I could do for them," Billy adds. "And honestly, they undersold. This place has made me a better husband, father and professional. It offers the kind of environment where you want to raise a family, because they're aligned with what is in each person's best interest."
Steve admits that it wasn't easy at first. "As we started to work on aligning the staff behind our core values, not everyone was happy about it. Some left and some changed. From the outside, it probably looked like we didn't know what we were doing since we were losing people. But we had a leadership team that was committed to creating a culture where every person believed they were important and were doing something good.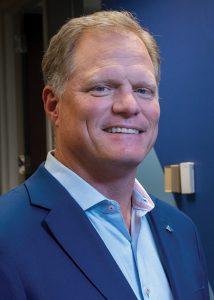 "Our team has created a healthy work home, and we're
just getting started."
—Stephen (Steve) M. Harmon, AAI, ARM
Principal
"And eventually, we reached a level where alignment was achieved and where our business growth and personal growth occurred together. But there's no denying that, for a while, it was challenging. Our growth chart wasn't a straight line up," he admits with a smile.
Billy adds that implementation of a culture index was a turning point, as well as a challenge. The index is informed by a survey each employee completes identifying each person's behavioral traits and strengths, which lets the agency put them in the right seat. "We had to have difficult conversations and show them that changing seats was not negative," he explains. "Once the right people are in the right seats, productivity increases and there are better outcomes for employees, families and clients.
"While it was disruptive," Billy acknowledges, "the end result was very positive. We have numerous stories of people who moved from service to sales or sales to service and really thrived."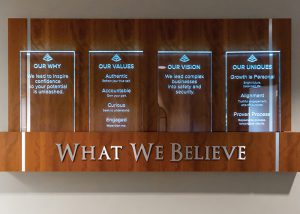 "To make certain that we continue to stay on track," adds Jennifer Goodwyn, president and chief operating officer, "we survey employees three times a year to determine employee engagement and areas of improvement for the organization. Also, each employee has a quarterly conversation with leadership to ensure core value alignment and identify what's working and what's not.
"We insist on participation, with everyone speaking up," she adds. "Of course, to make this work, we have had to build a culture of transparency where people are celebrated by their peers for their successes and where problems that emerge are discussed and solved."
Jennifer joined the agency in 2018 after spending more than 30 years in executive leadership positions that included senior officer roles in Fortune 500, private equity and entrepreneurial enterprises. "I came in with a focus on revenue generation," she points out. "We have 72 families that depend on us, and profitable growth makes certain we can provide our people with rewarding careers. Growth is dependent on how strong our relationships are with each other and with our clients. We need to be good at both sales and service, and that requires collaboration between the two.
"During COVID, we doubled down on that strategy with a nine-hour Zoom session in April of 2020 that included our agency principals and our consulting partners from MarshBerry where we identified 36 working points that needed to be handled," Jennifer explains. "We divided and conquered and just started going after things that were designed to make the agency an even better place to work.
"When it all comes down to it, there are three things that people want from their jobs: a better boss, a brighter future and a bigger vision," she notes. "In other words, they want to be part of something bigger than themselves.
"We focused on achieving that to show all of our people that we are willing to put in the hard work needed to build an agency with delighted employees and happy clients," Jennifer explains. "From my own standpoint, I had the good fortune to find my way here. I have to admit that I am super-excited to come into work, and I want to provide a path for those who come up behind me."
"What we have is unique," adds Chip Renno, CIC, CRM, ARM, CWCP, CPIA, a principal and commercial producer who also joined the firm in 2018 from a competitor that had been acquired by another firm. "It was probably the best decision of my career. I wish I'd done it sooner. The agency is so committed to culture and profitable growth and doing things the right way, but it still allows you the freedom to work with clients in your own way.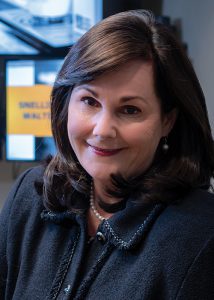 "When it all comes down to it, … [people] want to be part of something bigger than themselves."
—Jennifer Goodwyn
President and Chief Operating Officer
"I wasn't happy because of the actions of the acquiring firm, which included layoffs and hiring freezes," Chip adds. "Here at Snellings Walters, I have a dedicated service team behind me that has had no turnover because people here are happy to be here."
Not surprisingly, an agency that has taken such care of its people is equally careful with its clients, almost all of whom come from referrals. As Steve notes, "Most of our clients are aligned with us and I count a number of them who are business friends not just clients."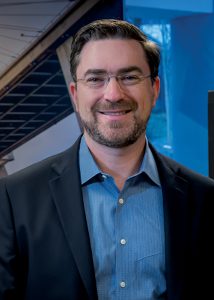 "One of the things that attracted me to the agency, aside from its excellent reputation in the community, was its commitment to staying privately held."
—Eric D. Levine, CIC
Principal and Commercial Lines Producer
The agency also is generous with its support of charities, including its support for Insure the Cure, an initiative the agency started in 2011 that is working to end cystic fibrosis. Insure the Cure was formed in honor of Clay's daughter, Emily, who was born with cystic fibrosis. Through the initiative, which is part of the Cystic Fibrosis Foundation's Great Strides walk, the insurance community has raised more than $3 million to fund clinical trials and drug development, with the ultimate goal of putting an end to cystic fibrosis.
Rough Notes is proud to recognize Snellings Walters as our Agency of the Month. The fact that numerous spouses of employees have spoken to leadership about how much better the agency has made their lives speaks volumes. As Eric comments: "Numbers are easy, but creating a place where everyone wants to stay is transformational." We look forward to watching where the transformation leads in the future. https://snellingswalters.com/
The author
Dennis Pillsbury is a Virginia-based freelance insurance writer.