AGENCY OF THE MONTH
STARTING FROM SCRATCH
Amid double-digit growth, North Carolina agency zeroes in on retention and employee development
By Dennis Pillsbury
---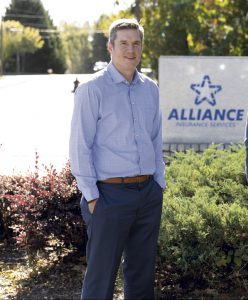 Christopher Cook was following in his mother's footsteps when he started working as a life insurance agent.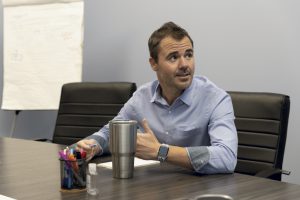 She was a successful career life insurance agent. But after two years of hearing "Can you help me with my auto insurance?" from friends who were thinking more about driving than about their future financial stability, Christopher decided to find out if he could indeed help them.
He investigated the idea of opening his own full-service insurance agency by talking to others in the business. "I talked to 100 people in the insurance industry before I opened Alliance Insurance Services in 2004 in Winston-Salem, North Carolina," he explains.
Getting started in the business was an eye-opening experience. Because of his lack of experience in the property/casualty industry, the only contract he could get was one that allowed him to write non-standard auto in the state.  So he dug in, worked hard and, as he says, "I guess I did a pretty good job," because he was given a contract to write standard auto as well as homeowners.
Unfortunately, that opportunity was short-lived, as the company that gave him the contract left the state not long after.
Meanwhile, Christopher and his wife, Amanda—who fortunately had a steady job as a nurse—were making sacrifices necessary to assure that the agency would be a success. They were putting everything the agency earned right back into the business. For the first four years, Christopher took no money out of the agency. It all went back into the firm.
"Our goal was to build something and get ready to have children," he explains. (They now have three kids.) The first employee In 2005, Christopher started adding people to the agency to help with growth. His first hire—in August of that year—was Cecilia Cruz. Today, Cecilia, who holds the CISR professional designation, is manager of client service and director of personal lines.
"Before joining Alliance," Cecilia remembers, "my jobs had been just that: jobs. But Alliance proved to be different. It really was like joining a family. Christopher and I work really well together. We both come from hard-working families and share that work ethic, along with a desire to help others.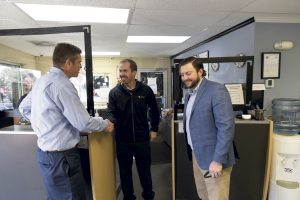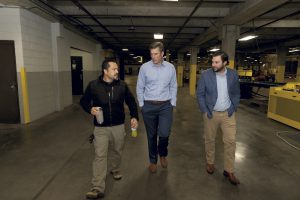 "[W]e look at this as a family enterprise and we treat employees … as if they were part of our extended family. And they appreciate that. Our goal … is to make certain everyone here has a pathway to success."
—Christopher Cook
Founder and President
"We believe firmly that our principal job is to make certain that we protect everything our client works for," she adds. "We're not just offering an insurance policy; we're providing a promise to make each client whole after a catastrophe." According to Cecilia, agency staff members are "constantly updating our insurance knowledge in order to keep pace with the ever-changing needs of our personal and business clients. We help with all sorts of things. Sometimes, we're even just counselors for our clients to bounce ideas off of. And, I have to admit, I really do enjoy that part of the business as well. It gives us an opportunity to live up to our core value to treat all customers as part of our family." Christopher adds proudly, "Today, that family consists of more than 7,500 people, who are served out of Winston-Salem and three branch offices, which are located in Walnut Cove, Pilot Mountain, and Mount Airy, which was started from scratch in 2016. "The Walnut Cove office became part of the fold when we purchased Suburban Insurance in 2011," he explains." Suburban had been a staple of the Walnut Cove community for 25 years. In 2021, we purchased PM Insurance in Pilot Mountain and we're working to bring it under the Alliance Insurance brand. "The vast majority of our growth has been organic," Christopher says. "Roughly 17% of our more than $3 million in revenue today is from the acquisitions—smaller shops we brought in and leveraged to fuel continual growth. We now have 26 people total working in our agency."
Adding commercial and health
Although the agency focused on property/casualty personal lines starting out, it always offered life insurance. That's because of Christopher's back-ground and his strong belief that "life insurance can be one of the most important coverages a family has." While it's a coverage people don't necessarily want to use, "it can play a vital role in helping a family recover financially," he points out.
Until 2009, Christopher notes, "We were pretty much just a personal lines agency. In that year, we were able to start writing BOPs through one of our carriers. We used our connections with local businesses to write those and, eventually, we brought on additional commercial lines.
"Almost at the same time," he adds, "ACA was enacted, and we became active in the health insurance field.
"Our goal has always been to provide complete protection to our clients," Christopher explains. "That's why I'm pleased we're able to offer all lines of insurance, including life and health. In fact, we now have three people who specialize in all aspects of health insurance coverage, including long-term care and Medicare. Health insurance represents about 23% of revenue."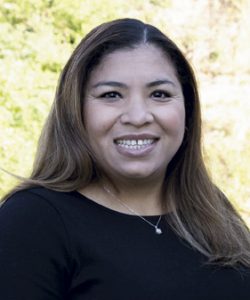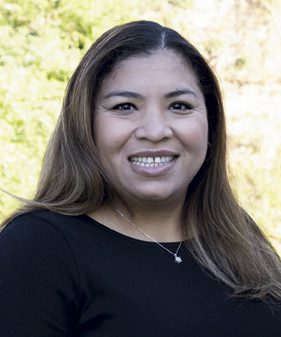 "We believe firmly that our principal job is to make certain that we protect everything our client works for. … [W]e're providing a promise to make each client whole after a catastrophe."
—Cecilia Cruz, CISR Elite
Manager of Client Service and Director of Personal Lines
In the commercial lines arena, the agency continues to operate as a generalist with some agents opting to focus on specific niches, including auto service, specific trade niches, landlords and, most recently, farm coverages.
"Just as our commercial producers have diverse niches, we as a team are diverse, as well," he adds. "We have five Latinx team members and one Vietnamese team member—all of them bi-lingual—who help serve important segments of our local communities."
A goal shift
For the past seven years, one of the agency's WIGs (Wildly Important Goals), as Christopher calls them, has been growth, looking to achieve at least 18% a year. They were successful until 2019, when they managed to achieve only a 15% growth rate. But that followed a year that saw 34% growth.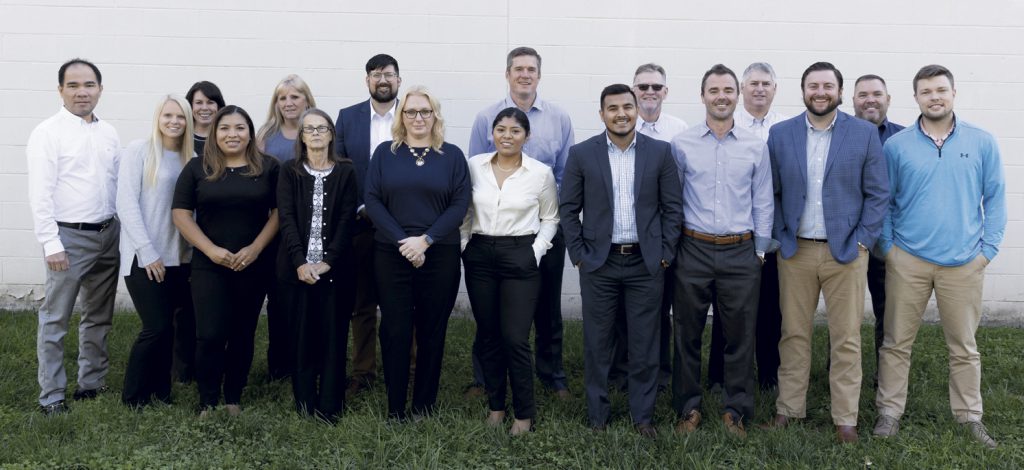 Presently, however, the focus has moved to tracking retention as the latest WIG. "We've always had an emphasis on retention," Christopher explains, "but we didn't focus on much more than how good the ratio was.
"Now, we intend to look at why we lose people and why we keep people as a way to not only improve our ratio, but also as a way to provide the service that our clients, both past and present, really want," he notes.
"I'm also proud that we look at this as a family enterprise and we treat employees, customers, and vendors as if they were part of our extended family," Christopher adds. "And they appreciate that.
"Our goal in that regard to our employees is to make certain everyone here has a pathway to success," he says. "And if the past is prologue, we'll definitely be successful. People just don't leave. They like it here. My first two hires are still with us."
Cecilia adds, "Christopher is a great dad and he brings that caring spirit to the agency, which makes him a great employer. And that translates positively to our clients. We're treated really well here and we want to treat them equally well."
Caring for people shows up in the benefits package, which, like coverages available to clients, helps protect each employee's future up until and including retirement. "We've increased paid time off, offer paid full health coverage, a 401(k) match, disability and life insurance," Christopher says, admitting with some tongue-in-cheek that the increased paid time off is actually a little selfish. "It gives our employees, including me, more time to work with charities in the area.
"Ten percent of our profit goes to charity," he adds, "but we really want to give back physically as well as monetarily. Our people support the Surry County Educational Foundation, the Alzheimer's Society, the Autism Society, and a number of groups that work with the homeless, just to name a few.
"Plus, the extra time off also allows me time to be the head coach at an organization that teaches football to 146 kids," Christopher says. "Talk about being blessed."
Helping the new guys
"Another WIG that is emerging is the need for training," Christopher continues. "We're in the process of developing a training program and identifying a full-time trainer from within. Because of our growth, we are always looking for new people to join our family and recognize that we need to provide strong training support so they can succeed.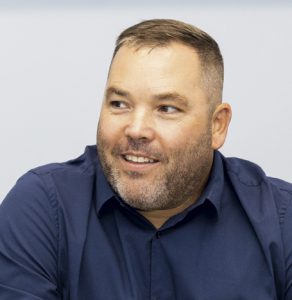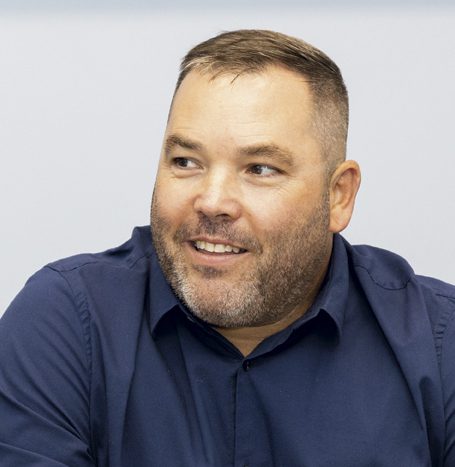 "I was recruited prior to [my Air Force] retirement and offered a position as soon as I retired. … [M]y skill set, which is people
relations, matches up … well with the agency's goals. … It really has proven to be a great place to grow."
—Joe Jessup, USAF Ret. 20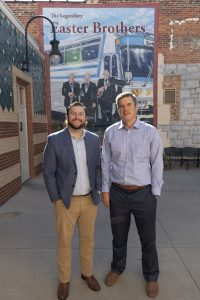 "One of our most recent hires, Joe Jessup, is already a success in the commercial lines arena, primarily working in the trucking field," he adds. Joe joined the agency after serving 20 years in the United States Air Force.
"They really helped me with my transition out of the USAF," Joe says. "I was recruited prior to [my Air Force] retirement and offered a position as soon as I retired. It was based on the fact that my skill set, which is people relations, matches up so well with the agency's goals."
Joe readily admits that he was nervous about returning to civilian life. He didn't know what to expect, but getting a job offer that let him work back in his hometown really made things a lot easier. And this offer came right in the middle of the pandemic.
"They really went out of their way for me," he explains, "and I haven't looked back. The place offers flexibility and great earning potential. And that's backed up by a group of professionals who seemed to be focused on making certain that I'm successful.
"It really has proven to be a great place to grow," Joe says. "Right now, I'm focused on small and mid-sized commercial accounts in the trucking area, but know that I am prepared to face any commercial account because I've got great backup."
Rough Notes is proud to recognize Alliance Insurance Services for its commitment to helping its people, its community and, of course, its customers. It adheres to its philosophy of being face-to-face with people or as much as possible, relying on numerous social media and data collection efforts to enhance rather than replace relation-ships. They richly deserve this accolade.