The Young Pro-File
BETTER THAN JAKE
Third-generation agency owner takes on large captive agencies
By Christopher W. Cook
---
In the insurance industry, certain dedicated young professionals stand out among their peers and are members of an elite squad of individuals. These are their stories. "Dun dun."
In2011, the world was introduced   to "Jake from State Farm." Originally portrayed by Jake Stone, who at the time of the commercial's filming was a real-life State Farm employee, the role was later taken over by actor Kevin Miles.
For Avery Moore, CISR, CIC, owner and CEO of ECI Insurance in Piedmont, Oklahoma, the character of Jake from State Farm became part of her branding strategy, simply stating on her LinkedIn profile that she's "Better than Jake from State Farm."
"The average consumer knows very little about what is actually good when it comes to an insurance product," Moore says. "The majority of them associate insurance with whatever jingle is most memorable. The people get a good chuckle, and it helps me stand out.
"I adopted my philosophy by taking one of the companies that has millions of dollars in its marketing budget and make what I know they've put through test groups work for my own benefit," she explains. "As independents, we don't—and definitely didn't at the time—have the companies we represent on the TV screen nationally. I tried 'Mayhem' and other captive company commercials I'd seen and then Jake came onto the scene, and it was perfect."
Insurance in your blood
A third-generation family agency owner, Moore says she was prepped for the industry from a young age. "By the time I could walk, my family was figuring out how to get free labor out of me," she says with a laugh. "We would sit at the office for hours upon hours shredding papers until we were old enough to answer the phones. Once we could do that it was only a matter of time before we helped scan or file or whatever odd job there was. You really don't have much of a choice when it's in your blood."
However, despite having "insurance blood," Moore opted for other plans as she grew up. "I went to college and swore to my mom and grandpa, who worked at the agency at the time, that I was going to get out of Oklahoma and never ever be in insurance. Turns out I was wrong and that's perfectly fine," she says.
To distinguish herself from the larger captive agencies, Moore obtained her CISR and CIC designations through the Big "I" Oklahoma's partnership with The National Alliance. "I felt like the CISR was a tiptoe into the water of the CIC and it was a great steppingstone," she says. "When you're out talking to customers, they are throwing real life scenarios at you. When you're just starting out and don't know replacement cost from ACV this can be overwhelming. Both designations were jumpstarts to becoming someone who can handle difficult ideal accounts."
Moore also attributes her success to the mentorship she received from two family members. "My mom, Denise Johnson, became an insurance producer in the '90s and pounded the pavement in what was absolutely a male-dominated profession," Moore says. "I've been a female producer for almost 10 years, and I'm lucky for the women who came before me who were right there for me to cling to for mentorship.
"My mom created an incredible life for our family, and we learned firsthand about tenacity and grit. When I left the agency that I worked at after college to work at the family agency, she left to take a new job as the CEO and president of the Big 'I' Oklahoma. It was so cool watching her pivot into something new. She absolutely killed it.
"My mom was diagnosed with breast cancer in September 2020. We watched her lose all her hair and be so sick that she couldn't get out of bed, but she never complained. She's been through hell and back and is the most driven, amazing person. She's a badass.
"The other was my uncle Scott Cornelius, who was our former owner, who passed away in March last year," she continues. "For almost 10 years, I worked with him almost every single day and I can say that he was just as great as people say he was. He had this ability to see the utmost potential in people, and even when you completely failed and fell on your face, he was right there cheering you to get back up.
"He invested so much in me, teaching me so many practical skills like how to understand financial statements, as well as so many leadership lessons along the way. He taught me what true generosity looks like. There is not a day that I haven't missed him."
Involvement, advice and personal life
Moore's agency keeps involved in the industry with its city association, the Independent Insurance Agents of Oklahoma City (IIAOKC), the Big "I" OK, and Trusted Choice. "We put a lot into our state association," Moore says. "The connections we've made are priceless. Through the people and companies that we've met, it has changed the trajectory of where our agency was to where it is today.
"Not only that, but how often do you have a group that lobbies on behalf of you? The legislative piece alone is worth it and something I wish more principals and owners understood."
Moore served on the IIAOKC's board and its Young Agents (YA) board. She was the YA chair in 2017-2018. Her involvement also carries over into the non-insurance world, where she serves on various nonprofits and community projects.
"I served on our local Main Street revitalization board and more recently the Yukon Chamber board, serving as their youngest president ever in 2019," Moore says. "Millennials get a bad rap for not being team players or not being involved in the issues that matter. Sometimes I think it's as simple as carving a way at the table.
"My hometown is the place that built me, and I feel like it's our duty to grow where we are planted. I feel blessed that they trusted a 29-year-old at the time with their leadership. Do I think maybe they were crazy to trust a 29-year-old? Absolutely, but it was an honor."
The rest of the crew at ECI Insurance also does volunteer work. "Our team does a bi-yearly volunteer field trip," Moore says. "We love to go to the regional food bank. We are so lucky with what we have been blessed with that it's humbling to realize that there are still people out there who could never have the simple luxury of ordering the Postmates meal that so many of us take for granted. When you're jackhammering frozen corn for two hours and your hands are frozen, you are reminded that our ability to get food so easily is not the same luxury afforded to others."
What advice would Moore give to someone starting out in the industry?
"The world we live in is small, so don't burn bridges," she recommends. "When we are young, sometimes that seems like the best solution, but 10 years later you may need those relationships.
"There isn't a single problem in the world that someone before you hasn't faced and was able to figure out. Even if this is your 'Goliath' moment, the ending of the story is that David figured it out and so can you. It's so easy to feel like the world is out to get you, but a little bit of grit and elbow grease will get you far."
When she isn't doing "insurance stuff," Moore loves spending time with her family. "I have the coolest husband in the whole world," she says. "He is always down for whatever adventure I throw his way and is just the best partner in this life. We love to travel, and we have an extensive bucket list that we're working on.
"I was also fortunate to have been born with the three best friends I could ever need—my mom and my two sisters. We are super tight knit, and if we aren't at Oklahoma City's coolest new brunch spot, you'll probably find us all at the lake wake surfing. My brother-in-law got us into it. I also can't leave my dad out, so 'hi, dad,'" she adds with a smile.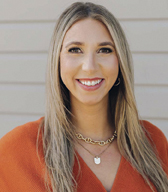 "By the time I could walk,
my family was figuring out how to get free labor
out of me. … You really don't have much of a choice
when it's in your blood."
—Avery Moore, CISR, CIC
Owner and CEO
ECI Insurance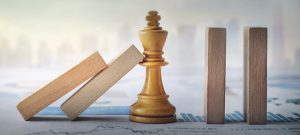 Moore and her husband also have a large Bernedoodle named Archie Bear and Moore says that "he is the only bear you should hug." The phrase "Better than Jake" makes me think of Less Than Jake, a punk/ska band that formed back in the '90s—they had a fun cover of the Partridge Family hit "I Think I Love You," which was featured on the Scream 2 soundtrack. I saw the band a few times on the Warped Tour—an all-day music festival featuring ska, pop punk and metalcore bands, with an additional focus on the skateboarding culture; the final national tour was in 2019. Featuring a trombone player, Less Than Jake always puts on a high-energy show, where you can expect to see beach balls flying around during the set. While enjoying their tunes, and so you don't get hit in the head by one, "keep watching the skies."