CLAIMS HANDLING TOWN HALL
Program administrators share experience and advice
When we think about what's important in our business, price comes to mind—although we sometimes try to fool ourselves into believing that's not the case. Processing efficiency and customer responsiveness also are success factors. So, of course, is adequate coverage—the thing that helps clients sleep at night. But all these things matter very little if an insurance provider fails at claims handling.
"Claims are at the center of what we do for a living," says John Colis, president of Euclid Insurance Services. "It's extremely important that we understand, from a program administrator's perspective, what the options and nuances are around different types of claims-handling approaches."
Colis moderated a panel discussion at the Target Markets Program Administrators Association Mid-Year meeting in Baltimore earlier this year where panelists represented three different approaches to handling program claims: in-house, carrier-provided, or TPA-based. Discussion focused primarily on advantages and challenges of each model.
Varied approaches
Steve McConaghy, president of Glatfelter Claims Management, a wholly owned subsidiary of Glatfelter Insurance Group, offered insight from an in-house claims servicer. "We handle claims exclusively for Glatfelter and its programs," he explained. "We're set up as a TPA." McConaghy has been handling claims for the company for 15 years. His group operates in all P-C lines and one accident and health line. "We have about 108 people in our claim department," McConaghy said, "and we handle claims in every state in the country."
Robert Thompson, vice president at World Wide Specialty Programs, brought the perspective of a program administrator that uses insurance carrier claim professionals to handle program claims. "We're an MGA with Zurich serving the staffing industry," Thompson explained. "It's all we handle. We've been in this marketplace for over 50 years, so we have a pretty good perspective on how to handle claims and how to have a great relationship with a carrier."
Mark Aussicker, chief claims officer at The Norman-Spencer Agency, uses the services of a Third Party Administrator (TPA) to handle program claims. The firm specializes in commercial construction, transportation and professional liability programs. "Our model is probably 80% TPA handled claims and the other 20% is handled by carrier claim departments," he explains. Aussicker has been in the insurance business for about 30 years, working across the TPA, carrier, and program administrator space.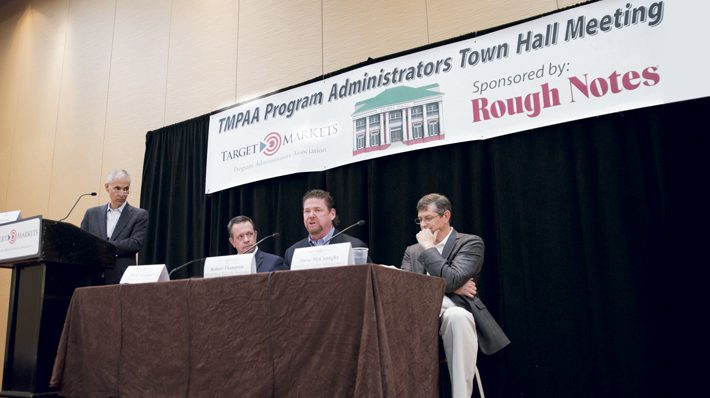 Model advantages
Aussicker cited two key advantages in using a TPA: collaboration and communication. "Expertise from an underwriting standpoint resides at the MGA or PA level," he explained. He adds, "Being able to work hand in hand with a TPA to help them appreciate our value proposition and to collaborate on matters such as coverage intent, reserve rationale and timing are key contributors to a program's success."
He discussed the value of interaction among the program administrator, the carrier, and risk control professionals. "Many PAs interact with risk control either pre-binding or prior to renewals," Aussicker observes, "but it's rare to have the risk control team, the TPA, and the underwriter working collaboratively" on an ongoing basis. "The TPA model, from my experience, provides the best opportunity for the collective team to really work together throughout the policy period to achieve better outcomes," he notes.
According to McConaghy, the biggest advantages of in-house program claims administration are "control and customization. We get to select our own employees. We hired and trained them, so we know their ability levels. We can assign people to units where they'll best fit."
He pointed out that experience evolves over time, "and we can track people. We develop expertise that lets us customize our claim service specifically to our programs."
Expertise also is hallmark of insurance company claims professionals. Thompson values the exchange of information between company and program administrator staff. He stressed the importance of making sure "you have a strong relationship and communication, where the carrier comes to you and you go to them—you have an exchange, you talk about limits, you talk about problems."
Inherent challenges
Challenges also exist with each model. One disadvantage Thompson identified involves customer expectations in the carrier claims handling process. "It's a tough one that many of you in this room, I'm sure, are dealing with," he said. "We deal with about 1,300 brokers and, while we have a very good relationship with them, (when) communicating with the end customer—the staffing firm—sometimes there's a breakdown there."
Staffing firm owners, for instance, may believe the carrier didn't settle quickly enough or it paid out more or less than what they thought was appropriate. "Educating brokers so they can speak intelligently to clients seems to be our biggest challenge," Thompson added. "We believe our carrier is being very judicious and very smart about the way they handle the claim. But getting that message and the nuances to the broker and then to the client is a big job."
Challenges McConaghy cited involve size and scale. "One of the toughest things for us as a relatively small player—I mean, 100 people is 100 people—is you still have to deal with the personnel side of the house. There's an administrative cost involved with that.
"Covering the whole country can be a challenge," he explained. "We have claim associates spread throughout the country with some folks working remotely in different states. We have a satellite office on the West Coast, so that helps. But providing high quality claim service countrywide, with time zone differences and phone coverage requirements, is a challenge for a small player.
"Scalability is another one," McConaghy added. "It would be very difficult for us to undergo a big change—perhaps take on a bigger program suddenly—it would take time to ramp up and hire folks. We couldn't just flip a switch tomorrow and double our size."
Asked by Colis whether the Glatfelter in-house model worked best for a certain kind of program, McConaghy replied, "Yes … we're built for this smaller insured model. We rely heavily on our distribution network to report claims and sometimes to help us make contact with an insured or deliver payments. Those relationships are important to our service equation. It's not your typical national account-type shop. It's really a concierge service that we build to meet the needs of our customers."
Aussicker cited a couple of challenges with the TPA model. "They're not necessarily overwhelming, but one of the key [challenges] I see is … turnover of adjusters, whether they're leaving the organization or transitioning to another [position]." He said departures lead to potential communication breakdowns with the agents, insureds, and program administrator staff.
He said it also can present potential leakage on a file. "If the new adjuster isn't picking up that claim quickly enough and carrying it on the same path it was on originally, mistakes could be made," he notes. "And those mistakes can cost you money—not just you as the program administrator, but the carrier as well." For instance, he cited claims that could have been settled without litigation now going to litigation because the new adjuster didn't continue to move the claim along in a timely manner.
Another challenge Aussicker identified is that TPA adjusters and management staff may have less authority than a carrier adjuster. "Because of that limited authority level to either pay a claim, deny a claim, reserve your rights, or even make a coverage decision, you have to report that to the carrier," he explained. He says there's an added time factor involved that could extend the duration of a claim and add to the eventual settlement value.
Other issues
Compensation also was addressed in the Town Hall presentation. Four primary models were identified: fee-per-claim, which was described as most common; percentage of premium, which ties TPAs more closely to underwriting results; time and expense, which is not used as much but was described by one panelist as "most honest"; and cost-plus, where salaries of assigned adjusters and related costs were charged.
Post-termination claims handling was covered, too. Participants discussed the importance of addressing such situations—process and compensation—in initial contract talks. One panelist commented, "We've made it a point to put it in the contract that it's our responsibility to handle that after the program terminates." Participants also said data ownership should be addressed in contracts.
Technology, including interface with agency systems, was addressed, as was the potential impact of new companies—often self-described as insurtech firms—on claims handling.
An audio recording of the Rough Notes-sponsored Program Administrator Town Hall is available at the Target Markets Program Administrators Association website.
The author
Dave Willis, CPIA, is editor-in-chief of Rough Notes magazine.