THE GOLDEN RULE IN BUSINESS
Tips for creating a high-performance culture
By Greg Thompson, CPCU, ARM, CPL
Specialty insurance firms obviously require people with technical expertise and practical experience. But in my experience, this is not enough. A successful business must develop a culture that breeds success.
Culture is the DNA of an organization. It is how a set of core values helps build effective and consistent relationships that are crucial to the organization's success. Employees are naturally the most critical element. Also part of a company's culture is its handling of other stakeholders, including owners, customers, vendors and insurance company partners.
In the rush of meetings and challenges, managers and owners often ignore the power of recognizing people for a work accomplishment or an event in their personal lives.
A high-performance culture starts with staff selection. Due diligence hiring tools include aptitude and personality testing, reference checking
and multiple interviews with thoughtful questioning and listening. But for those few bad apples who make it through a rigorous process, the worst and most common mistake is a reluctance to challenge and address underperformance on a timely basis. While it is only fair to give people a chance to address issues, nothing is more destructive to staff morale than an underperformer who fails to change or remains in place indefinitely.
Many studies have shown that while compensation is important to employees, recognition is valued just as much, if not more—and recognition usually costs management little or nothing. It's common to think of recognition in terms of awards, but it also can be a random and sincere thank you or compliment at the water cooler. In the rush of meetings and challenges, managers and owners often ignore the power of recognizing people for a work accomplishment or an event in their personal lives. People love being treated as humans by their employers, not just as spokes in the wheel of the organization.
Most people need and appreciate a clear set of job expectations. A job description can be a good start especially if, in addition to listing tasks, the document states the performance standards associated with those tasks. No one static document can address all the unexpected challenges and competing priorities that invariably arise. For this reason, brief monthly meetings with direct reports that focus on agreeing on priorities and deadlines are productive for both parties. While the manager has the final say, it is important to listen to and incorporate employee feedback when it makes sense.
Transparent and regular staff communication is crucial. Sharing key results monthly and having quarterly staff meetings are advisable. Challenges faced by the organization should not be swept under the carpet, although common sense should be used to prevent a sense of undue alarm. The bottom line is that informed employees feel like team members and will be more engaged. Lack of communication will leave people imagining the worst in terms of management's intentions and the organization's viability.
Beyond good employee relations, a great culture contributes to producing an underwriting profit for insurance carriers. It means keeping customers informed of major changes and making outstanding customer service a reality, not just a slogan.
A great culture applies the business version of the Golden Rule: Treat others
as we would like to be treated. THOMCO's mission statement summarized this approach: "To build a great company, defined as being a great company to work for and a great company to do business with." What about profit? When we accomplished that mission, the profits followed.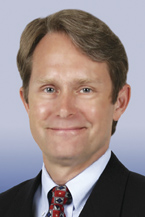 The author
Greg Thompson CPCU, ARM, CPL, is the founder and former owner of THOMCO, a national program administrator. When the firm was acquired by Markel in 2012, THOMCO wrote $170 million in annual premium with profit margins well above industry standards. Thompson became president of Markel Specialty before moving on to other pursuits in 2018. He sits on a number of boards and serves as a leadership advisor to several organizations.