CONSISTENCY AND RESILIENCY
Miami young pro begins "new era" with new agency
By Christopher W. Cook
---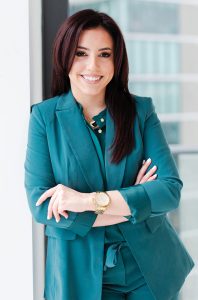 When I was young, I had a part-time job delivering the local newspaper. It was a once-a-week gig. The papers would be delivered to my house, I'd fold the editions and put a rubber band around them, and then—with my head poking through the center of a paperboy's canvas bag—I'd walk them to the subscribers. My route was my neighborhood, which was even more convenient. It was a nice part-time job until Indiana winters found me trudging through the snow and dragging the papers in boxes on a sled (yes, this is what I did; I couldn't drive yet). No, thank you.
Now I'm an editor and writer for a monthly magazine. While both jobs are barely related to one another, I find it interesting that the publishing industry is where I found my career. Sometimes, all it takes is working a part-time job. This is what happened to Alexis Nicole Gutierrez, owner and principal of New Era Insurance in Miami, Florida.
While earning an associate degree from The Honors College at Miami Dade College, Gutierrez was approached by a family friend to do some part-time filing work at their independent agency. This opened her eyes to the world of insurance, but she had other ideas for her future.
"It's not enough for agents to be behind a computer at a desk, answering phone calls
or writing policies. We need to be participants
in what's going on in the community and voice
                                               our opinions; we're the only ones to push
                                       the industry forward."
                                      —Alexis Nicole Gutierrez
                                        Owner and Principal
                                     New Era Insurance
After earning her degree in 2015, she began working as a sales representative for a multi-level marketing (MLM) company, where she developed a passion for business and entrepreneurship, as well as professional development. At the same time, she continued working part-time at the agency, while also studying biology and psychology at the University of Miami.
"My parents are both in the medical field, and I planned to follow in their footsteps," she says.
A year before graduating with bachelor's degrees in both fields, Gutierrez earned her Florida 4-40 Resident Customer Representative license.
At that time, "I took a year off to figure out whether I wanted to go into the medical field or the insurance industry," she says.
After deciding not to pursue a career in the medical field, she accepted a job as a Paychex payroll rep in early 2018. "I was there for about six months, but I realized I was meant for more. I didn't do well taking orders from someone I knew I was more qualified than. I figured if I was going to work hard, it would be for myself and no one else," Gutierrez recalls.
Around that time, she also began diving into the craft of learning about foreign currency and day-trading (buying and selling foreign currencies in a single trading day.) She had started learning about this while working for Paychex but began doing the trading through another MLM.
"Most of 2019 was dedicated to studying and trading foreign currency with this company," she says. "I eventually realized that trading currencies wasn't a full-time job for me, so I returned to the agency and earned my 2-20 license (Florida's Resident General Lines License).
"I plan on revisiting trading currencies as a hobby in the future." Having an entrepreneurial mindset, when COVID came around, Gutierrez decided to become a business owner and opened New Era Insurance in November 2020.
"This was the turning point in my career," she says. "I knew it was all up to me. I turned up the focus, the discipline, the intensity and turned down the distractions and anything that might prevent me from making the agency everything I wanted it to be," she says.
"I named it New Era for myself and for the industry," she says. "Many insurance agents have a traditional way of working in the workplace, and what worked decades ago might not work for this generation. I wanted to close the gap from having file cabinets at the back of the office and paperwork. I wanted everything to be electronic, virtual and remote. I found my target clients and I do business the way they want to do business. It's made doing business easier, faster and more convenient coming out of COVID.
"Since everything was virtual, I just started the agency by myself in my home." (As I spoke with Gutierrez in early June, she was in the process of moving to a new office.)
Be resilient; there is a light at the
end of the tunnel. Whatever you put your mind to, you will achieve."
—Alexis Nicole Gutierrez
LAAIA
Education and involvement are great ways for young professionals to learn and grow in their careers. Gutierrez is currently working toward her CPIA and CIC designations. She has also been involved with the Latin American Association of Insurance Agencies (LAAIA) for the past two years.
"For this new 2023-2024 term, I've been nominated director of the Board, and last year, I was a big participant of the Next-Gen Committee," she says. "When I opened New Era, I was introduced to the LAAIA. They have been a huge support system, and a great foundation to learn from and grow from. If there's one association that I would recommend anyone to be involved with, it'd be this one."
Gutierrez is also grateful to the organization's Next-Gen Committee and its mentorship program. "Whatever it is that you need help with, they give you support," she says. "When I first joined LAAIA, I was mentored by Marvin Rivas with The Madison Insurance & Financial Group for six months. My second round of mentorship was with Mark Introcaso, who has 42 years' experience in the insurance industry. He is currently retired but has a wealth of knowledge on the agency and company side of our industry. Both have been pivotal to my growth as an agency owner."
Personal highlights from Gutierrez's career include winning the 2022 Rising Star Award from an industry publication and attending her first LAAIA Legislative Fly-In in Tallahassee in March of this year. "It was amazing," she recalls. "It's not enough for agents to be behind a computer at a desk, answering phone calls or writing policies. We need to be participants in what's going on in the community and voice our opinions; we're the only ones to push the industry forward."
Advice
For new working professionals in the insurance industry, Gutierrez has two words: consistency and resiliency.
"Consistency, because overnight success is not something that occurs," she says. "I've been in this industry for nine years now and I started from the very bottom. I did not think I would be where I am now, but what I've considered to be my downfalls and life's detours have proven to be my biggest blessings in disguise. If you want to make a career out of this industry, be consistent with it. This industry is known to have waves, and the wave that we're having right now is the same one that we had in 2008-2009's recession.
"Be resilient; there is a light at the end of the tunnel. Whatever you put your mind to, you will achieve. Also, this industry is ever so giving, so you get what you put into it.
"I was just listening to a podcast that mentioned that you're the most qualified person to help the person you used to be. If there's anyone seeking advice or support or guidance, maybe I could be that resource for them and I'm more than open to be. I'm qualified to help that person that I knew I used to be, because at that moment other people helped me.
"You also don't get what you don't ask for," she continues. "If you need help, ask, because there are resources out there. I remember when I was working at my prior agency, all I knew was within those four walls, and once I was introduced to LAAIA, my mind was blown. There's a huge platform there for anyone who needs help, and there are so many people who don't even know; they're not aware.
"So, get involved in your insurance community, because there is help and that help will allow you to grow. Work your butt off to get to where it is that you want to get to."
When she's not doing "insurance stuff," although when asked this question, she said she felt like she's always doing insurance stuff, Gutierrez enjoys spending time with her family, her significant other, and her mini golden doodle Louis, as in Louis Vuitton. She also loves to salsa dance. "I've been doing it for many years; I was an instructor before," she says. "It's a passion of mine that I think is just embedded in my DNA at this point."
Gutierrez also enjoys exercising. "I do it more for the mental aspect. You must stay sane somehow in this industry," she concludes with a laugh.