CONSTRUCTION INSURANCE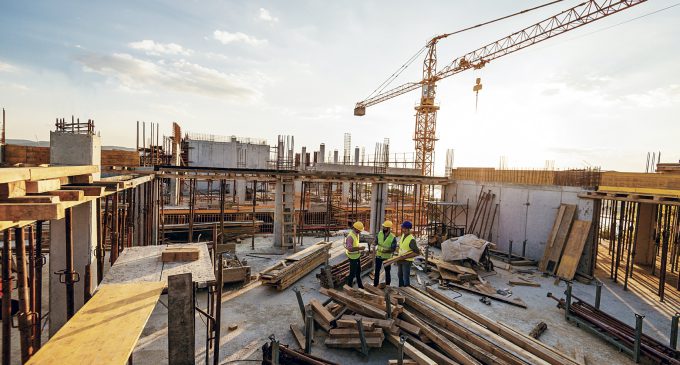 Specialty Lines Markets
CONSTRUCTION INSURANCE
Market may cool while labor shortage limits capacity to build
By Joseph S. Harrington, CPCU
The U.S. construction market may have hit the high-water mark of its post-recession recovery in the past two years, and could level off or decline slightly in 2020.
Such news is rarely good for anyone operating in a market, but it may bring a welcome respite to contractors straining to recruit and retain skilled labor, and to insurance agents and brokers putting in additional effort to assemble property and liability coverage in a hardening market.
A detailed prognosis for a slowdown in construction activity comes from Dodge Data & Analytics, a leading provider of data analytics and workflow software for construction firms. In its Dodge Construction Outlook 2020 report, the firm asserts that "after a solid ten-year economic expansion and moderately healthy recovery in construction, total construction starts are now tipping over the edge into decline."
The report projects modest declines in the dollar volume of construction projects for single- and multi-family dwellings, and for commercial and institutional structures, along with a continued sharp decline in construction of manufacturing facilities. Dodge projects that these declines will be partially offset by modest increases in spending on public works projects.
Dodge Data's observations are reflected in the outlook of construction executives themselves, as the Commercial Construction Index, developed by the USG Corporation and U.S. Chamber of Commerce, fell six points from its three-year peak of 77 in the third quarter of 2019 to 71 in the fourth quarter. The fall resulted from declines in the index's three "drivers of confidence": projected revenue, backlogs, and new business.
Help wanted
So far, at least, the modest declines in construction activity indicators do not suggest a precipitous drop in business, and they may give construction firms an opportunity to address an acute shortage of skilled workers in the sector.
According to USG and the U.S. Chamber, a shortage of qualified workers is forcing half or more of construction firms to struggle to meet deadlines or reject new projects altogether, as well as to increase demands on their skilled workers.
"The labor shortage remains at the forefront of any construction outlook report, as general contractors continue to struggle filling skilled labor positions," writes Justin Levine, head of risk strategy at Building Connected, in the firm's 2020 U.S. Construction Risk Outlook report.
"Not only does the industry need workers, it needs skilled workers," he writes. "As older generations swiftly retire and the pipeline of skilled construction talent dwindles, the labor shortage will continue to be a pivotal challenge for organizations across the country."
Rose Hoyle, a construction risk engineer with AXA XL, writes in a 2019 Construction Insights article that the skilled labor shortage arises from a "perfect storm" of mass layoffs and terminations during the real estate collapse, leaving in its wake an aging workforce to respond to renewed demand, with young people generally opting for less arduous occupations.
"Today's construction industry is falling short in attracting and retaining a workforce that matches the complexity and demand of the current economic environment," she writes. "The immediate effects of this shortage are already visible in troubled projects, troubled businesses, and rising insurance claims."
Those rising insurance claims are running into a hardening market for construction-related insurance coverage, although, like the construction market itself, the market shift is incremental and not precipitous.
According to Willis Towers Watson (WTW) in its Insurance Marketplace Realities 2020 report, substantial rate hikes in builders' risk, umbrella/excess, and commercial auto are partially offset by more selective increases in rates for general and professional liability coverage, and an actual softening in workers compensation rates. WTW reports that carriers are implementing more restrictive coverage provisions and assuming smaller shares of risks, requiring contractors to evaluate different programs.
SDI continues to grow
One line of insurance directly impacted by the construction labor shortage is subcontractor default insurance (SDI), which has grown rapidly in recent years to become a standard component of a commercial package policy for any construction firm that utilizes subcontractors.
SDI is purchased by general contractors to cover some of the losses they incur when a subcontractor fails to perform as required under contract. In that respect, SDI is an alternative or complement to surety bonds, under which a surety guarantees the performance of a principal (a contractor or subcontractor) to an obligee (a project owner or general contractor).
Since its introduction by Zurich Insurance in the mid-1990s, SDI often has been considered a competitor to surety bonds. Given that background, 2019 was somewhat of a milestone for SDI when Liberty Mutual announced the formation of an SDI operation within its surety department, joining Berkshire Hathaway to become the second major insurer to offer SDI through its surety operation.
"There have been more entrants into the SDI market in the past 10 years than there were in the previous 15 years," says Jason Lamonica, senior vice president and head of SDI for AXA XL. Lamonica is among the industry's leading experts on SDI, having worked with the coverage at Zurich when it was the only product of its kind.
Control and simplicity
While general contractors generally assume more risk with SDI than with surety bonds, SDI provides them with much more control and simpler transactions, Lamonica says.
In contrast to the painstaking claims settlement process that characterizes surety bonding, Lamonica says that "with SDI, we are simply underwriting the general contractor's ability to prequalify and manage their subcontractors.
"The primary reason that SDI has emerged as quickly as it has is the frustration general contractors have had with the surety claims process," he says. "Any time you have a three-way relationship, it's going to require more time and cost to resolve a claim."
That said, Lamonica emphasizes that SDI is not appropriate for covering performance failures of every type of contractor on every project. He notes that more than 85% of surety bonds written in the United States are for work on public projects that will continue to require contractors and subcontractors to post bonds.
"SDI is never going to completely take over for surety bonds," he says. "Surety bonds will continue to be viable products well into the future."
Project default
SDI loss results are probably the best indicators we have of the impact of the shortage of skilled labor on construction risk.
As with surety bonding, the leading cause of project defaults in SDI is related to the financial weakness of contractors and subcontractors who find they are unable to afford the manpower, equipment, or supplies needed to fulfill a contract.
In SDI, however, financial shortcomings are followed closely by an inability to meet scheduling and manpower demands, a direct result of the skilled labor shortage.
Since SDI involves transferring performance risk from traditional sureties to commercial insureds, look for surety carriers to provide some of their underwriting and claims expertise to SDI insureds as part of the product package.
SDI is, therefore, a growing opportunity for agents and brokers, including those who have specialized in surety bonding. The most successful producers will be those who can help their contractor insureds access carrier support for subcontractor prequalification.
For more information:
AXA XL
www.axa.com
BuildingConnected
www.buildingconnected.com
Commercial Construction Index
www.usg.com
Dodge Data & Analytics
www.construction.com
Willis Towers Watson
www.willistowerswatson.com
The author
Joseph S. Harrington, CPCU, is an independent business writer specializing in property and casualty insurance coverages and operations. For 21 years, Joe was the communications director for the American Association of Insurance Services (AAIS), a P-C advisory organization. Prior to that, Joe worked in journalism and as a reporter and editor in financial services.