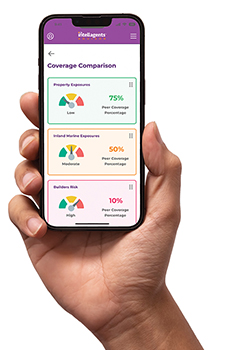 AGENCY PARTNERS
Driving agent sales and productivity with ai and more
Incorporating insurtech offerings with existing systems and "145 years of insurance data."
By Joseph S. Harrington, CPCU
---
There are at least 900 insurtech vendors providing some sort of service to the property/casualty business. That's according to Mark Stender, president and CEO of IntellAgents, a subsidiary of FatBrain AI that is working to remove the costly friction of integrating old and new solutions that help agents and others in the independent agency arena.
"Each of these is great on its own," Stender observes, "but the real value is to combine them into day-to-day operations," he says. "It's all about the network effect of connecting 'best of breed' capabilities."
Driving that value for independent agents and brokers is what Stender, who founded IntellAgents in 2019, and his team are working to accomplish with the firm's launch this year of IntellAgent Advisor™, a cloud-based service designed to drive growth and increase productivity in agency sales and risk placement.
Building a one-stop shop
Founded in 2018, IntellAgents works to transform insurance operations by helping agencies, brokerages, carriers, and intermediaries utilize the best applications for their needs among the hundreds developed by "insurtechs" over the past 10 to 15 years.
In essence, IntellAgents incorporates insurtech applications into its platform and, when combined with existing systems, creates a "fast lane" to innovation. In a recent podcast, Stender explained that "we see ourselves as the insurtech to expedite the adoption of insurtechs. We're fundamentally underwriting the insurtech.
"We are essentially a 'one-stop shop' to discover, acquire, and connect all your insurance applications," Stender says. "We curate these services, so to speak, so our users can get access to them. We're like an octopus that grabs data from multiple sources and, of generations of technology, pulls it into a common format."
IntellAgents' 'ecosystem' provides connections to all parties of the insurance ecosystem, giving access to a wide variety of data from a variety of sources.
Bringing AI to the mix
The comprehensive nature of the firm's offering drew the interest of FatBrain AI, which acquired the company in September 2022. As its name indicates, FatBrain AI provides capabilities based on artificial intelligence and machine learning. Its focus is on small- and medium-sized businesses.
"Big companies and big government have the resources to leverage artificial intelligence," says Rajarshi Das, FatBrain AI's co-founder and chief scientific officer. "We are making AI available to all companies." FatBrain AI brings proprietary patent-pending "FatGPT" large language model technology to the table to leverage data assembled by the IntellAgents ecosystem.
According to Das, FatBrain applications eliminate time-consuming and error-prone work of insurance professionals by accessing extensive amounts of data to prefill application forms and underwriting reports with current information. Agents and brokers, for instance, can concentrate on "moving the knobs," in Das's words, by assessing coverage selections (and rejections), limits, deductibles, and other factors to demonstrate their impact on price.
The firm's differentiation capability is what Das calls "peer intelligence." Even with limited information available, FatBrain applications can look across silos of data to detect similarities in loss exposures and coverage requirements among different clients and accounts in different classes of business.
This ability to recognize and act upon what Das calls "adjacent" types of business means that agents, brokers, and carriers can extend their mastery to new classes of business for assessing market appetite, refining risk selection and pricing, and winning new accounts.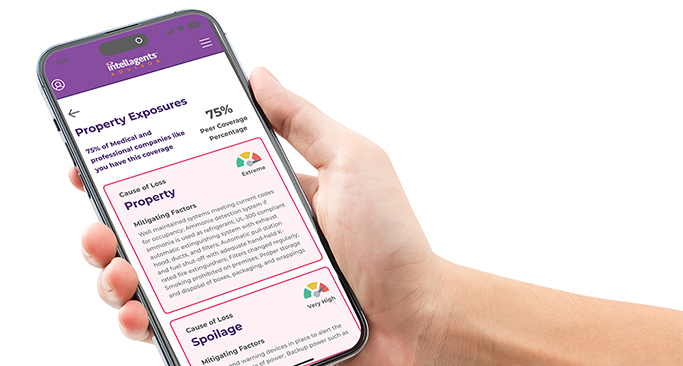 Doubling down on agency effectiveness
This summer, the firm expanded the value it brings insurance agents and brokers—and their prospects and clients—with its introduction of Intell-Agent Advisor. This agency-focused offering connects with existing agency systems or can function as an embedded application programming interface (API) to support strategic partnerships. The result, says Stender, is an unmatched "ecosystem" of capabilities that he says can supercharge analysis and decision-making across the entire value chain of insurance.
The new software-as-a-service (SaaS) platform allows the individual agents or brokers to become conversant quickly about an account's history, characteristics, and coverage needs. According to Stender, IntellAgent Advisor will rapidly report the specific exposures facing a prospective client, along with industry profiles of similar risks, simply by inputting a company name, address, or an image of an existing policy.
Among other things, IntellAgent Advisor incorporates information provided through the Rough Notes Commercial Lines Risk Evaluation System, also referred to as the Rough Notes "commercial surveys."
The Commercial Lines Risk Evaluation System provides three categories of information for more than 700 classes of business risk: narrative descriptions of common loss exposures for a class, sample questionnaires identifying policies and coverages likely to be of interest to an account, and a form for suggesting coverages and limits and verifying the buyer's acceptance or rejection of the recommendations.
Stender points out that the Rough Notes knowledgebase lets Intell-Agent Advisor provide information on minimum coverages, optional coverages, potential causes of loss and mitigating factors. For renewals, IntellAgent Advisor looks for material changes in a client's operation or growth and to reassess coverage needs.
"With a few simple clicks, IntellAgent Advisor allows agents to analyze thousands of variables in minutes," says Walt Gdowski, CEO and owner of The Rough Notes Company. "Using our survey information, IntellAgent Advisor allows agents to immediately contrast the coverage an account or prospect has with the coverage it should have, benchmarked against the coverage comparable companies have."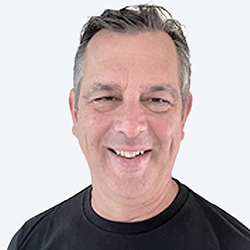 "For decades, insurance sales and underwriting have been
constrained by tedious efforts to gather information on risks. [Now], producers
can see the day when they spend all of their time working
with their clients to ensure they are properly protected."
—Mark Stender
President and CEO
IntellAgents
AI, automation drive producer shift
Das points out that FatBrain's "machine learning is able to 'tabularize' the text-formatted data (provided in the Rough Notes Commercial Lines Risk Evaluation System) so it "aligns with how our brains work. We have automated 145 years of insurance expertise accumulated by Rough Notes and can now deliver it more efficiently to the sales and underwriting process."
Incorporating the information makes it easier for agents to get up to speed quickly on the nuances of more than 700 classes of business. This ensures that they can recommend all the right coverages and protect themselves from errors and omissions claims. "They now have access to a powerful tool for identifying potential clients and their coverage needs," Stender says.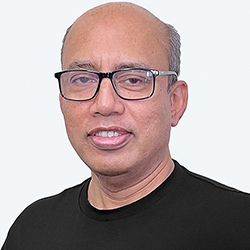 "[Our] machine learning is able to 'tabularize' the text-formatted data (provided in the Rough Notes Commercial Lines Risk Evaluation System) so it aligns with how our brains work."
—Rajarshi Das
Co-founder and Chief Scientific Officer
FatBrain AI
Drawing on that data, users can efficiently and effectively capture information on prospective accounts, identify opportunities for upsells and cross-sells, and provide clients and prospects with valuable "industry intelligence" on what their competitors and counterparts are doing to manage risk.
Das points out that combining client data, Rough Notes content, and FatBrain's unique AI are helping to reshape the agent-client sales experience. Stender adds, "For decades, insurance sales and underwriting have been constrained by tedious efforts to gather information on risks.
"With the advent of a service like ours," he notes, "producers can see the day when they spend all of their time working with their clients to ensure they are properly protected." n
For more information:
IntellAgents
www.intellagents.com
FatBrain AI
www.fatbrain.ai
The author
Joseph S. Harrington, CPCU, is an independent business writer specializing in property and casualty insurance coverages and operations. For 21 years, Joe was the communications director for the American Association of Insurance Services (AAIS), a P-C advisory organization. Prior to that, Joe worked in journalism and as a reporter and editor in financial services.