ELITE INSURANCE SOLUTIONS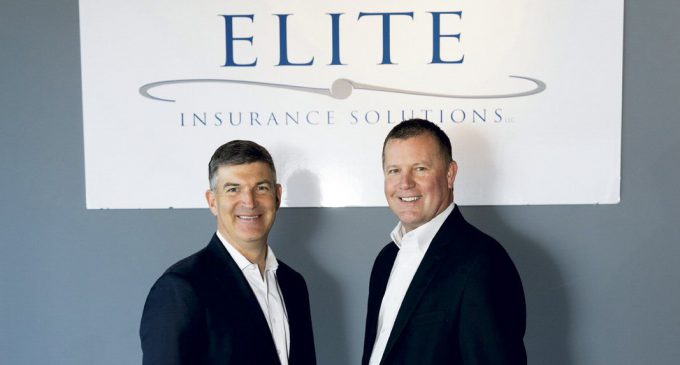 Congratulations
Elite Insurance Solutions
2019 Agency of the Year
By Dave Willis, CPIA
For more than 30 years, Rough Notes magazine has featured some of the nation's most remarkable independent insurance agencies on its cover. Without doubt, this year was no exception.
Each year, one firm is named the Rough Notes Agency of the Year. These are the best of the best—agencies that stand out among the standouts. The selection of our Rough Notes Agency of the Year is made by votes from previous Rough Notes Agency of the Month honorees. They carefully review information on each of the nominees—in this case, the 11 agencies that appeared on the cover from February through December of 2019—and select which one they believe deserves top honor.
Candidates in this class of agencies range from small operations with just a handful of employees to large, multi-site firms with more than 100 professionals on staff. Nearly all received votes from previous winners, but in the end, only one made the cut; this year's Agency of the Year is Elite Insurance Solutions, based in Franklin, Tennessee.
One previous winner, when submitting a vote, said their choice was in recognition of the agency's "impressive growth, innovation and charitable contributions." Other reasons cited included the agency's unique three-way communication involving the client, the agency and the insurer, using technology they developed; its focus on attracting young talent into the agency; the fact that they found a way to differentiate themselves in a way that serves the client; and leadership in areas that provide a model that other Rough Notes readers can emulate to make their agencies more successful.
The May 2019 Rough Notes cover feature about Elite Insurance Solutions points out that, since the agency was established by Mike Stansbury in 2008, it has maintained a laser focus on improving the client experience by creating three-way communication among the client, the agency, and the insurer. "[This] allows for quick action when needed and trust that the communication lines will protect the privacy of the often-sensitive information that is required to underwrite an individual's or business's risk," says Stansbury.
To facilitate communication, Elite developed a mobile app for clients to use when an accident occurs. The insured sends an instant message from his or her cell phone that goes to the insurer and agent so claim processing can start immediately.
The tech-savvy agency now has nine locations and produces more than $1 million a month in volume. Stansbury and co-principal Randy Hulett are reaching out to young people and encouraging them to consider pursuing a career in insurance. "I regularly hear that the next generation is looking for employment where they can make a difference," Stansbury comments. "They don't just want a paycheck and a 9-to-5 interruption in their day. They want to feel good about what they are doing. This is an industry that offers them an opportunity to do just that."
Speaking of making a difference, Elite is committed to supporting local and national charities, including Shriners, Wounded Warriors, and Special Olympics. "It's part of our DNA," Stansbury says. "We serve our clients, our community, and our employees."