FOCUS ON CONSTRUCTION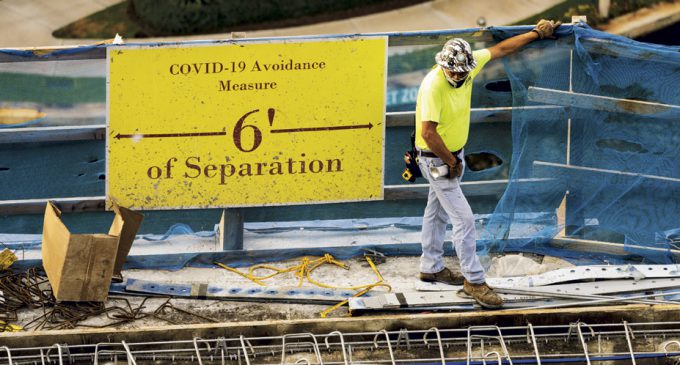 Specialty Lines Markets
FOCUS ON CONSTRUCTION
The construction industry addresses an uncertain economy and changing technology
By Lori Widmer
At the start of 2020, the construction market was facing some daunting challenges. Projections of what the year would bring painted the picture of stagnation: The American Institute of Architects (AIA) forecast in January 2020 projected nonresidential construction spending to grow by a mere 1.5% through the year, and by under 1% in 2021. A report by Deloitte stated that engineering and construction employed 7.64 million people, and added over $900 billion to the U.S. economy in Q1 2020—the highest levels since 2008.
By March, it all blew up. Sales, according to The Associated Builders and Contractors' (ABC) Construction Confidence Index (CCI), plunged to 38.1 from January's 68.3 confidence level. COVID-19 had reached U.S. shores, and Deloitte research reveals a $60.9 billion GDP loss, with jobs dipping to approximately 6.5 million.
However, June painted a different picture. The ABC's CCI index had risen to 51.1, and Deloitte found that 68% of engineering and construction executives were seeing a somewhat or very positive outlook overall.
Even so, the industry is not celebrating yet. "There is continued economic pressure on loss ratios in the casualty space—especially the excess markets—resulting in increased risk transfer costs with higher attachments and less available capacity," says Steve Buonpane, executive vice president, Construction Major Accounts, for Chubb. "A changing reinsurance environment as well as low interest rates exacerbate these conditions on the carrier side, leading to heightened levels of focus on the risk management operations for construction insureds to control the frequency and severity of losses, as they're likely being asked to take on more risk."
At a higher level, Ken Anderson, director of regional pricing and products and underwriting at Sentry Insurance, sees a competitive market but tougher pricing, particularly in casualty lines. "We see workers compensation loss costs are generally decreasing, but that's being offset by what's happening in commercial auto and excess liability," he says.
Tech to the rescue?
As the market continues to grapple with the effects of an uncertain economy, at the micro level some issues remain the same. Michael Schultz, co-founder of Aclaimant, says the labor and talent shortages will put constant pressure on the industry. COVID-19, he says, is heightening the economic uncertainty, and that has the potential to impact employment practices.
That, combined with the delayed use of technology within the construction industry, is impeding many in the industry from competing in an ambiguous market. However, Schultz says the tide is turning when it comes to technology. "The world of technology is shifting, and therefore how technology can provide a competitive advantage and create a culture that is dedicated to safety and security of the workforce is something we see more of."
Carriers are on board with these new and emerging technologies, says Buonpane. "As an insurance carrier, we're finding creative ways to collaborate with the construction industry to promote new and emerging tech to help manage risks as well as collect valuable data and insight on site conditions as well as worker behavior and safety—which previously was much more difficult to obtain and monitor on a consistent basis."
"That technology is being used in plenty of other ways as well," says Preston Cavignac, principal at Cavignac. "Augmented reality is starting to make its way into the industry. Construction management software is becoming ubiquitous across a variety of project types and subcontractors. Modular and pre-fab construction, although not 'new,' is starting to garner attention, and drones have continually been used in the industry for a variety of reasons," Cavignac says.
In fact, technology is influencing product offerings. Schultz says wearable technology and the "real-time response, the ability to report, document and potentially even triage an incident before it becomes a claim, the ability to build out digital workflows that can be connected to multiple if not currently disparate systems" are what help construction firms improve safety.
"That has significant impact from the insurance risk management perspective," says Schultz. "You're implementing behavioral responses so that an underwriter from an insurance perspective is going to say, 'Okay, I'm not just looking at the class code of the construction firm and the type of workers, I'm looking at the class of the operator. Is he or she best in class?'"
The product landscape
That's helping underwriters understand the specific safety risks any one company might be facing. In the current hard market, that's an important distinction. Schultz says construction firms will continue to "see an increase in exclusions," which he sees as the issue construction firms should focus on. "More often, it's not what you're covered for but what you're excluded from" that matters from an insurance carrier perspective. He says firms need to be able to assure that they can "offset any adverse economic impact for not being covered" for a particular exposure.
Another coverage trend is considering existing options. "Alternative risk transfer mechanisms, like captives, are becoming increasingly popular for middle market contractors," Cavignac says. In a hard market with capacity shrinking and rates increasing, a captive solution could help alleviate some of the pain, which is all too prevalent. "For preferred accounts (minimal losses), contractors can expect a flat to +10% on GL renewals," he says.
In general, Cavignac sees challenges through most sectors in the market. He's seeing increases in the auto sector ranging from 5% to 20%. "Umbrella is a significant issue for carriers. If contractors are carrying limits of $15 million or higher, premium increases can be substantial (think 25%-plus)," Cavignac says. "Reinsurance rates have increased for insurance companies, and those rates are being passed along to the end user. Capacity is shrinking, and higher limits are harder to acquire."
Fortunately, workers compensation is still a soft market. Cavignac says preferred accounts can expect a flat rate at renewal or a 10% decrease. That may be short-lived: "We suspect the work comp market will start to harden in 2021, but renewals are still positive for contractors," he says.
The elephant in every room
That could and most likely will be influenced by how the current pandemic progresses. In a landscape where, as Schultz says, "both the law of unintended consequences and intended consequences are taking place," risk management for COVID-19 must be part of the conversation.
That conversation should be three-pronged, as Buonpane points out that COVID-19 is impacting the construction industry from as many angles. Short-term jobsite conditions, he says, must take into account safety protocols and guidelines that have been enacted. Those conditions include "staggered work schedules to promote social distancing, PPE requirements, temperature checks and regular health screening, and the increased sanitization of sites," Buonpane says.
In the medium term, Buonpane sees altered project schedules, pandemic-related shutdowns, and distancing requirements, which are putting pressure on deadlines. Such measures "have often required contractors to re-sequence work and make modifications to project schedules," Buonpane adds.
Longer term, Buonpane thinks the "tangible" decline in new project starts will continue through most of 2021, particularly within commercial building, hotels and entertainment, and urban residential sectors. "How-ever, there is a positive outlook in other sectors, and a prolonged low interest rate environment could help fuel project investment," he points out. In addition, he says to expect increased spending in residential and distribution facilities construction "as well as expansions by 'Big Tech' and the information technology industry's potential partnerships with higher education institutions," a trend that Buonpane says COVID-19 has actually accelerated.
As with most lines of business, COVID-19 is creating a stir in the reinsurance market. Michael Teng, assistant vice president of regional pricing and products and underwriting at Sentry Insurance, says the pandemic is causing the reinsurance appetite to tighten, a condition that he says will flow into the primary market as well. "Insurers and agents should be prepared to discuss that with their clients. Pandemic exclusions under liability insurance are going to be very common, and it would be beneficial for contractors to prioritize hygiene protocols to protect themselves from potential lawsuits."
That's critical given that many states consider construction an essential service, and that many are attempting to operate under a business-as-usual approach. Cavignac says that attitude is definitely dependent on what that business entails. "Certain construction sectors were hit harder than others—hospitality and office sectors being some of the hardest hit. Other sectors, like residential construction, have grown through the pandemic," Cavignac says.
To offset risks, Schultz says, contractors should strive to make managing pandemic-related risks "part of their corporate identity in terms of providing a safe and secure workplace, creating a culture, not just of transparency and trust, but decency and trust," a focus Schultz says is critical to long- and short-term contractor success. "Imagine how hard it would be to recruit and retain talent at a company that had 52% of their workforce contract COVID."
Claim drivers
However, COVID-19, to date, has not been a major claim driver. "The main claims drivers relate to falls, electrocutions, struck by, and caught in between," says Lawrence Barone, senior safety service consultant for Sentry Insurance. "I would say most incidents fall into those categories. As a safety trainer, those are a focal point in the construction industry. These are referred to by OSHA as the 'Focus Four Hazards,' and safety training must begin with the specific hazardous conditions under each."
One driver of losses that can be mitigated—worker negligence—certainly plays a significant role, says Randy Dombrowski, safety services manager for Sentry. Altered project timelines or unexpected conditions are often part of the equation. "Many common losses come from property damage, general liability, and workers compensation," says Dombrowski. "It all comes down to being prepared and having a plan in place to prevent losses from occurring."
Michael Huckabaa, senior safety services consultant at Sentry, has seen claims involving contractors hitting utility lines or underground water pipes. "To reduce the likelihood of this, I'd encourage construction businesses to prepare ahead of time," he says. "Take photos to know where objects are marked, because it's not always correct."
Advice for agents and brokers
Even amid a pandemic, and possibly because of it, Schultz says that agents and brokers are in a prime position to win customer loyalty. "This is an opportunity like no other … for the agent or the broker … to take the lead in giving advice and counsel … [and] provide alternatives, resources, and tools. The enlightened broker or agent is going to take advantage of the significant impact that data analytics will have going forward, allowing their insured—their customer—to get better visibility and insight in terms of how to improve."
With an expected continuation of market disruption and price and capacity corrections, Buonpane says everyone in the construction insurance sales cycle—contractors, retail agents, and brokers—should head into renewal early and, particularly for agents and brokers, manage expectations. "Engage in continuous dialogue," Buonpane says. "In other words, communicating early and often with your underwriters, and vice versa, and showcasing what differentiates your client could help in the underwriting process."
But put some meat behind those communications, Buonpane adds. "Carriers will want to know about investments being made to improve safety and risk engineering practices, and how they are positioning themselves for long-term sustainability in an uncertain market and in an increasing loss severity environment."
That market uncertainty means more emphasis on who your broker partner is, says Cavignac. As capacity is reduced and carriers are flooded with submissions, Cavignac says, "Now more than ever, aligning with the right broker is critical. Clients need a broker who can work with them to determine if it makes sense to market their program and, if it does, one who can craft a thoughtful, complete and compelling submission to sell the account to the underwriting community."
For more information:
Aclaimant
www.aclaimant.com
Cavignac
www.cavignac.com
Chubb
www.chubb.com
Sentry Insurance
www.sentry.com
The author
Lori Widmer is a Philadelphia-based writer and editor who specializes in insurance and risk management.