FRAUD BUSTERS
THE TECH (AND HUMAN) APPROACH
TO WORKERS COMP CLAIMS HANDLING
The best way to combat fraud takes both technology and human intervention
By Lori Widmer
---
It comes as no surprise to anyone operating a business that fraud is a big cost driver in workers comp. While it is not a large percentage of the claims filed (estimates from Radius Insurance put it somewhere between 1% and 2% of total workers comp claims filed annually), the financial impact of fraud is significant. The Coalition Against Insurance Fraud sets the annual cost of insurance fraud at $308.6 billion. Of that, $34 billion is attributed to workers comp fraud, according to NAIC data.
What does that fraud look like? According to Reagan Pufall, CEO of Omaha National, a tech-enabled provider of workers comp insurance, fraud occurs in three common areas: claim fraud, where a claimant is exaggerating or falsifying information to obtain benefits; provider fraud, which typically involves medical providers; and premium fraud. With provider fraud, Pufall says, "That can range from highly sophisticated criminal enterprises to low-level exaggeration, inflated costs, and everything in between."
Premium fraud is when organizations "choose to either misrepresent how many employees they have or, more commonly, they misrepresent the nature of the work they're doing in order to try to avoid paying the premiums they really should pay."
False claims alone cost organizations an estimated $9 billion annually, according to NAIC data. The NAIC also found that $25 billion stems from claims fraud. According to the Insurance Information Institute, occupations with the largest number of injury and illness claims include nurses, laborers, truck drivers, and stockers/order fillers and other jobs with physical requirements.
Pufall says that insurers having the most difficulty with fraud "are going to fall into some fairly predictable patterns: Companies that have excessive workloads for their employees and companies that have underinvested in technology" are more likely to have instances of fraud.
Is software the solution?
Understandably, with payouts climbing into the billions of dollars, nearly all industries are looking for better ways to combat fraud. Many turn to technology. Unfortunately, Pufall says that not all technology solutions are created equal. The insurance industry, he says, "has been too fast to rely on technology that wasn't really ready for the job."
He points to algorithm-based underwriting. "We've seen a lot of companies struggle to produce good results with that approach, and also in the area of bill review—companies that rely more or less entirely on medical bill review rules engines rather than having certified professional coders on staff to do that additional layer of review." When companies are overly reliant on technology, Pufall says, they are increasing their vulnerability to fraud.
No matter what software one uses, though, predicting human behavior has proven to be the key to adequately lowering both workers comp claims and instances of fraud. That's where technology married with proactive employee processes come in, says Pufall, who describes effective workers comp management as "part science and part art."
Organizations need a two-pronged approach, he says. "If you don't have your tactics and strategies in place, sorted out and well thought through, technology is just going to let you do the wrong thing faster."
It's the approach that Omaha National has used from its beginnings. Just six years old, the company actually began as a tech-enabled entity, he says. The company designs and develops its own operational software, Oncore, which is a proprietary application that "our employees use to do their work on a day-to-day basis." Omaha National uses a combination of technology and employee skill and awareness to identify and resolve fraud quickly.
So far, the results have been eye-opening. When Oncore was implemented in November 2021, Pufall says, the company saw immediate results. "Our cost per claim is now about 30% below the industry average. It just shows the tremendous impact the software design can have on your results."
But Pufall cautions that the software was just part of the solution. In his estimation, it has to be coupled with employee-driven processes. "The strategies and tactics and methods that we had developed over time had proven successful. Our cost per claim in our primary market of California, for example, was about 20% lower than the industry average, even before we implemented our software."
Solutions beyond software
Nearly any industry can realize this type of results. The mix of the right technology and a more proactive workforce is within reach for all industries, he says. In fact, such integration, Pufall says, should be part of an organization's management approach. "Thinking of provider fraud and claim fraud, I think it's actually much more productive to think of those as simply being an aspect of claims management and an aspect of medical management."
The inclusion of such oversight is not difficult, he adds. "What we have found at Omaha National is that by focusing on rigorously managing claims by being meticulous about utilization review and bill review, by having highly trained adjusters working with excellent proprietary software to manage claims effectively, it's actually astonishing how much fraud we prevent and avoid; not really even focusing on fraud as an issue—just focusing on claims management and medical management."
It's a shift in focus, Pufall says, that has paid off in the long term. "We've had the experience of reading about the latest fraud scheme du jour and the impact it's having on the industry. Then we look in our data, and we realize we're not really being significantly impacted by this. It's not because we saw that specific scheme coming and tried specifically to prevent it. It's just that we're a hard target because of the meticulousness with which we do our claims management work."
Also, it's because the company relies on human curiosity. Something as simple as a conversation among employees and that collaborative interaction can uncover fraud. "A lot of times a fraud investigation begins with one employee turning their chair around and saying to another employee, 'I've been seeing this lately. Have you been seeing it?' That has proven to be extraordinarily valuable for us, because then the next thing they do is they go talk to their supervisor and then the supervisor talks to our special investigations manager, and then we're underway," Pufall says.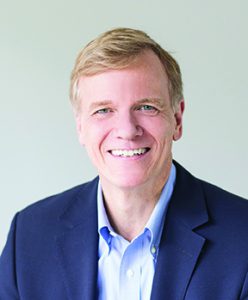 "[Provider fraud] can range from highly sophisticated
criminal enterprises to low-level exaggeration, inflated
costs, and everything in between."
—Reagan Pufall
CEO
Omaha National
The claims advocate
These kinds of approaches to combatting fraud are the types of things that agents and brokers can pass along to their clients. In fact, agents and brokers are in a unique position to help their clients get ahead of fraud claims, says Pufall. "One thing we would love to have brokers do is just constantly tell their clients that if someone gets hurt, call the insurance company right away. Don't wait until the next day. Don't wait for the next week. Don't wait an hour. When somebody gets hurt, call."
Getting the insurance company involved quickly, he says, is the most significant action one can take to reduce their workers comp claim costs. When the insurance company is on board early managing the claim, he says, claims stay on track and fraud is reduced.
Another piece of advice: "Do claims management really well. Do utilization bill review well. Make sure you have excellent medical networks. That's really going to cure a lot of your fraud problem," Pufall says.
For Pufall, that kind of active, thorough management process solves plenty of issues. "There is a direct correlation between high-quality, meticulous claims management and having a lower incidence of fraud." That management process should include a strong claims management strategy, what methods the organization will use to implement those strategies, and how technology should function in order to effectively manage it all. "Then just being mindful and continually evaluating."
It all comes down to finding the right mix of employee know-how and technology solutions. Pufall suggests reviewing each function of the management process. "What can the technology do best? And what can humans do best? Don't replace humans with technology," he concludes. n
For more information:
Omaha National
www.omahanational.com
The author
Lori Widmer is a Philadelphia-based writer and editor who specializes in insurance and risk management.