BROKEN GLASS
LABOR OF LOVE
A family history of union involvement inspires this agent to focus on their insurance needs
By Elisabeth Boone, CPCU
The longer I'm in this business, the more intriguing stories I hear about the sometimes circuitous paths insurance professionals navigate to become involved in the industry.
For example, Sally Corbin, who majored in international relations and then earned a law degree, might have been expected to pursue a career in diplomacy, international law, or teaching at the university level.
Like many of us, however, Corbin didn't do what was expected. Instead she partnered with her father to establish an independent agency to meet the insurance and risk management needs of labor unions and joint apprenticeship training committees.
Launched from the basement of her home in Lansing, Michigan, Union Services Agency now has offices in the bustling state capital and employs five people in addition to Corbin and her father, Gary, who serves as president while she is chief executive officer and agency owner.
What motivated Corbin to forgo the practice of law and start an agency from scratch?
"I grew up just north of Flint, Michigan, in a hotbed of trade and labor unionism, and I grew up in a politically active family," Corbin says. "My father was a county commissioner and later a state senator, and as a child I campaigned with him in every union hall and every UAW (United Auto Workers) plant. From an early age I understood the importance of labor unions and what they meant to the communities I lived in.
"My friends' parents worked in UAW shops or were members of trade unions or service employee unions, so I grew up knowing the value of having a good paying job and benefits like health insurance and a pension fund," she adds. "I knew the leaders of labor unions, and they supported my father when he was running for office." After serving as a state senator, Gary Corbin was appointed deputy director of the state department of labor. He ended his political career as chairman of the Michigan Democratic Party.
Over the last two decades, union membership has declined dramatically, and unions no longer wield the powerful political clout they once enjoyed. During the recession that started in 2008, no industry was hit harder than auto manufacturers; and although vehicle sales have rebounded, union membership has continued to decline.
"When my father was a state senator, his district had a total of 72,000 union households," Corbin says. "Today that same district has just 6,000.
"I completed my law degree, and as the mother of a young child I had to decide on a direction for my career," she continues. "My father and I began talking; he was thinking about starting a business in the private sector. We agreed that we wanted to work together and that we wanted to do something in a space we both felt comfortable in and felt passionate about. For us, that space was labor unions; it was a natural for us. We decided to start an agency that would meet their needs for insurance and risk management."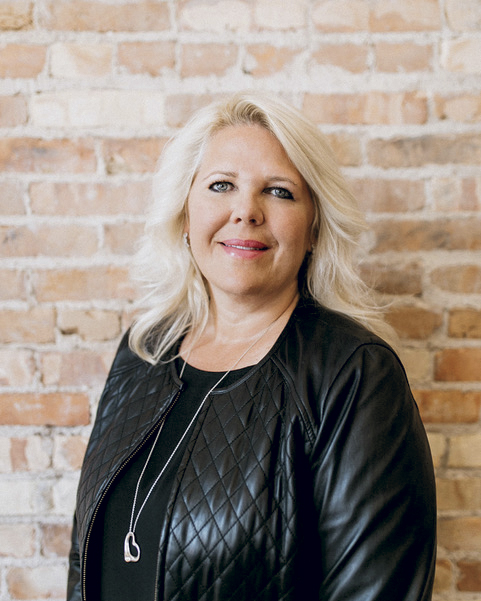 A dream becomes reality
"At around that time we received an introduction to the only union-owned and -managed insurance carrier in the country: ULLICO (Union Labor Life Insurance Company, whose casualty group offers property and casualty coverages for unions). That introduction changed my life," Corbin asserts.
"As we met with the executives and talked about our idea of opening an agency, they could see the possibilities because of the relationships my father had built over the years of his political career," she explains. "They believed in us, and they told us that if we established an agency in Michigan, they would give us a direct appointment based on the promise of what our agency could become. We took them up on their offer, and we established Union Services Agency in my basement."
Writing on a napkin, father and daughter made notes about how many labor unions were based in Michigan, how many the agency would be able to serve, what their needs were, and how the agency would meet those needs. "With ULLICO as our partner, we saw ourselves embarking on a noble mission," Corbin says. "My father said we should approach our new venture as a grass-roots campaign because that's what we knew. We knew how important it was to go door to door, meet with our prospective clients, talk about their needs, and begin writing their property and casualty insurance. We would write the union hall itself; we would write the contents and the vehicles the union owned. Then we would talk about their errors and omissions exposures and their workers compensation insurance," Corbin explains.
"After a few years of doing that, I began to study fiduciary liability insurance," she says. "That coverage is a necessity for the trustees who serve on the boards of multi-employer health and welfare funds, which can be in the multi-millions to billions of dollars. We also started writing property and casualty insurance for union apprenticeship schools. Initially we focused on acquiring accounts in Michigan, which is home to many labor unions. Today, 23 years after launching our agency, we're licensed in 23 states."
In addition to ULLICO, which gave the agency its start, Union Services represents all the major carriers that write fiduciary liability insurance for unions, including Chubb, AIG, and Travelers. For property and casualty coverages, the agency has appointments with carriers that are committed to the labor union market.
Breaking through
Perhaps like many women, I have an image of labor union leaders as gruff cigar-chomping old guys who aren't accustomed to doing business with women and probably think they should be at home toiling over a hot stove. Although this picture of union bosses may be less valid today, the fact that remains is that the leadership of unions, especially those for auto and construction workers, continues to be dominated by men. How did Corbin work her way into the inner circle where important decisions are made?
"It's certainly true that the majority of labor unions typically have men in leadership positions," Corbin acknowledges, "but that's changing as more women assume leadership roles.
"Going back to the beginning of my career as an agency owner, when meeting with union leaders, I've always focused on my expertise and my commitment to providing exceptional service to my clients. I dedicate myself to understanding what a union does and what exposures its activities generate. I make myself a student of every risk a union faces so I can explain the exposures to the leaders, explain why they need certain coverages, and then identify the best carriers for their specific situation," Corbin says. Without grandstanding, she says, she makes it clear to the leaders that she can meet their needs better than anyone else.
"By taking this approach, in most cases I'm given the opportunity to prepare a proposal," she says. "Once we've established a relationship based on mutual trust, the leaders of one union will refer me to others. Today most of my business comes from referrals." What's more, she notes, "Many of the leaders I met with early in my career became my mentors and advisors."
Going digital
Union Services Agency's commitment to its labor union clients goes beyond providing insurance and risk management expertise. In 2013, Corbin established USA Digital Media, which provides an array of services that are designed to help unions expand their online communication strategies.
The agency provides digital media consulting, website design and development, mobile app design and development, graphic design, social media strategy, web analytics, and video production.
"USA Digital Media is a digital advertising and creative agency that harnesses the power of data and technology to help labor unions, apprenticeship schools, and affiliated organizations optimize their online communication strategies," Corbin explains. "USA Digital Media has helped hundreds of clients in Michigan and beyond by creating online strategies for recruiting, organizing, education, and more."
It's a long way from scribbling ideas on a napkin to building a successful and respected agency that is dedicated to meeting the complex needs of labor unions. From her first meeting with a union leader to the present day, Corbin has demonstrated that expertise and commitment render irrelevant those old stereotypes of rough and tough union bosses who disdain to work with women.
"From early childhood I've understood the vital role labor unions play in the lives of working people," she says. "It's an honor and a privilege to ensure that unions, their leaders, and their members are protected against the myriad risks they face."
Do you know a female independent agency leader we should feature? If so, please email details about her as well as contact information to Elisabeth Boone, CPCU, senior features editor (elis.boone@icloud.com). We'll take it from there.