Five tips for creating a niche market from a personal passion
Chances are there's something you love even more than insurance. Whether you're a biker, art collector, or baseball fan, you can develop a specialty niche around a passion you pursue in your personal life. And when you merge your personal interests with your professional goals, the resulting sales and infectious energy it generates at your agency can be tremendous.
Whatever hobby, leisure activity, or industry you want to leverage into new business, you may want to consider five tips based on the successful efforts of Klinger Insurance Group in Germantown, Maryland, who offer specialized insurance for the sports memorabilia market.
Open your mind to possibilities. Almost every physical object requires some form of insurance, assuming its owner wants to protect its value. And many activities require personal safeguards against injury or financial loss. That means the categories of specialized insurance a producer can offer are virtually limitless. How about dog show handlers, collectible automobiles, skydiving, bungee jumping, or mountaineering? What about protection for the growing number of home-based baking businesses or for home school groups? Insurance is available for rowing, historic firearms, musicians and instruments, beekeeping—the possibilities are endless.
Think about your lifetime passions—perhaps a hobby you walked away from after starting a family or moving to a new area. This could be your opportunity to reignite and reconnect with a favorite pastime while getting paid to do so.
In the case of Bob Klinger, CPIA, LUTCF, president and chief executive officer of Klinger Insurance Group, his fascination with sports memorabilia started when he purchased his first pack of baseball cards for 25 cents when he was seven years old. By age nine he was selling those same cards at flea markets for a profit. Ever the entrepreneur, he began to promote sports card shows at local fire halls; by then, some of the original penny cards he had purchased were trading for up to $170 each.
Propelled by success, Klinger opened and operated three Triple Crown Sports Cards stores by age 18. After selling that business, he got involved in an organization that hosted national sports shows at convention centers and worked to promote and authenticate signed sports memorabilia.
Even after his insurance career began, Klinger maintained a passion for sports memorabilia. But it took a light bulb moment to realize how the two could intersect.
Engage in conversations. Klinger, who is president-elect of the American Insurance Marketing and Sales (AIMS) Society and a member of the Rough Notes Agent Editorial Advisory Board, notes that his specialization in sports memorabilia insurance began with casual conversations and interactions with the professional athletes, sports agents, and fellow collectors he met at sports shows. One athlete shared a story of a recent robbery during which his own family memorabilia were stolen. Show vendors had tables filled with valuable pieces that prompted considerable interest. Collector after collector described the details of their own items.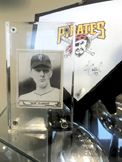 All the collectors, Klinger observes, were eager to highlight their unique memorabilia, and they knew which items were most valuable. It soon became clear to him, however, that the majority had never considered the need for specialized insurance or thought about the potential financial consequences if items were damaged, lost, or stolen. After all, most collectors purchase items individually over time and often fail to realize the significant value their collection represents.
The power of a personal connection based on a shared passion is that any follow-up discussion of insurance feels less like a sales pitch and more like an offer to serve as a resource. "I was genuinely interested in their items, so our conversations were sincere," explains Klinger. "Once we had established that connection to items we both loved, it became a natural next step for me to ask them if they had their collections insured."
Follow your own passion, and you'll find that instead of dreading the idea of prospecting, you'll begin to relish the pursuit because it's connected to something you already enjoy. In Klinger's case, he finds considerable excitement in insuring professional athletes and sports memorabilia collectors. "It allows me to relive a boyhood dream," he says. "And it's a great feeling to find a client with a mutual hobby where you can share memories and bond over a common interest. The process of collecting, selling, meeting athletes, and building business relationships with them is incredible."
Go online. Attending events, conventions, or trade shows related to your area of interest can be a great way to find prospects, but don't forget about the power of online relationships.
Find the Twitter feeds, Facebook pages, and websites that relate to your passion. Just like the conversations Klinger started over memorabilia tables, engage in online discussions, share resources, and mention your insurance specialization when appropriate. Position yourself as someone who is equally interested in the topic, and your conversations can evolve seamlessly to include insurance.
Remember that people worldwide share your interest. A dedicated Web page and online promotion may help you reach a previously untapped market.
Know your stuff. "You can't be an impostor," says Klinger. "The people you want as clients will quickly label you as just a salesperson if you don't know about the category you want to insure. You don't have to know everything, but you'd better know more than the average participant." Use correct terms, know the trends, and understand the risks. Of course, if it's a hobby or passion you already have, this shouldn't be tough to accomplish.
Parlay the resulting new business into more new business. The same new clients you secure because of your specialty have broader insurance needs, so don't forget to cross sell after you've wowed them with your niche market service and know-how.
In Klinger's case, the professional athletes, sports agents, and super collectors he's met are typically high-net-worth individuals, so he's acquired considerable business that way. His agency—the Rough Notes July 2015 Agency of the Month—currently insures three professional boxers, two WWE wrestlers, seven NHL players, one MLB player, five retired MLB players, six NFL players, 13 retired NFL players, two retired NFL coaches, one professional pool player, two retired soccer players, and six NBA players, all of whom were introduced to the agency through their shared sports memorabilia connection. Klinger offers these individuals insurance for all aspects of their lives, including auto and homeowners, umbrella, life and disability, business, and more.
Not only does Klinger's extensive sports memorabilia collection bring him personal joy and serve as a great bonding activity with his son Ryan, but he also has found it to be a powerful in-office promotional tool and icebreaker. Many of his items are displayed throughout the agency office, and this frequently prompts casual office tours and conversations with visitors.
What's your passion? Wouldn't it be great to enjoy it on a professional level as well? Spending more time focused on something you love while also generating more sales seems like a win-win that's tough to ignore.
The author
Donna Gray is executive director of the American Insurance Marketing and Sales (AIMS) Society, a nonprofit educational organization that administers the Certified Professional Insurance Agent (CPIA) designation.