Agency leaders gather to recognize the  extraordinary and share insights on  the industry
This spring, insurance agency leaders from throughout North America converged on Indianapolis for the annual Rough Notes Agency of the Year Dinner, Community Service Award presentation, and Rough Notes Agent Editorial Advisory Board meeting. More than three dozen professionals took part.
The dinner kicked off with a humorous retrospective of The Rough Notes Company titled "The Rest of the Story," presented by company President and CEO Walt Gdowski. After dinner, The Rough Notes Company Community Service Award Executive Director Robert Kretzmer, CIC, presented the 20th annual Community Service Award to Ronnie Tubertini and Cyndi Tullos of SouthGroup Insurance in Ridgeland, Mississippi (see the full story in the May issue of Rough Notes), for their firm's work to support Mississippi's largest children's hospital.
Next Rough Notes magazine Editor-in-Chief Dave Willis, CPIA, presented the magazine's 2017 Agency of the Year Award to SAVA Insurance Group, Waterford, Connecticut. Willis pointed out that SAVA was selected by past Agency of the Month winners from among the 11 agencies that graced the magazine cover in 2017. "The agency impressed past winners, and that's why they're here with us tonight," he said.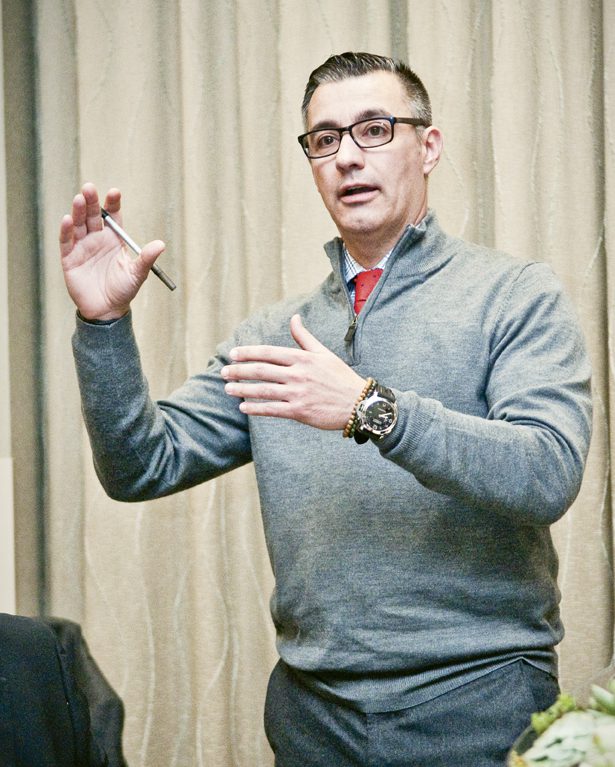 He then shared an agency website synopsis that dove a little deeper into SAVA's "Guided by Heart" tagline. Willis explained, "The website says of the team at SAVA: 'We lead and think with our hearts first. We take time to truly listen and make the best decisions for our clients, based on their unique personal or professional needs. Our insurance professionals will always treat you the way we would want to be treated—with respect, care, and passion.'"
He also shared a few customer feedback snippets that complimented agency team members on their responsiveness, follow-through, client education, and more. "By the way, SAVA Insurance has 64 Google reviews, and their overall review score is five out of five," he added. "Try and beat that!"
The award was accepted by Donna Yother, SAVA Insurance Group president and owner; Diana Buscetto, vice president for commercial lines business development; Debbie Kane, vice president for personal lines business development, and Jordan Buscetto, marketing coordinator.
Winning insight
Yother shared a bit of her personal journey in the industry. From her start as a part-time receptionist for a captive agent, moving next to an independent agency where she advanced through the ranks to manager of a satellite office, to ultimately becoming an agency owner, she said, "My insurance career has been interesting and very rewarding.
"On any given day, we can move through the day wearing many hats: agent, bookkeeper, life coach, janitor, lawyer, and my favorite, the human resources director, which in my opinion qualifies me to be a therapist," she noted. "I really love knowing that every day in the office is going to be different."
Yother said she cherishes the financial and personal opportunities her role offers, along with a chance to meet "some of the kindest and best agents in the industry, who are always willing to share and support one another. However, the best of all is that I have had the unbelievable privilege to work with my two daughters, Diana and Debbie," who also started their careers as receptionists.
She added, "I am so blessed to have two loyal, caring daughters working alongside me every day. I am also proud of their professional and personal accomplishments. They truly represent our motto, 'Guided by Heart,' in everything they do, and they are the most compassionate women I know.
"As an added gift," Yother said, "my granddaughter Jordan joined our team after graduating college and now handles our marketing. She majored in psychology, which can help us mediate the occasional crisis." She also credited her team for its hard work on behalf of clients.
"I came across a quote a few years ago that really resonated with me: 'It's nice to grow a business, but at the end of the day businesses don't exist only to make a profit. They need to make contributions to our community.' And the SAVA team always strives to live that message every day," she concluded.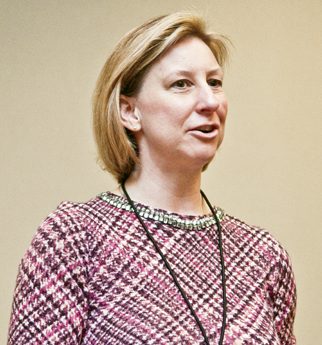 Board meeting
The next morning, attendees took part in a content-intensive half-day look at industry trends and outlook. "A highlight of my year is the ability to bring together industry thought leaders—members of our Rough Notes Agent Editorial Advisory Board—to look at what's working and what needs more attention in our business," Willis notes.
"We work together quite a bit throughout the year, but getting these great minds in a room for a time, and getting them to share with each other and with our editorial team what things look like on the front line, is so beneficial," he adds.
Board members are eager to share new ideas, innovative technologies, agency successes, and even challenges they're facing. "Participants have described the session as 'the best industry meeting, hands down,' 'a great opportunity to engage with top performers from around the country,' and a 'top-notch think tank,'" he says.