Looking Back, Looking Ahead
METZWOOD INSURANCE: GROWING STRONGER EVERY DAY
Fourth generation of agency builds volume in high-net-worth personal lines
By Matthew Wood, CPCU, CIC, CPRM, AAI
---
Founded in 1913 in Ghent, New York, as the George C. Metz Agency, MetzWood Insurance is now in its fourth generation of family ownership under the leadership of its president, Matthew Wood, CPCU, CIC, CPRM. The Metz agency originally shared space with a local meat market (see photo above).
The agency's third-generation owner, Scott Wood, was responsible for growing the business after succeeding his father and grandfather. Scott still holds two basketball records at Chatham High School for most points in a game and most points in a season. He achieved both of these milestones before the introduction of the three-point line.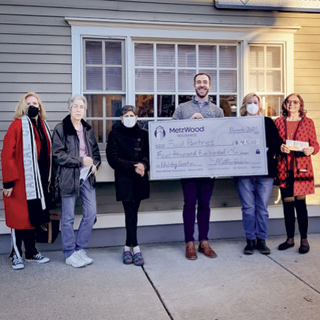 The agency will continue to adopt tools that promote
operational efficiencies
while also enhancing the
client experience and relationship.
This background made Scott a big believer in the power of a playbook. He instituted written processes and procedures throughout the agency to standardize operations and facilitate consistent growth.
The agency has since moved from using three-ring binders to operating a SharePoint intranet site, but Scott's guiding philosophy still holds true today.
MetzWood employs 27 people and has offices in Albany, Chatham, and Hudson. The full-service agency focuses on personal lines and is building a niche market in coverages for high-net-worth individuals and families.
In the late 1980s, the agency adopted the Gemini automation system through Aetna, and in the early 1990s it moved to Applied TAM. Currently, MetzWood Insurance uses Applied Epic for its agency management system. In addition, the agency uses a variety of third-party software products to enhance the client experience.
What factors does MetzWood believe account for its longevity? The answer is threefold, starting with its commitment to developing and implementing processes, procedures, and standards. Second is a strong focus on taking care of the agency's staff; third is acting as advisors to clients and not focusing only on price.
Looking ahead, what key goals and objectives will MetzWood be pursuing?
The agency will continue to adopt tools that promote operational efficiencies while also enhancing the client experience and relationship. Also on the drawing board are strategic acquisitions. Finally, the agency will seek continued growth with referral partners, especially in the residential real estate sector (mortgage lenders, real estate agents, closing attorneys, and so on).
Of interest, MetzWood was named Travelers Agent of the Year for Personal Insurance in 2010 and 2020. Only 12 agencies in the country are selected each year. For this local agency to be chosen twice is a prestigious honor. Also, with more than 750 five-star reviews on Google, MetzWood is the highest-rated agency in New York state.

The author
Matthew Wood, CPCU, CIC, CPRM, AAI, is partner and president of MetzWood Insurance.
Do you know of an independent agency we should feature that has been in business for 100 years or more? If so, please send background information and email addresses to Elisabeth Boone, CPCU (elis.boone@icloud.com). We'll take it from there.