RAISE 'EM HIGH
Pennsylvania young pro thrives with niche in craft beverage industry
By Christopher W. Cook
---
In the insurance industry, certain dedicated young professionals stand out among their peers
and are members of an elite squad of individuals. These are their stories. "Dun dun."
It's almost summertime! I can hear Olaf from Disney's Frozen singing gleefully and a Beach Boys tune is playing at a party nearby. It's that time of year for patio dining with family and friends, with good food and a cold frosty beverage in hand.
What's that? You don't like beer? This month's Young Pro-Filer will tell you that somebody not liking beer isn't a thing; they just haven't had the right one yet. And while alcoholic drinks aren't for everybody (one of this writer's friends recently opened a non-alcoholic bottle shop with some great stuff), Kyle Rheiner, CIC, principal and food and beverage practice leader at Arthur Hall Insurance in West Chester, Pennsylvania, grew up around the food and beverage industry and developed a successful niche in craft breweries, distilleries, and restaurants.
"My mother was always a server and bartender, so I grew up bussing tables and then serving and bartending as I got older," Rheiner says. "I always liked the fast pace and seeing different people; there was something different every day. In college I worked at a brewery."
Rheiner graduated from West Chester University with a bachelor's degree in marketing, having switched his major from accounting just before his senior year.
"I took classes in the summer and extra classes that year and graduated on time," he says. "I went to a college career fair and got hired by ING Annuities about a month before school ended. I kind of wanted a break, but I graduated on a Saturday and went to work on Monday."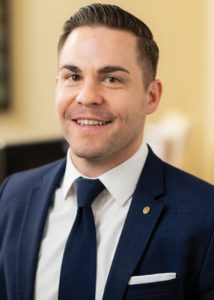 "Don't make a big deal about 'finding a mentor.' Just talk to people and you'll discover, 'oh, that's a mentor,' somebody I can bounce questions off of."
—Kyle Rheiner, CIC
Agency Principal
Arthur Hall Insurance
Rheiner started his career selling mutual funds and annuities with ING for four years before moving to Prudential in a similar role for three more years. "I wasn't passionate about the industry; the financial market wasn't something that I was interested in," he says.
"I felt like I was a number. We'd make phone calls and you had to hit your numbers, and you were judged on your numbers. I could've had a two-hour-long great conversation with somebody, but it wasn't 30 calls, it was one. I wanted to build relationships and a client base of my own."
With family members in the insurance industry in various roles, Rheiner asked around for advice. "I saw the flexibility, the business model, the life that it could create, and I could do it on my terms, so I took my exam while I was at my employer at the time and then I quit," he says.
Rheiner began his insurance career as an agent for Strickler Insurance in Lebanon, Pennsylvania, in 2013.
"I started out as a generalist. After two years in the insurance industry, a light bulb went off when I saw what the craft beverage industry was doing. I saw an opportunity," he says.
"[Strickler Insurance] was very strong in insuring manufacturing companies including breweries and wineries. I took the knowledge from my background, paired it with my growing insurance knowledge and decided to focus on one thing. I'm a believer that if you chase two rabbits, you will lose them both, but if you chase one then you will absolutely get it."
Rheiner developed his niche and now insures over 150 breweries, distilleries, and restaurants in the United States.
After a chance encounter through the Rotary Club of West Chester, Rheiner began working at his current employer in 2020. "[The agency owner and I] were working on a project one weekend, and he asked if I'd like to grab breakfast. I thought, 'Am I not doing enough Rotary projects?'
"I didn't even know he worked in insurance at the time. He and one of the other principals took notice of what I had been doing in the craft beverage space and told me that they did what I did and that they were looking for ownership for the future and that I was a good fit. I took the opportunity. If I'm going to work for 30 more years, I might as well be an owner," Rheiner says.
Rheiner was named a partner of the firm in April 2023.
Accomplishments, involvement, and advice
A life-long learner who believes that "if you aren't learning, you're dying," Rheiner earned his CIC in 2017 and highly advises new professionals in the industry to seek further knowledge through designations.
"Earn designations in your field before going back to get an MBA," he says. "I couldn't read an insurance policy before I took the classes and now I can; I know what the terms mean, I know what terms don't mean, I know where to find the definitions. I know how to take that knowledge and help my insureds understand what they have and what they don't. I know how to work with underwriters and craft certain coverages and talk them through scenarios.
"The more you know and the sooner you know it, the better of an insurance agent you can be," Rheiner adds. "Do it fresh out of college if you can while you're still in study mode. Sometimes it's hard when you get farther away from [school]. You may not want to go back or then you have children and you don't have the free time to study."
Rheiner is currently working on his CRM designation.
As for his career, Rheiner is appreciative of numerous people for helping him along the way. "My wife and my family told me to go for it [when I was thinking about leaving the financial world]," he says. "[Strickler Insurance Agency Owner] Patrick Freer is a great mentor and friend. Chris Hofmann with Assured Partners was somebody who took me under his wing early on and would take me to seminars and classes.
"The employees at my office are truly beneficial to my career. I doubled my book in the last three years after building it up for the first seven years. It's exciting to see what you're capable of when you have the right people around you."
Rheiner credits another mentor, Matt Jesson, president and CEO of Green Lawn Fertilizing, with helping him discover his career path. "When I was selling annuities and kicking around the idea of quitting my job, he asked me, 'What do you want your life to look like when you're 65?' I told him what I wanted and then he said, 'Now back into it. How do you get there?' That was the light bulb," Rheiner says.
When it comes to his accomplishments, Rheiner is proud of being on the cover of Independent Agent magazine in 2016, earning his CIC designation, and being named a 2023 VISTA Millennial Superstar, among others.
"Jimcor Agencies named me 'Niche Master' of the Year in 2017 and I spoke on a panel at a conference down in New Orleans," Rheiner says. "I've rappelled down the side of a building in Philadelphia twice, run Spartan races, and completed a half marathon. Some of these things are not business related, but they build confidence and help you overcome adversity.
"I've met Jim Koch from Sam Adams, Dick Yuengling, and Garrett Oliver from The Brooklyn Brewery, and Bill Covaleski with Victory Brewing is a big mentor of mine," he notes. "It's about the people I get to meet and spend my time with, and I don't have to shave and I can wear jeans. And I get to build a career while doing it. That's success and happiness to me."
Additionally, outside of the office, Rheiner keeps busy volunteering with The Rotary Club of West Chester, where he's on the Board and in the pipeline to become president in 2026; the West Chester University Alumni Association, where he served as president for three years; and Outward Bound, a school that helps the less fortunate go on outdoor adventures. He is also a member of the Brewers Guilds of New Jersey and Pennsylvania, the Brewers Association, and the American Distilling Institute.
For young professionals starting out their careers, Rheiner advises to "look at your life when you're 65. Find what you are passionate about and build a career around it," he says.
"Talk to people. I didn't find mentors until later than I should have. Don't make a big deal about 'finding a mentor.' Just talk to people and you'll discover, 'oh, that's a mentor,' somebody I can bounce questions off of.
"Find your niche and do it better than everybody else. Fight through the dip—people get a job and they're all excited about it for two years, but then it's not going where they thought it would; it's tiring and starts to slow down. They give up. You've got to fight through that. Keep pushing. Stay curious, stay creative, be humble, have fun and stay hungry (or thirsty)!
"Don't get complacent. Don't compare yourself to others; compare yourself to the you of yesterday and get better every day. When you're doing what you enjoy, everything comes easier."
Life outside of insurance
When he isn't doing "insurance stuff," Rheiner stays active with his family. "We've got two daughters ages 8 and 11; they have fishing rods and golf clubs, play volleyball, basketball, softball, lacrosse, so I'm now a basketball and lacrosse coach," he says. "I spend as much time as I can with my wife and kids; after work I shut the phone off.
"We are huge Philadelphia Phillies fans; we watch every game and we go to as many as we can.
"We love to travel. We love food. I love beer. I enjoy cooking, just not all the time. We have guinea pigs and a leopard gecko. I enjoy golfing and fishing for the exposure to nature, and I love quiet."
Rheiner also recently began playing the piano since, "I was the only one in my house who couldn't read or play music, so I was like 'that's not going to continue anymore,'" he says with a laugh.
Another activity that Rheiner enjoys is working on his podcast, The Beer Mighty Things Podcast.
"At the end of 2019, my buddies and I were kicking around the idea of doing a podcast," he says. "In January 2020, I went to a Pennsylvania Brewers Guild meeting in Pittsburgh and I realized that there weren't a lot of folks from Philadelphia and the eastern side of the state out there. The event had keynote speakers and a lot of good information being discussed but it wasn't recorded and not getting back to members not at the event.
"While I was sitting there I thought, 'why don't I just start interviewing these speakers, these knowledgeable people in our industry,' and essentially create a craft beverage business library in podcast form. That was my idea. I just wrote it down at the time, but then in March COVID happened and now everyone's using Zoom, and with that I could record and talk to anybody.
"So already having a microphone and a camera, in April 2020 I just started calling some of my clients and interviewing them, having them tell their story, give their insights, best practices, do's and don'ts," he continues. "There's a lot of personal development, mentoring and entrepreneurship. It's a business entrepreneur playbook. I put out a new episode every Tuesday."
All this talk about beer has made this writer thirsty. Everybody, grab a glass and raise 'em high. (Drink responsibly.)