A GREAT OPPORTUNITY
Two veterans praise the insurance industry as a career option for outcoming military personnel
By Christopher W. Cook
---
It is once again May, a month where near its conclusion on Memorial Day we take time to remember the brave men and women who made the ultimate sacrifice serving our country. And as in previous Mays of recent years, it's time to have two of our comrades in insurance discuss their military experiences, how those experiences prepared them for their careers, and why this industry is a good fit for veterans.
Thank you for sharing and thank you for your service.
Navy Lieutenant Bowen
Rob Bowen Jr., principal and owner of Patriotic Insurance Group in Chester, New York, had no intention to join the military; but after receiving an economics degree from Lafayette College, he had no set plan.
"I was out of college for about six or seven months, and I was rock climbing and ice climbing and having a grand old time, but I knew it wasn't something I could do the rest of my life. My whole family is Navy, so I went to a recruiter and asked what they had to offer," Bowen says.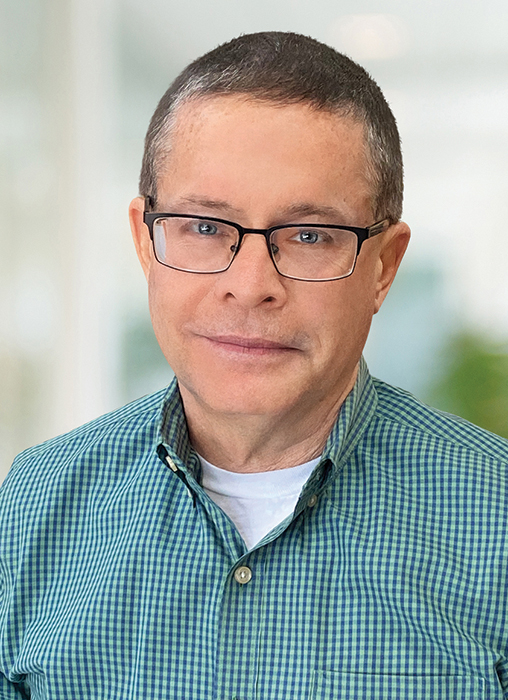 "I work with a lot of franchise people and there's a reason they go after veterans: They're good at attention to detail, being a part of a team, leadership, and they're teachable."
 —Rob Bowen Jr.
Principal and Owner
Patriotic Insurance Group
Since Bowen wears glasses, he was informed that he couldn't fly planes, but he could become a naval flight officer and be in the back of the plane.
"I was 23 years old and thought it sounded like fun," Bowen says. "I went to AOCS (Aviation Officer Candidate School) for the summer in Pensacola with Marine Corps drill instructors; that was life changing. It was right after Top Gun came out in 1986.
"I left AOCS and had two years of Flight School in Pensacola, and then spent three years in San Diego on a deployable squadron; we were the first carrier (USS Independence) to pull into the Gulf when Saddam Hussein invaded Kuwait on August 1, 1990. All the training we did became real extremely quick.
"I was an E-2C Hawkeye, which was 'airborne early warning' off the carrier," he continues. "We'd go first and then the F-14s would follow us. We'd go up 30,000 feet and could see for hundreds of miles, so our job was to protect the battle group and tell them where to go. We had three scopes in the back and a lot of radios for communication.
"We had incredible responsibility at a young age. I was 25 at this point and making decisions in the Persian Gulf that could have national or inter-national consequences. I was also the avionics division officer, so I was responsible for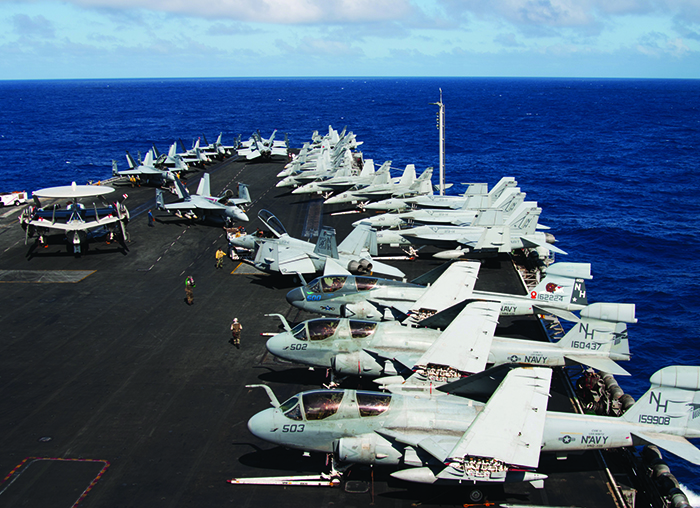 about 30 people who kept all the radio and computer systems up and running."
Following his deployment in the Gulf War, Bowen returned to the United States for a rotation on shore duty. At the Joint Warfare Analysis Center in Dahlgren, Virginia, he served as a naval officer analyst, while also earning his master's degree at night.
At this point, Bowen—now married and looking to expand his family and actually watch his kids grow up—opted to join the civilian world after eight years of service. He spent five years employed with The Bank of New York before shifting to Standard & Poor's, where he rated life insurance companies.
"I left S&P in 2008 and I worked for Dun and Bradstreet, so I was around insurance but had never sold retail," Bowen says. "At age 50, I decided that I was done with working for other people and moved to [insurance retail].
"I started in the captive world, and then transitioned to the independent world in October of 2020. It's a lot better on this side, and I love what I do every day." Patriotic Insurance Group, a P-C agency focusing on small- to medium-sized businesses, has four employees and niches in real estate and HVAC and landscaping companies.
Air Force Airman First Class Wallace
Jeramy Wallace, chief operating officer at The Insurance Alliance, signed up for the United States Air Force in June of 2000, a year after graduating from high school.
"I originally wanted to be placed in Special Tactics, but my vision wouldn't allow for it," he says. "The recruiter twisted my arm and placed me within, as he would describe it as 'the biggest partiers on base, the Pavement Maintenance and Horizontal Construction—Civil Engineers, also known as the Dirt Boyz."
Wallace was stationed at Hickam Air Force Base, near Honolulu, Hawaii, from December 2000 to March 2005.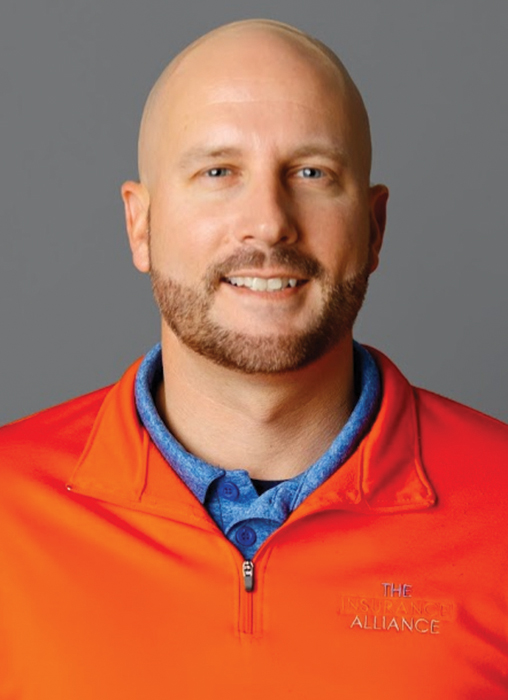 "Seeing how other cultures in other countries accomplish the same tasks we did but in a completely different way taught me valuable life lessons that hold true to this day."
—Jeramy Wallace
Chief Operating Officer
The Insurance Alliance
"I deployed with the 380th AEF (Air Expeditionary Force) to Al Dhafra Air Base in the United Arab Emirates to support Operations Enduring Freedom and Southern Watch, the precursors to the second war in Iraq," Wallace says. "I would later deploy to Guam to assist in typhoon damage recovery; our 'Triple R' training (Rapid Runway Repair) took place in Okinawa."
In 2005, Wallace was medically discharged (honorably) from the USAF. "In 2002 while deployed in the Middle East, I injured my lower back while building bomb shelters and revetments," he says. "I was never able to fully recover to be able to return to my assigned duties."
After the military, Wallace returned to school with the mindset of becoming an architect.
"I went to William Rainey Harper College in the suburbs of Chicago; after two years, I transferred to Southern Illinois University to finish my degree," he says. "As unexpected things tend to happen in life, I transferred again to John A. Logan College and finished with a degree in technical resource management (construction management).
"Upon graduation, we were deep into the financial crisis of 2008. Nobody was building anything. I had a useless degree."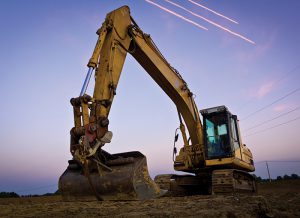 Wallace was recruited into the insurance industry in 2009, where he started out selling annuities and life and health insurance to senior citizens with a company for two years. "I did very well; the career felt like the right fit, but the company most certainly did not," he says.
However, Wallace left the insurance industry in 2011 and started working for Amtrak as an assistant conductor. "I moved up to be a conductor and then a trainmaster (road operations manager)," he says. "Again, as unexpected things tend to happen in life, it was now 2020 and COVID struck; my job located in St. Louis was eliminated. I was offered a lateral move to another city in another time zone, but I declined.
"At the end of 2020/beginning of 2021, my friend Jason Cass asked me if I would be interested in revamping the personal lines department at his agency. I gladly accepted. The plan was to get that up and running and then take on commercial clients. I wasn't selling insurance anymore; I was helping people purchase it. There is a big difference in what I was previously doing in insurance versus what I do now.
"I never made it to commercial lines though; they moved me to the COO position, and it is the best place I have ever been throughout all of the careers and phases in my life."
Veterans in insurance
With both having served in the military and now loving their jobs in the insurance industry, Bowen and Wallace find that their experiences while serving the country helped trans-late to their current jobs and that it can do the same for other veterans shifting to civilian life.
Bowen credits the Navy for developing his leadership skills and giving him the ability to step outside of his comfort zone. "The military gave me the ability to get uncomfortable," Bowen says. "Landing aboard a carrier when you're in the back of a plane can be stressful. I'm okay with not knowing what's in front of me.
"To make changes as the sole decision maker of a business, you need to use leadership to drive your team, and you learn leadership in the military. As a small business owner, I can pivot quickly making decisions. If my team provides feedback when something's not working after a couple of weeks, we pivot to something else. The military teaches you to be a good decision maker."
Wallace believes that his military experiences working with a variety of individuals with different backgrounds was beneficial in his move to insurance.
"Growing up, my mother was an Illinois State Police officer, so I entered the military with a lot of structure already in place. However, I had never really been anywhere else for any real amount of time to experience how the world worked outside of Southern Illinois.
"Meeting people from all walks of life, from all over the United States, was eye opening in a good way," Wallace explains. "Having the opportunity to serve alongside some of the best human beings from across the country instilled values and belief systems that otherwise would not have existed. Meeting people from all over the world was incredible. Seeing how other cultures in other countries accomplish the same tasks we did but in a completely different way taught me valuable life lessons that hold true to this day."
With the skills obtained in the service, the insurance industry seems a perfect fit for veterans.
"A career in insurance requires a significant amount of discipline to be successful. The environment is continually changing, so stress-management is just as important, too," Wallace says.
"Insurance offers a chance to grow a business pretty quickly," adds Bowen. "I work with a lot of franchise people and there's a reason they go after veterans: They're good at attention to detail, being a part of a team, leader-ship, and they're teachable.
"We do need to focus on these kids coming out of the military; insurance is a great opportunity for them," concludes Bowen, who also helps veterans by collecting donations at his office for Suits for Soldiers and serving on the board for HERoes in Deed.