BROKEN GLASS
POWER HITTER
Aon executive promotes diversity and inclusion
It's our pleasure to present another article in our Broken Glass series, in which we talk with a woman in the independent agency and brokerage business about the challenges and rewards she has experienced throughout her career. This month we profile Jennifer Torneden, senior vice president of Aon Affinity, an industry veteran whose background encompasses global, national, and international executive positions and who vigorously advocates for women in insurance and has spearheaded numerous diversity and inclusion initiatives.
By Elisabeth Boone, CPCU
In the game of baseball, every team needs a power hitter … a player whose strength, coordination, and timing combine to deliver the long ball that sails cleanly over the fence for a game-winning home run.
Among the power hitters in the agency and brokerage world, Jennifer Torneden is a standout by any definition. Currently senior vice president and director of broker distribution for Aon Affinity, she previously held top positions with Zurich, where she was involved in sales, marketing, branding, and global finance. At Aon Affinity she is responsible for branding and growing a national broker distribution system for the unit, which develops and markets insurance programs for affinity groups.
Like most of us, Torneden didn't harbor the ambition to embark on a career in insurance. In fact, she had in mind a far more glamorous pursuit: to become an FBI agent. Not a typical role for a woman, even in the 1990s.
"During high school and college I participated in several FBI internship programs," she recalls. "But by the time I graduated from college the FBI had imposed a freeze on hiring and extended the retirement age for agents, so positions weren't open for new hires. I implemented my backup plan, which was to enter a corporate management training program to gain business experience, then wait out the three or four years of the FBI hiring freeze and join the agency."
The management training program Torneden joined was offered by Aon. "I took the job without really knowing much about Aon or its mission," she says. The program exposed her to key facets of the company's operations and helped her prepare for a transition to management consulting with Arthur Andersen where she provided best practices to the Department of Defense, the Nuclear Regulatory Commission, and the executive branch.
Torneden's next move was to Zurich Insurance, where between 2000 and 2016 she assumed responsibility for a range of operations in both the United States and Switzerland. "When I was offered the opportunity to work at Zurich's headquarters in Switzerland, I had to decide between that and applying to the FBI," she says. "I was excited about the chance to work overseas, so I accepted that offer and never looked back." The transition was relatively easy for Torneden as she was born in Belgium and lived in Japan, although she spent most of her life in the United States. "As a result, moving to 'country number four' was not that hard," she says with a laugh.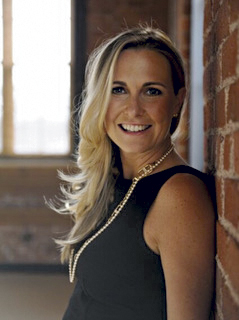 Back to the future
In 2016, the CEO of Aon Affinity called Torneden and asked if she would like to return to Aon in a leadership role. Twenty years earlier she had worked for him as a financial analyst, and he invited her to join his team to accelerate growth in the unit.
"When I entered the Aon management training program right after college there weren't many women in accounting or finance, but one woman really stood out," Torneden says. "She was encouraging and supportive, helped me when I needed it, and challenged me. She was the head of a business unit, which at the time was a rare role for a woman. She strongly encouraged me to be supportive of other women in their career pursuits. Thanks to those early positive experiences, I wasn't overly concerned about gender bias as I advanced to positions of increasing responsibility," Torneden asserts.
"When I moved to Switzerland in 2005, it was very early in my career," she continues. "I saw myself more as a foreigner than as occupying a gender role. I had to acclimate to my new surroundings by learning German and adapting to a different culture. Offices in 25 countries were reporting to me, so I had to become aware of many different nuances in attitudes and behavior as I built a brand-new global department and team. I got pretty good at knowing the time zone for every location on the planet!
"That experience shaped me and how I work with people. When I returned to the U.S. six years later, I inherited a multicultural team of people from all over the world, and that was highly unusual in the U.S. market. Age diversity, racial and ethnic diversity, cultural diversity, gender diversity—all these attributes characterized our team, and my experience in Switzerland was a significant advantage as I interacted with the team members," Torneden remarks. "It was highlighted in a U.S. leadership meeting that I had turned a low-performing team into a high-performing team in a matter of months. I'm still in touch with almost everyone who has worked for me directly, and I try to help them excel in their careers wherever they are today.
"Our diverse group was part of a larger organization where diversity was not much in evidence," she observes. "Most departments and teams were headed by white men who had mostly white men working for them. That's when I decided that, based on my experience in multicultural environments, I was qualified to lead a diversity initiative and start a movement with some of my colleagues."
To demonstrate that such an initiative was sorely needed, Torneden relates an exchange that took place between herself and a white male colleague. "When I told him that we needed to focus on D&I (diversity and inclusion), he asked me: 'Is D&I an insurance product like D&O?' That conversation was four years ago, and we've come a long way since then," she observes with satisfaction.
During her tenure with Zurich, Torneden spearheaded several such initiatives. "I looked back on my career and thought about the people who helped me advance and succeed, and I wanted to foster an environment where those opportunities were open to everyone," she says.
"I joined the women's board at Zurich. We had 800 to 1,000 members, and I took a volunteer leadership role to manage 32 offices around the country. My job was to get them up and running, advise them, empower them, and make sure they had what they needed. I enjoyed encouraging women to serve as leaders and give back by supporting other women."
At Zurich, Torneden worked for the global chief administrative officer. "He was extremely supportive of challenging and promoting women at all levels of the organization, and he encouraged me to take on a global role at the company early in my career. He supported my pursuit of an MBA at a top school, and he also suggested that I start playing golf as a way to network with influential people," she explains. "At that time Zurich had embarked on two major sponsorships of professional golf, and he asked me to transform the program to engage customers around the world and to expand our philanthropic outreach. I enjoyed the challenge of broadening the scope of the program so it would be more inclusive and less like an elite country club."
Reaching out
Working with a female colleague, Torneden helped to develop three other diversity programs at Zurich: the African American Alliance, Pride (for LGBT employees), and Emerging LeaderZ. "We believed these groups were needed, and we received a lot of support as we built the groups from the ground up," she says. "We engaged legal and HR to make sure that the groups would be sustainable and replicable. I was honored last February when the African American Alliance invited me to speak on a panel. I was pleased to hear from members how far they've come and how much support they're receiving for their efforts to speak up about career development and ownership."
Equally important, Torneden continues, is promoting gender diversity. "Every time we launched our diversity program in a new office, we made sure that we had both a man and a woman leading a group."
As a result of her experiences in championing diversity in the workplace, Torneden says, "I learned what works and am able to share that knowledge with the members of a nonprofit board I serve on for a group of women entrepreneurs called Growth Source Academy. Immediately upon returning to Aon I joined the newly formed diversity and inclusion board. Today I see much more top-down support for diversity with respect to metrics. Initiatives need to be led with passion, but they also have to satisfy certain metrics; it's not as much of a grass-roots initiative as it used to be. There's still a lot more to do, particularly in middle management, but we've made great strides over the past several years to create a movement in the insurance industry with D&I groups, training, panels, and encouraging CEOs to discuss openly the challenges we face. Where appropriate, they also should release the actual numbers related to diversity so we have a baseline from which to move the needle in a big way."
As noted earlier, few of us were born with the burning desire to pursue an insurance career. Despite zany TV commercials that promote leading direct writers, insurance continues to be seen as distinctly lacking in sex appeal, perhaps even more so for young women and minorities who are completing their undergraduate or graduate studies.
"I think that if our industry wants to attract bright, motivated young people, especially diverse candidates, it needs to market itself to them much more effectively," Torneden comments. "It's not enough to set up a booth at a college recruiting event and hang up a big banner with the company's name on it. I've seen students look at certain banners, realize they've never heard of the company, and move on. Everyone knows the names of the big banks and major corporations, but our industry needs to do a better job of creating a path for graduates to follow. It also helps to have young people at the forefront of recruiting efforts so students can interact with people who look and talk like them."
All that said, Torneden believes that opportunities in the insurance industry abound for women because of the strong corporate focus on diversity and the removal of obstacles that traditionally prevented women from attaining leadership positions. She adds, however, "I'm not sure women in their 20s and 30s are aware of the opportunities our industry offers, and we need to reach out more aggressively to those women. They're not necessarily concerned with gender bias, but we need to give them good reasons to consider a career in insurance."
Torneden is gratified to see women breaking the glass ceiling in other fields of endeavor. "Recently I went to a dude ranch for a week, and I was expecting to see a bunch of cowboys running the place. When I showed up there were 20 wranglers, and 18 of them were women. I was blown away. One of the women told me that at age 24 she was the first female firefighter in her town. I see so much opportunity for women to go into traditionally male-dominated fields and prove they have what it takes to excel and maintain a strong sense of pride."
A mantra that resonates with Torneden is that women need to help other women. Throughout the day in both her professional and personal lives she can be seen pointing out examples of women helping women. "The LGBT community is so powered up, so visible, and so committed to reaching out to people from many demographics," she observes. "In addition to promoting acceptance and inclusion, they have worked hard to build themselves into a cohort with strong buying and selling power. I'd like to see women find and harness that kind of power and dedicate it to helping each other. If we can build that diverse and inclusive coalition, I think the opportunities for us are endless."
Do you know a female agency owner, principal, or executive who might make a good subject for a future Broken Glass profile? If so, please contact Elisabeth Boone, CPCU, senior features editor of Rough Notes (elis.boone@icloud.com), and provide some details about the woman as well as contact information. We'll take it from there.