PUT IT DOWN
How are you making sure your clients are safe behind the wheel during Distracted Driving Awareness Month and beyond?
By Christopher W. Cook
April is Distracted Driving Aware- ness Month, and one insurer is pushing for hands-free laws in all50 states, as the ones that have already passed such legislation—only 21 states and the District of Columbia as of February—have seen an average 15.3% decrease in vehicle fatality rates.
Kirt Walker, chief executive officer of Nationwide Insurance, made the announcement in a February news release.
"The National Safety Council tells us that one in four crashes are due to mobile phone usage while driving," he said. "With a recent average of 37,000 deaths per year on our roadways, countless lives could have been saved and many more serious, life-changing injuries prevented if drivers' attitudes were changed about driving while holding a mobile device.
"We feel a moral imperative to create a mindset where distracted driving is viewed as just as culturally unacceptable and undesirable as driving under the influence of alcohol or drugs."
"A hands-free approach is practical and proving to be effective in reducing traffic crashes, injuries, and fatalities," added Nationwide's chief legal officer, Mark Howard. "We believe so strongly in hands-free legislation that we are also urging the National Council of Insurance Legislators (NCOIL) to draft model legislation that other states can use for implementation across the country."
Nationwide has long been an advocate for distracted driving awareness, from offering seatbelt discounts back in the '60s to its "Prom Promise" campaign against drunk driving in the '80s and '90s.
"As a company committed to protecting people, businesses and futures with extraordinary care, we believe there is no more important work that aligns with our values and the responsibility we have to our members and each other," Walker said. "We're looking forward to working with officials across the country to raise awareness and to advocate for this change to keep all eyes on the road and both hands on the wheel."
For personal lines
While implementing hands-free laws across the country sounds like a step toward safer highways and fewer driver fatalities, it's important for agents and brokers to make sure their clients are informed as individual states pass similar legislation.
Going into effect in July 2017, Washington state's Driving Under the Influence of Electronics (E-DUI) law prohibits drivers from using an electronic device, whether it be a cellular phone, tablet or laptop.
The law was enacted because, according to the Washington State Traffic Safety Commission, fatalities from distracted driving increased 32% from 2014 to 2015, and one in four crashes involved cell phone use just prior to the accident.
Before the law took effect, a six-month grace period was initiated, and during this time frame Washington State Patrols issued nearly 7,000 warnings. Post-grace period tickets go on the guilty party's driving record and are reported to their insurance provider—similar to speeding tickets—potentially increasing their premium. The first infraction costs $136 and the second (within a five-year period) goes up to $234.
Devices may be used with a hands-free option, like Bluetooth, or if a driver can start a program on the device with a single touch or swipe, such as starting a navigation program or turning on music, which should be done before one starts driving. Contacting emergency services like 911 is also allowed.
What can agencies offer their clients to help prevent distracted driving?
To prepare its clients for the new E-DUI law, McClain Insurance Services (the Rough Notes 2014 Agency of the Year, located in Everett, Washington) began providing cell phone holders that mount in the front air vents of the vehicle.
According to Claudia McClain, the agency's founder, "We had to reorder three times and distributed more than 1,000 over a period of about six weeks."
Providing cell phone holders is just one option to make sure your clients are following hands-free driving laws. On the technology side, a search on your mobile device's app store (please don't do this while driving) can turn up a plethora of distracted driving prevention options.
LifeSaver auto-detects when a vehicle is in motion and blocks phone use while on the road; a driver portal option for parents can inform them when their teenage drivers have arrived safely at their destinations. bSafeMobile by Cogosense locks the device in a "safe mode," disallowing incoming calls, texts or emails to come through. The app also monitors and reports unsafe driving behaviors like speeding, hard braking or excessive acceleration. A Google search or inquiry in your app store will turn up numerous options.
For commercial lines
When it comes to distracted driving prevention for a company—say a trucking fleet—TRUCE Software provides a contextual mobile device management (CMDM) product.
Founded in 2009, the company was established because of "an observation of the challenges of mobile distraction. One of the co-founders was trying to talk to his son, and his son was so immersed in his phone that he walked full speed into a door," says Joe Boyle, chief executive officer of TRUCE Software. "That recognition in the early days of smartphones and how addicted we were becoming to those devices led us to focus on what matters the most at any given time."
After spending years in the research and development phase, TRUCE created a policy-based enforcement platform for how mobile devices can be used in the workforce for any situation.
"All the world is situational," says Boyle. "What's okay for me to do on my mobile device when I'm at home on my couch is different from what's okay for me to do when I'm in the office, and that's different still from what I'm allowed to do when I'm driving a vehicle. We recognized that everything is situational and built a CMDM platform that gives our customers the ability to think about how their workers are getting the most out of mobile technology in their workday and how to limit the downside risks.
"The major use for our technology is in the prevention of distracted driving. We support well over 100,000 workers every day across nearly 500 different customers," he adds.
The platform has three major components.
"It begins at the administrator portal where our customers create usage policies for mobile devices," says Boyle. "Everything we do is based on our customers' policy. It's not a one-size-fits-all platform; it is highly configurable. Our customers decide what levels of device use are appropriate for different levels of their work for different levels of their work environment, and we enforce those."
The second component is the app, which is deployed on all employee mobile devices.
The last component is context.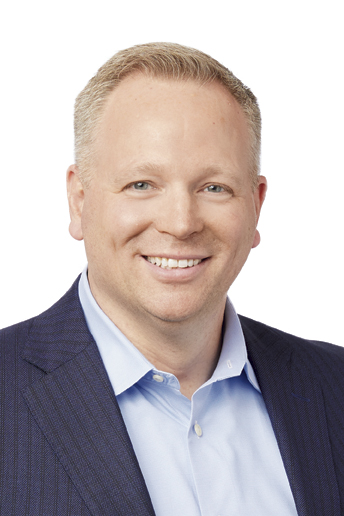 "Our customers want to be able to enforce policies that stop people from watching YouTube videos or texting while driving when they're in a company car, but they don't want to enforce those same policies on a Friday night when their team members are getting into an Uber," says Boyle. "We need to be able to put device usage in context and understand the exact situation that a worker is in at any given time. To do that, we use contextual indicators from time of day to location.
"Sometimes context becomes very micro. We need to understand the difference between being in a company vehicle vs. another vehicle or riding a bicycle. To accomplish that we have lightweight beacon technology that we deploy inside the work zone or inside the vehicle that helps us define that micro-context and bring all the pieces together.
"The beacon, which usually goes in the glovebox of the vehicle, establishes that the employee is in a company vehicle and the policy should be enforced. It's the connecting piece that helps us understand when we should be enforcing policy and when we shouldn't. It's about establishing the work zone."
Once the work zone is established, are the same policies in effect for every employee in the vehicle? For example, two moving companies may each have a crew of three employees. One company may find that any device use is distracting to the driver, so none of the three employees may have access to their phones, whereas the other company may be okay with nondrivers using their devices.
"We have an undefeatable image-based recognition capability in our software that allows the device to detect when a person is in the passenger seat or rear seat, so those workers can come out of enforcement and have access to their devices," says Boyle. "It's all based on the company's policy.
"When you put the solution together, you have an environment where workers—when they're not in a protected zone—have full access to their phones. They don't even know our technology is there, but when they enter that company vehicle, or the protected zone, their device goes into a mode where they can no longer access distracting content like YouTube, FaceTime or texting."
While the company gains traction, the number of its agency partners—currently around two dozen—continues to grow.
"Partnering with agencies is an important part of our strategy," says Boyle. "We consistently hear from not just our partners, but everyone we talk to in commercial insurance, that loss ratios on auto continue to go up. Every source you look at says that between 40% and 50% of commercial auto accidents are being caused by people looking at technology.
"It's a logical and natural fit for our insurance partners; an ounce of prevention is worth a pound of cure. If you can put the technology in place, it's good for your commercial customers because it protects the welfare of their team members and protects their brand and reputation. Nobody wants their driver to be spotted going down the road with a phone in his hand.
"We have a team dedicated to building and developing relationships with our insurance partners, including working with the loss prevention and underwriting teams."
A Forrester study on the Total Economic Impact of TRUCE Software, commissioned by the company in November 2019, found that after implementing the software, the interviewed organizations reported seeing reductions in vehicle accidents that ranged from 50% to 58% in as little as six months, which led to renegotiated premium rates with their insurance providers. While larger organizations self-insured, others shared that they were able to reduce their excess auto liability policy costs by 5% to 20%. Organizations also found improved driver satisfaction and brand reputation.
Despite the well-known dangers and liability costs, distracted driving is still a costly issue for companies who cannot ensure their employees are putting down their mobile devices while behind the wheel.
"We believe that distracted driving is an epidemic; it's costing a lot of lives," says Boyle. "We're a mission-driven, values-based company that's aggressively trying to make an impact, and the faster we can grow the more of an impact we can have. We're excited to continue to add customers and protected workers to our platform and reduce the number of unnecessary accidents from happening."
For more information:
McClain Insurance Services
www.autohomeboat.com
Nationwide
www.nationwide.com
TRUCE Software
www.trucesoftware.com