SAN ANTONIO ROSE …AND KEPT ON RISING
Now the owner of a successful all-lines agency, Shirley Crandall shares the story of her climb to the top
By Elisabeth Boone, CPCU
---
It all started in high school, when Shirley Crandall began to work part time for Travelers. She continued her employment with the insurer throughout her college years and graduated from Southwest Texas State University (now Texas State University) with a BBA in marketing.
"I worked at Travelers on Mondays, Wednesdays, and Fridays," she recalls, "and I went to classes eight hours on Tuesdays and Thursdays."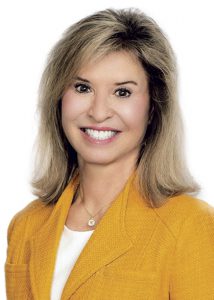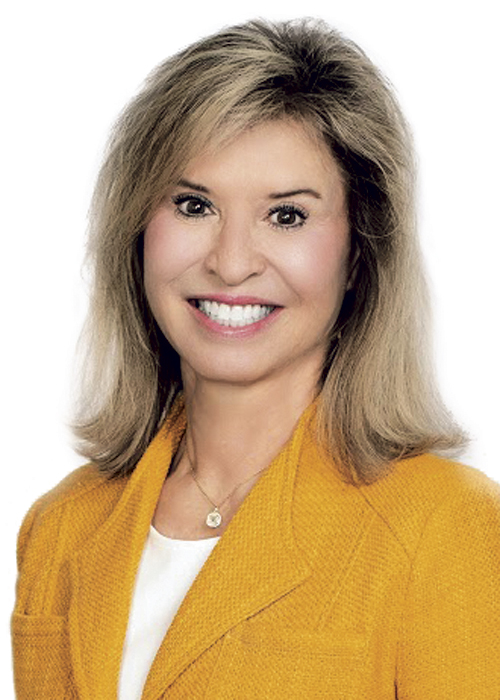 "The dynamics have changed dramatically from when I first started in the industry. … I wish I were starting now!"
—Shirley Crandall, LUTCF
Owner and President
Crandall & Associates, Inc.
Crandall's responsibilities were doing transcriptions of auto accidents, sorting and distributing mail, working the switchboard, and filling in at the human resources department. "My mother worked in employee benefits, so I had a natural 'in' when I applied for the job."
After graduating, Crandall spent 18 months in commercial sales with a telecommunications company. She then returned to her roots in insurance and began her journey to ownership of an all-lines agency.
In 1983, Crandall joined Transport Life Insurance Company and sold partially funded medical and dental plans to employers with over 100 employees. "I was 29 years old and was making $60,000 back in the middle '80s, with a company car," says Crandall. "I wasn't married and had no kids, so I was living high off the hog."
During the mid-1980s, Texas experienced an economic downturn, and Crandall's clients were either downsizing or being acquired by other companies.
"The oil crunch hit, and the Resolution Trust was buying back a lot of homes," Crandall explains. "People were losing their homes because they over-mortgaged them."
After four years with the employee benefits insurer, Crandall took the advice of a headhunter and in 1987 opened her own agency to capture a larger share of the market. The agency specialized in employee benefits, and Crandall, who has earned the LUTCF professional designation, was the only employee.
The agency was incorporated in1991 and named Crandall & Associates, Inc. In 1993, the firm moved to its current location; and in 1995, in response to numerous requests from clients, it became a full-service, multi-line agency that offers personal and commercial lines in addition to employee benefits. Today the agency has 10 employees, including Crandall's daughter, Laura Culp, CEBS, GBA, RPA, who is vice president of employee benefits sales; and Crandall's son, Thomas Culp, CIC, CLCS, who is vice president of property and casualty sales.
"I could not only do self-funded plans but also fully self-insured plans, so my prospect base opened up tremendously," Crandall says. "In 1993, I connected with a man who was selling commercial and personal lines, and we agreed to refer leads to each other. I was refer-ring a lot of business to him, and he wasn't referring much to me. After about eight months, he said he'd help me get contracts with commercial insurers because he couldn't keep up with his business and mine.
"He helped me put together a marketing plan, and I started writing business with The Hartford.
Today, 35 years later, I represent all the major carriers and can meet the insurance needs of any client," Crandall explains. "My daughter has been with the agency for about 10 years. My son, who had degrees in marketing and management information systems, decided he didn't want to work with computers, so he came on board here."
In terms of premium volume, Crandall & Associates has approximately a 50-50 split between employee benefits and commercial lines. Crandall also writes individual life and disability and long-term care coverages. "We try to be a one-stop shop for insurance," she says.
Changes in attitudes
We asked Crandall what attitudes toward women were like when she began her career and how they have changed over the years.
"At Travelers, four men were responsible for marketing commercial coverages. They would come to me and say, 'I'm going to be visiting an agency this afternoon,'" she recalls. "We women would be sitting at our desks working and wearing what we called 'the ball and chain.' Come to find out, they often were playing golf.
"I went to my boss and said that the men were always going out in the afternoon while the women never did," Crandall continues. "He told me to stay in college and get my degree, and that would change my career opportunities tremendously. All the men had degrees, but relatively few women went to college in those days. I was the first in my family to attend college."
Crandall expresses what most of us know to be true: that insurance is still heavily male dominated. "When I started in the business, no women on the agency side were owners," she says. "They worked for insurers or for agencies at desk jobs. It's been an uphill battle. Here in San Antonio, as in most of the South, the 'good-old boy' network prevails. Business is done with a college dorm mate, a fishing or hunting buddy, or a golf partner. I don't hunt, fish, or golf; I bring my clients superior service every day.
"One thing is certain, and that's change," Crandall asserts. "If some-thing changes, we'd like the opportunity to provide our prospect a quote.
"The situation is much improved now because so many women are business owners; in fact, women-owned businesses are the fastest growing segment of new business formation. I belong to the National Association of Women Business Owners. My fellow members own 18-wheeler trucking companies, whereas others do website design, talent acquisition, manufacturing, and headhunting," Crandall explains.
"The dynamics have changed dramatically from when I first started in the industry," she continues. "Back then, I was never able to call on a woman who was an owner, a CFO, or who held another executive position. Since then, it's gone in a completely different direction. I wish I were starting now!"
Once she completed her college degree, Crandall says, "I was excited about the opportunities that were open-ing up for me. I was no longer worried that I'd have to spend the rest of my career at a desk working eight to five."
Empathy and flexibility
We asked Crandall what unique qualities she thinks women bring to leadership positions in the insurance industry.
"I think women possess the skill of empathy, especially if they're mothers with kids," she responds. "Single mothers in particular need to be flexible. If the school calls and their kid is sick, they have to go home. The situation has greatly improved now that so many employers are allowing their employees to work from home.
"Women tend to be extremely detail oriented," Crandall continues. "They're hard workers because they've had to prove themselves as they work their way up to higher positions."
How would Crandall characterize the opportunities for women in the insurance field?
"Now more than ever I see great opportunities for women," she replies. "Here in San Antonio, Alamo Colleges District [which consists of five community colleges] is working with the San Antonio independent agents association and The National Alliance to put together a program where students who don't want to go to college can participate for a year and have a job waiting for them at a company or an agency. Their tuition will be paid by a grant from the federal government. It even covers babysitting. It's a wonderful program, and if it works well here it will be adopted in other locations."
What advice would Crandall offer to a young woman who may be considering a career in insurance?
"Study hard, know your products, and understand how they address the client's needs," she advises. "Stay up to date with coverages because they're constantly changing. Work hard. It's no secret that if you want to succeed, you need to put in the work. Find a good mentor. I didn't have a mentor, and I'd like to mentor a student in high school or college. This business has been good to me, and I'd like to give back."
The author
Elisabeth Boone, CPCU, is a freelance journalist based in St. Louis, Missouri.