BROKEN GLASS
THE SCHOOL OF HARD WORK
This powerhouse producer manages a multi-million-dollar book while mentoring young people and raising money for charity
We're pleased to present another article in our Broken Glass series, in which we talk with a woman in the independent agency business about the challenges and rewards she has experienced throughout her career. This month we profile Gundi Hofmann-Abell, a housewife who suddenly found herself a single mother who needed to support her young son. Focused and determined to succeed, she surmounted daunting obstacles to become a top producer for her agency.
By Elisabeth Boone, CPCU
"You Easterners talk so fast!"
I can't count the number of times I heard that exasperated utterance from my mother, a native of slower-talking St. Louis, when she was conversing with me, her New Jersey-raised daughter. Proud of my Garden State heritage, I would fix her with a blank stare and pretend not to know what she was talking about.
I was reminded of those exchanges recently when I did a phone interview with Gundi Hofmann-Abell, the subject of this month's Broken Glass profile. Based in the Philadelphia area, she talks just as fast as I do. Her voice crackles with the energy and enthusiasm she brings to every facet of her life, from building her book of businessto mentoring young people and supporting her favorite charities. She loves a challenge—she's faced plenty of those—and clearly thrives on setting ambitious goals and doing what it takes to achieve them.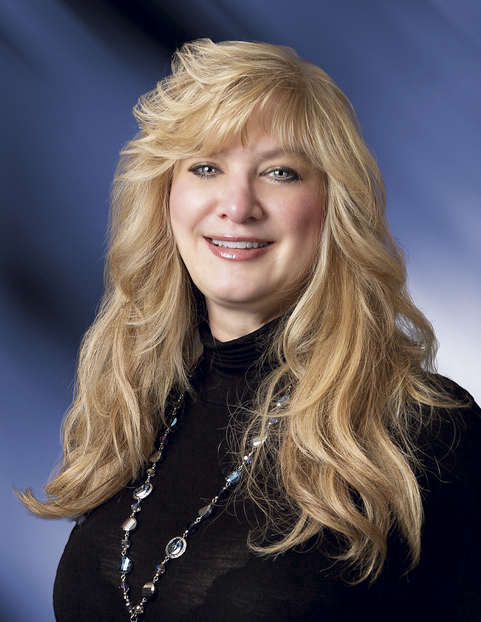 Like most insurance professionals, Hofmann-Abell wasn't contemplating a career in the industry—or, in fact, any career other than being a wife and mother.
"One day I was a housewife, and the next day I found myself a single mother with a baby," she says. "I thought a career in insurance would be a way to put a roof over our heads and provide an education for my son, so I pursued success with everything I had in me."
In 2004 Hofmann-Abell joined Restaurant Programs of America (RPA), a retail agency that provides insurance as well as risk management and safety services to restaurants nationwide.
"I became a producer when I stopped being afraid to jump from a salary to pure commission," she recalls. "Working on pure commission drives me to go for it and give it all I've got."
Her grit and determination have brought Hofmann-Abell the success she only could have dreamed of in her early days with the agency. Among her clients are dozens of household names in the restaurant industry, including Denny's, Jack in the Box, Uno's Chicago Bar & Grill, Applebee's, Burger King, Wendy's, Famous Dave's, TGI Friday's, Panera, McCormick & Schmicks, Italian Bistro, Tony Roni's, Marie Callender's, Papa John's, Slice of Philly, and J.B. Dawson's.
Hofmann-Abell prides herself on maintaining a high retention rate and attributes her success to a quality she believes to be innately feminine. "I think it's really important to listen," she says. "When meeting with a prospect, I listen for pain points. Why does the prospect want to leave the current agent? What does the prospect want that the agent isn't delivering?"
Listening to established clients, she continues, is key to building the lasting relationships that contribute to high retention. "I'm very hands on with my clients and am able to retain them over the long term," she says. "I believe that insurance is a 24/7 job. My clients have called me from scenes of murder, fire, and death, sometimes in the middle of the night. I answer every call in person and visit clients with my team to make sure they receive immediate attention. Every one of my clients knows that his or her best interests come first with me. I work for my clients. I don't get a salary, so I make them my priority."
Mentoring and charity
As if she didn't have enough to do what with acquiring and serving a lengthy roster of major national clients, Hofmann-Abell is committed to mentoring young people—chief among them her son, Maxx.
"When Maxx was very young, I started taking him with me to my clients' charity events and putting him to work," she says. "At an early age he learned about giving back, and he is now a generous young man who is involved with his own charities."
Maxx also traveled with his mother to meet with clients and prospects from Pennsylvania to Hawaii, so he was able to observe first-hand her strong work ethic, relationship-building skills, and dedication to serving her clients. He worked at RPA for two years as an unpaid intern while attending LaSalle University and is now an associate producer at a Philadelphia-area insurance brokerage and risk management consulting firm.
"I believe I set for him an example of a good work ethic, and he created his own opportunities with the tools we provided him," Hofmann-Abell says. "I'm so proud of the man he's become. He's the youngest producer at his firm, and I know he's going to rock the world and take it to the highest level."
It's hard to imagine how Hofmann-Abell finds the time to participate in an array of charity events, from pancake breakfasts to golf tournaments.
As the proud parent of three Akitas, she is active in Big East Akita Rescue (BEAR), Lahaska SPCA, and Bully Dog Breeds. She loves to talk about her dogs, named Ice, Winter, and Storm, and she has fostered puppies and paid vet bills that totaled thousands of dollars. She gathers stuffed animals and food for homeless dogs that BEAR saves from high-kill shelters and raises funds for the nonprofit organization. "I walk the shelter dogs and help find homes for them," she says. "I encourage my clients to make cash donations to BEAR and Lahaska SPCA."
Another charity that Hofmann-Abell enthusiastically supports is the Make-A-Wish® Foundation, which grants the wishes of children who have been diagnosed with a critical illness. She is also involved with Alex's Lemonade Stand Foundation for childhood cancer. "I held an RPA fundraiser that brought in over $16,000," she says. "I have personally donated over $40,000 to Alex's, and RPA has given over $150,000 to this great cause that raises funds and promotes awareness of children's cancer."
With one of her Applebee's clients, Hofmann-Abell works with The Barry Robinson Center, a behavioral health system for youth, and she also supports her local chapter of Feed My Starving Children.
A path for women
We asked Hofmann-Abell what unique qualities she thinks women bring to leadership positions in the agency business.
"I truly believe that women try harder," she asserts. "For years we were the underdogs in the industry, but we are now empowered to show the world what we can accomplish. We are achieving, we are growing, and we are succeeding."
As noted earlier, Hofmann-Abell serves as a mentor to young women in her agency and encourages them to explore the opportunities offered by a career in insurance.
"One Christmas my son and his fiancée gave me a plaque that says: 'She Believed She Could So She Did.' I live by that philosophy, and I believe that every woman who pursues a career in insurance can succeed if she believes in herself. I have written over $182 million in premium and generated over $25 million in revenue by believing I could. Young women may not realize that an insurance career offers almost unlimited earning potential. It also offers the opportunity to help your clients at the time of a severe loss, support your charities of choice, and mentor other young women as you advance in your own career."
Do you know a female independent agency leader we should feature? If so, please email details about her as well as contact information to Elisabeth Boone, CPCU, senior features editor (elis.boone@icloud.com). We'll take it from there.